Are you doing lots of yard work these days? Man – I feel like that's ALL we do on the weekends! But it is all worth it when you get to kick back and enjoy the fruits of your labor, right?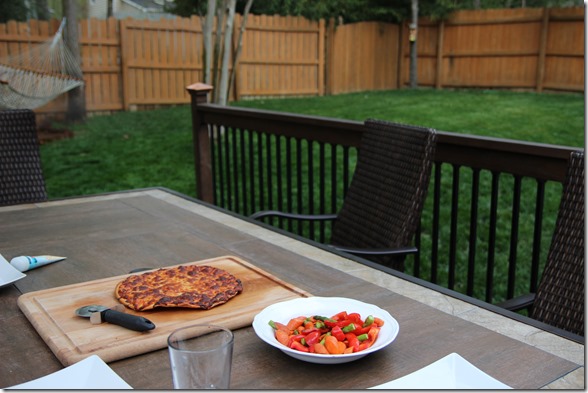 I cant' wait to talk a little bit about our latest backyard transformation, and then I have a fun giveaway from CVS Gold Emblem Abound line of healthy snacks. Because after all that yard work, you're going to need some healthy fuel!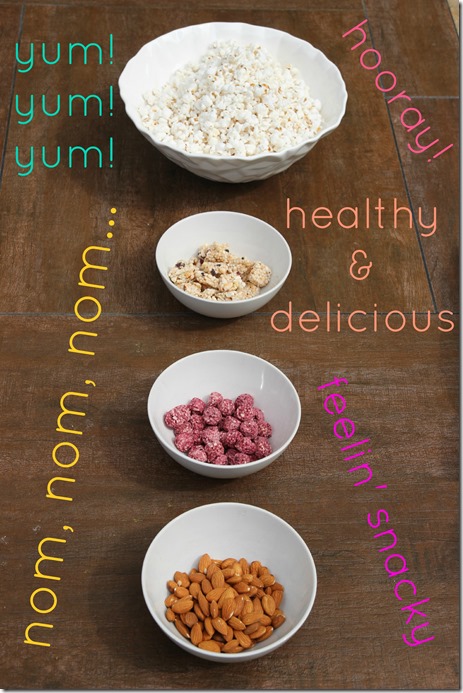 Just a refresher…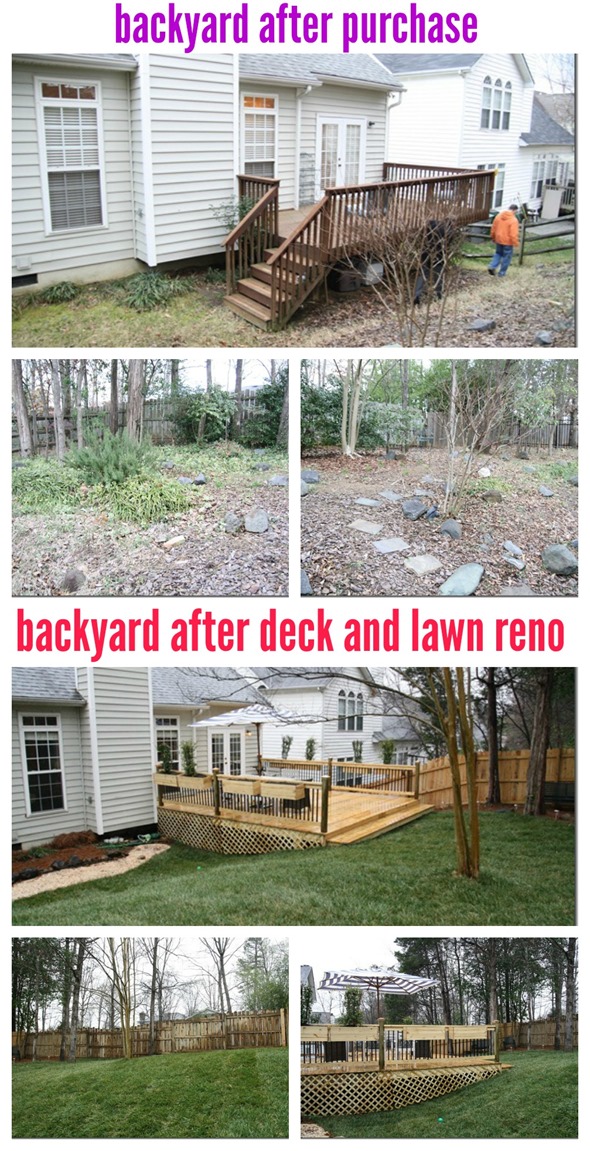 Here's a post about putting in a fence, removing 40+ trees, laying sod, extending the deck, and building a gravel pathway. For my birthday two years ago, I got a hammock, which I love. And for Henry's first birthday, I put in a sandbox, which has gotten an insane amount of use over the last few years.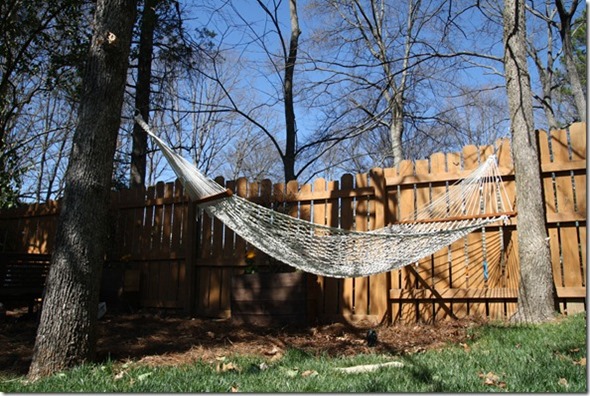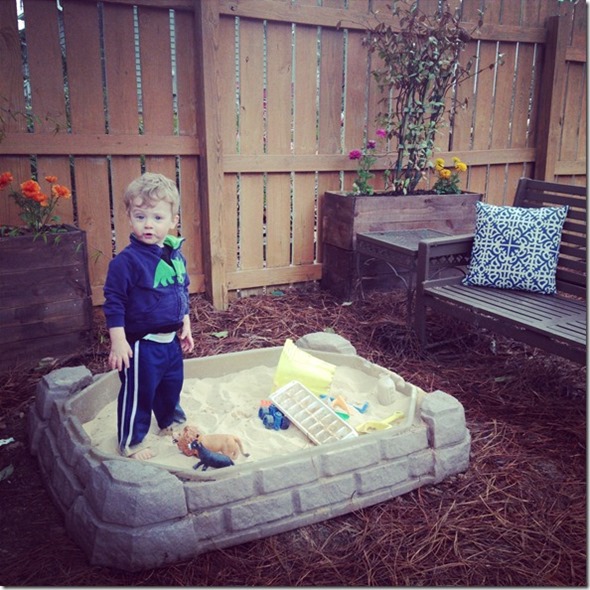 Our backyard has come a long, long way! It was definitely a huge eyesore when we bought the house. Now, it's a place that the whole family wants to enjoy. And I think it will actually help sell the house – instead of hinder deals – when we put it on the market.
If that was Phase 1 of the Backyard Transformation, buying new furniture was Phase 2. We always wanted nice furniture but couldn't afford to buy it immediately (the backyard reno cost us about $9,000 – yikes). Our "temporary" table was from World Market. It was originally white, but after a year, we spraypainted it brown – the white aged fast.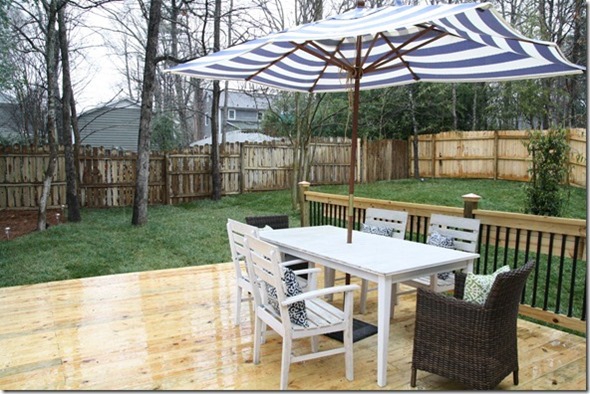 But a huge storm later, the umbrella was destroyed. And even with the brown paint, it was starting to look shabby. We were left with old, rickety chairs and absolutely no shade, which was a killer.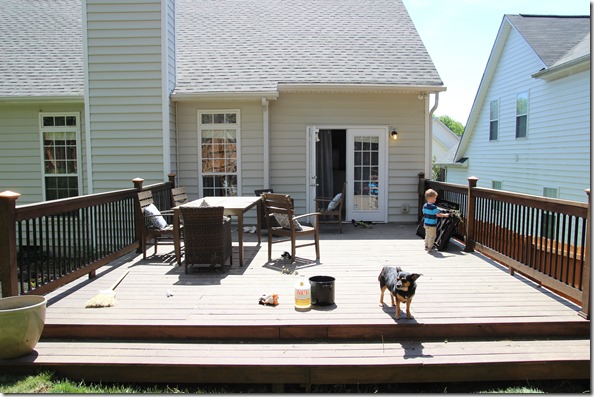 Here's what our deck looks like now!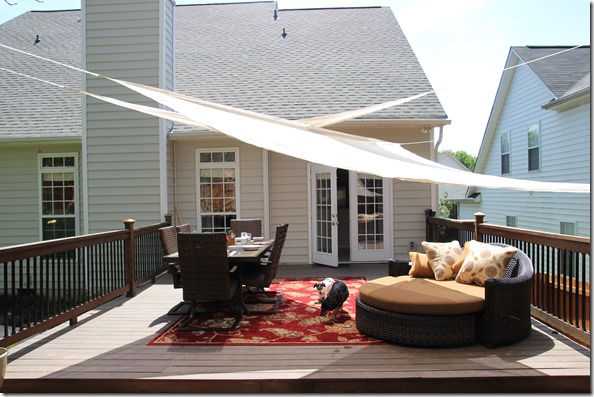 You can't really design a space until you live in it for a while, can you? After experiencing our deck for two years, we had a much better idea of what we wanted/needed out of outdoor furniture. I am so glad that we waited to buy the long-term furniture!
First things first: those beautiful sun sails.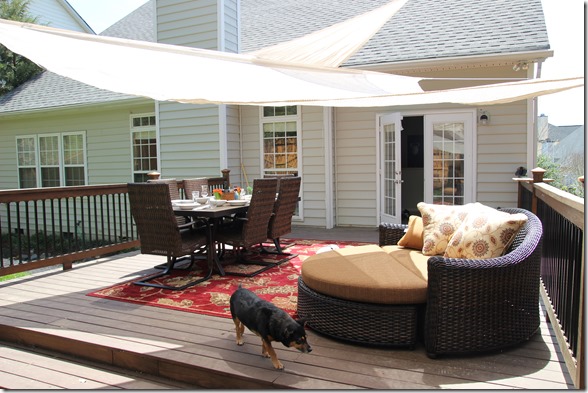 We bought two sails at Costco for $19 each – way cheaper than a large umbrella that was priced at $500! It took some maneuvering, but we managed to shade most of the deck, depending on the time of day, by attaching the sails to trees and the house. They've held up well through storms. We don't really expect them to last much beyond two seasons, but at $19 a pop, we're fine with it!
We also knew that a high-quality table was absolutely necessary. And the quality of the chairs mattered. We opted for a stone tabletop instead of wood, and the chairs all had solid backs (Henry always fell through the back of the old table).
We also knew that we wanted to lay on something. We originally wanted chaise loungers, but we found this great circle couch (also at Costco). I like it a lot because the Husband and I get to snuggle together instead of being on separate chairs.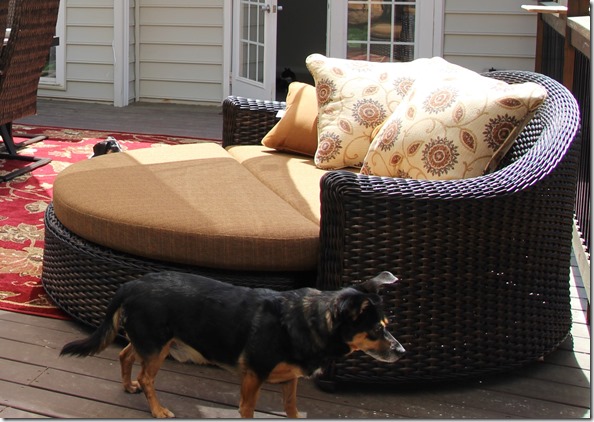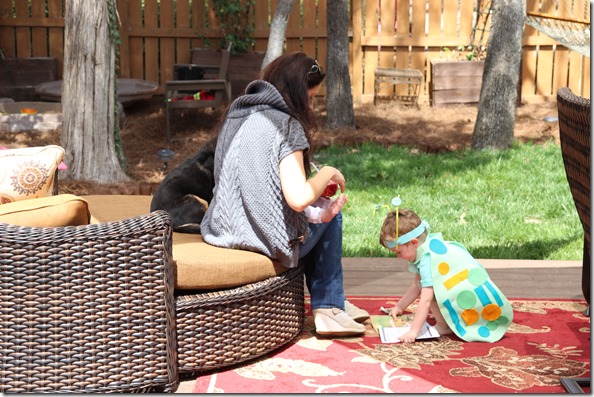 And last, but not least, we bought an outdoor rug. I'm not sure how I feel about the rug so far – we've had a lot of rain and it seems like it struggles to dry out. Other outdoor rugs that we've had dried a lot faster! Hopefully, it doesn't get moldy. But in the meantime, it sure is pretty and nice for the kids to sit on.
Alright – let's talk snacking. All that furniture assembly made me hungry…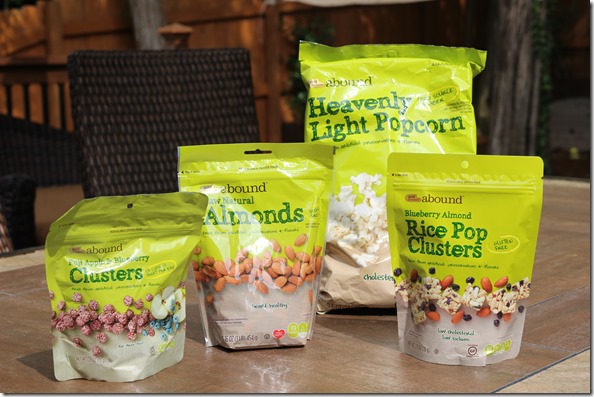 When I first heard of the Gold Emblem Abound line a year and a half ago, I was really excited. The entire product line is free of artificial preservatives and flavors and contains zero trans fat. The ingredients lists are filled with foods that you'll actually recognize. And best of all, the snacks are available right around the corner at your local CVS – no need to run into a specialty grocery store to get a decent snack when you're out and about.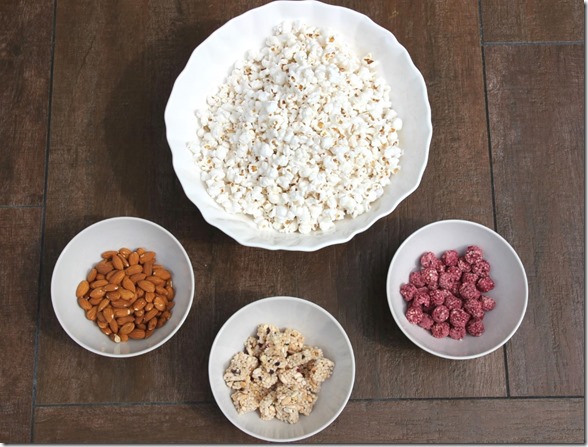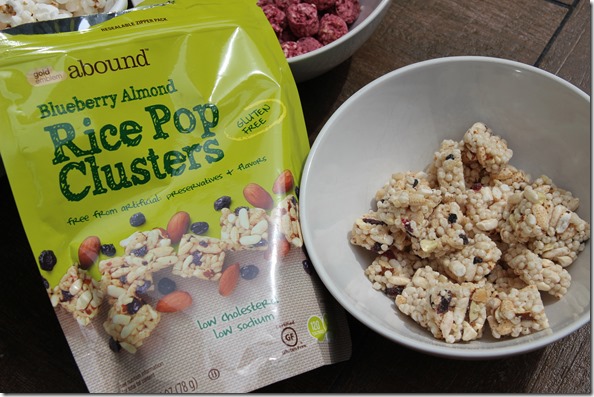 I always get those rice pop clusters whenever I'm at CVS. So good.
I want you to try these goodies, too! Use the widget below to enter the giveaway. As usual, I'm closing the comments on the post so there is no confusion on how to enter.
Good luck. Happy Spring! And Happy Snacking!
I'm proud to partner with CVS/pharmacy as one of the "Gold Emblem Abound Trail Makers" this year! I am being sponsored by CVS/pharmacy for my Trail Makers posts and activities, but all opinions expressed are my own, and all product claims or program details shared should be verified at CVS.com or with the appropriate manufacturers. Thanks, as always, for supporting sponsored post. It means a lot to me.