So this counter in my bathroom has been driving me crazy for months…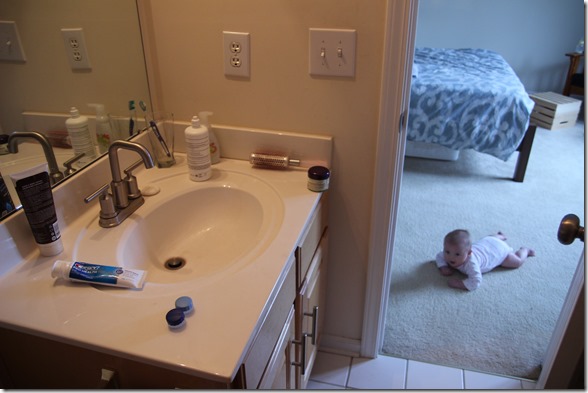 Over the summer, we moved our bedroom from the master upstairs to the en-suite guest room upstairs. We wanted to be close to Henry after he vacated the nursery (here's a tour of his big boy room + tips for making the transition easier). I moved my bathroom stuff upstairs, too, but the Husband opted to continue to shower in the master bathroom and kept his stuff downstairs.  So the bathroom became mine – ALL MIIIIINE (and oh my goodness, it is GLORIOUS to have a bathroom that is entirely MINE).
The only problem is that this bathroom is tiny and has no decent storage. No medicine cabinet. No shelves. Just the area under the sink. I tried stashing my daily stuff under there, but it would just get lost. So I ended up cluttering up the sink.
Finally, this weekend, I found a super easy solution.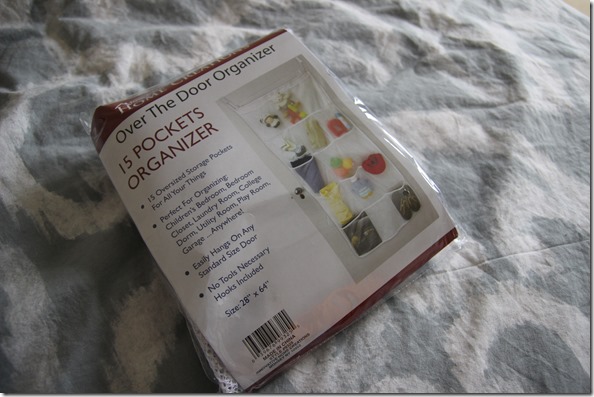 I bought this 15 Oversized Pocket Over-The-Door Organizer and – TADA! – instant "shelves."  No drilling, no hanging, no labor at all.  I'm not really willing to do any improvements to this bathroom so this was the perfect solution.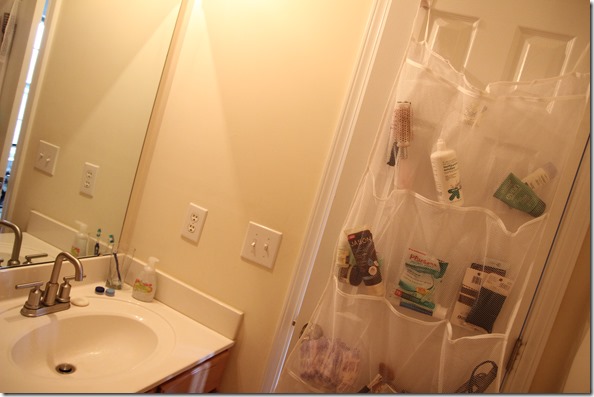 Here's a picture of the organizer on the outside of the door so you can see it a bit better – it's really hung on the back of the door (as shown above) so it's hidden from view from the bedroom.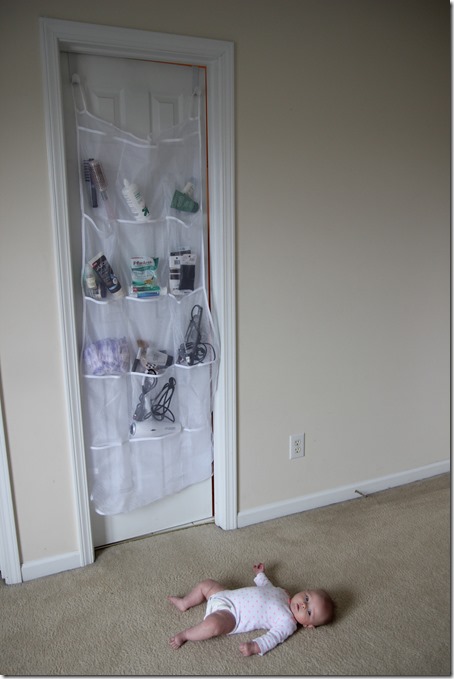 Hi, Claire!
The best part about this organizer is that the pockets are huge.  Big enough for my blowdryer!
The only drawback is that the organizer is made for a wider door, not an interior door, so it sags a bit in the middle.  Doesn't really bother me, though.  Again, I'm mostly going for function, not form.  Loooooove it. 
For more peeks into my home, check out my House Tour.