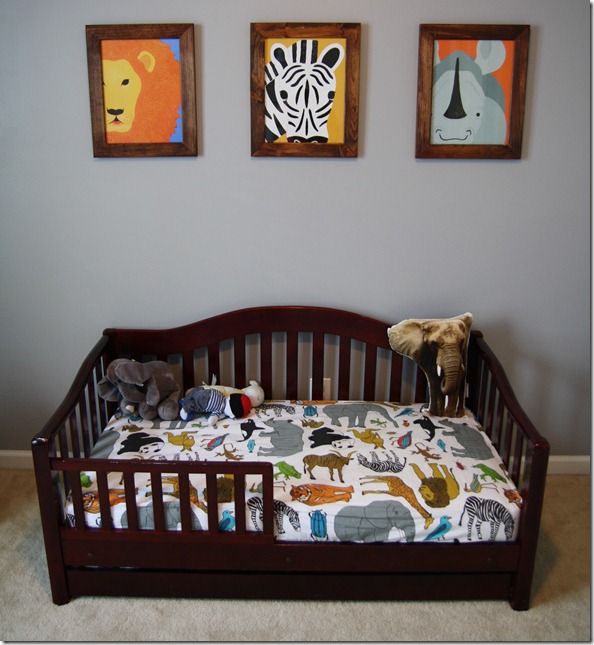 I'm so excited to share these pictures!  But first – can we all pause for a moment and reflect on what this room used to look like?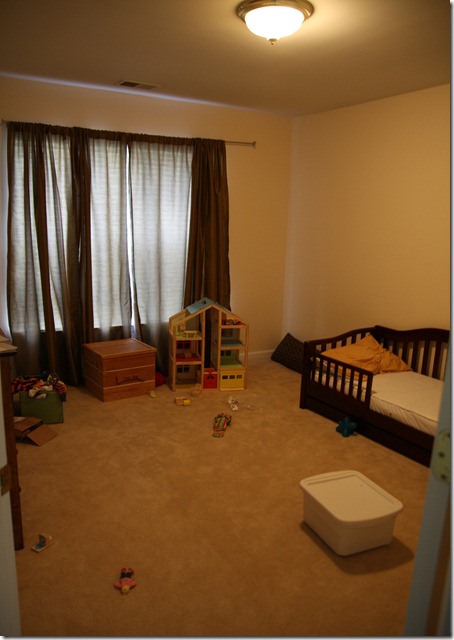 Ugh.  Just painting the walls Pewter Mug instead of builder beige made all the difference!
And again – super huge kudos to my BFF Nicole for helping out so much with the room – she even came over to help the Husband paint.  She's the best. 
While I was immediately inspired by a Pinterest photo for Henry's nursery, I struggled to find a theme for his big kid room.  Then I found these amazing jungle sheets on Land of Nod: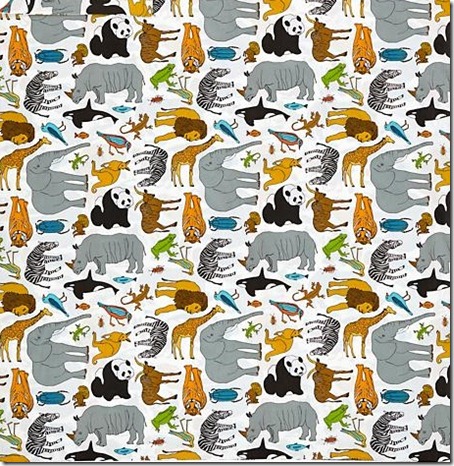 I love these sheets because they are fun, colorful, and interesting – and I also liked that I could buy a crib sheet AND a twin bed sheet.  I had originally intended to take Henry from the crib to a twin mattress on the floor (and then buy a stylish black metal frame once he was used to the bed), but y kiddo really, really struggled with that leap. 
I searched Craigslist for a toddler bed that seemed similar to his crib – same orientation, high back, and a longer front panel.  I scored this dark wood one for $75.  Does it match the room perfectly?  Nope.  But I figure it'll be in there for a year or so, max.  And then I'll resell it on Craigslist.  I've already purchased the bedding for the twin mattress, so the theme of the room will be perfectly intact once Henry graduates to an adult bed.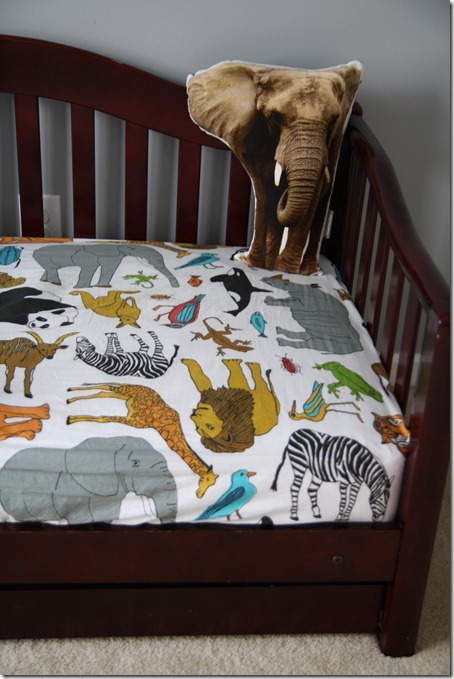 A cool thing about that toddler bed is it has a little drawer underneath.  Henry likes to put his blankets inside.  Maggie thinks the whole thing is her new bed.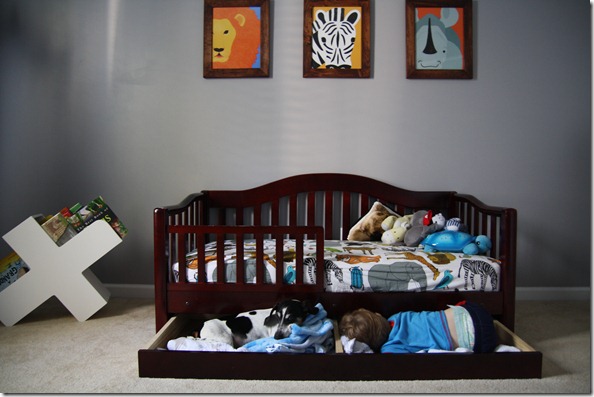 For book storage, I bought this X bookcase.  Most of Henry's toddler books are actually library books – we swap them out every two weeks or so.  While it made more sense to own the baby board books (Henry loved to eat them when I wasn't looking), he isn't as into reading the same book 20,000 times anymore.  This bookcase doesn't hold a ton of books, but I'm not really interested in buying and storing a ton, either.  Libraries for the win!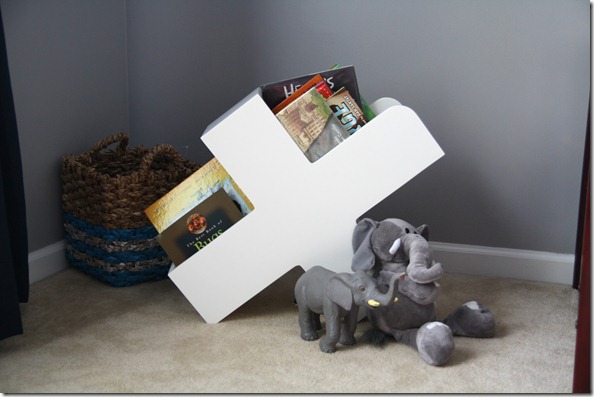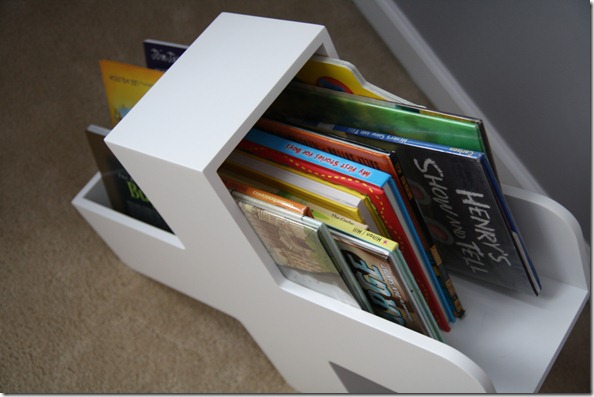 Above his crib are three animal prints from Wallfry, an Esty shop.  Nicole found them – I loved them because they weren't too cartoonish.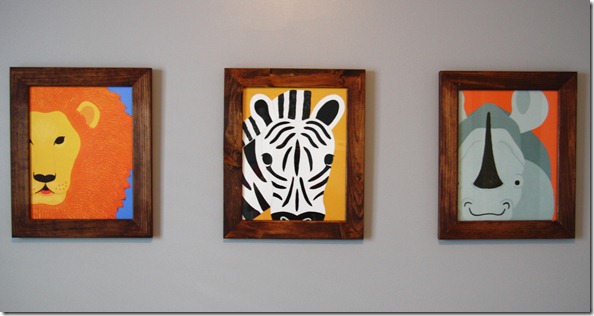 I bought unfinished wood frames, and Nicole helped me stain them the same color (a stain called Honey) that she did the dresser.
Speaking of the dresser – OH, THE DRESSER!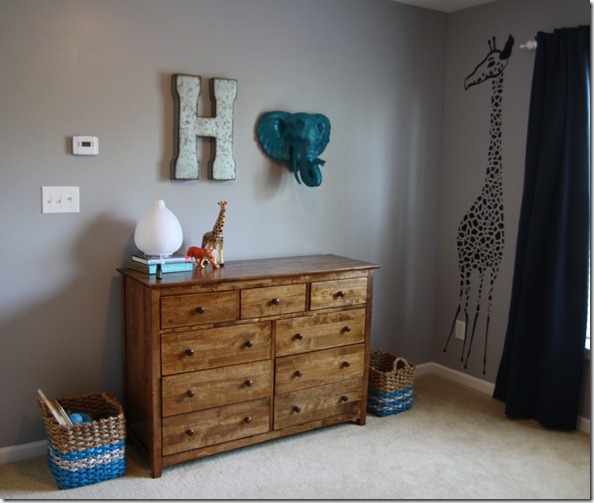 Blackout Curtains <— seriously, the most amazing pair of blackout curtains.  We own a set for all three bedrooms now!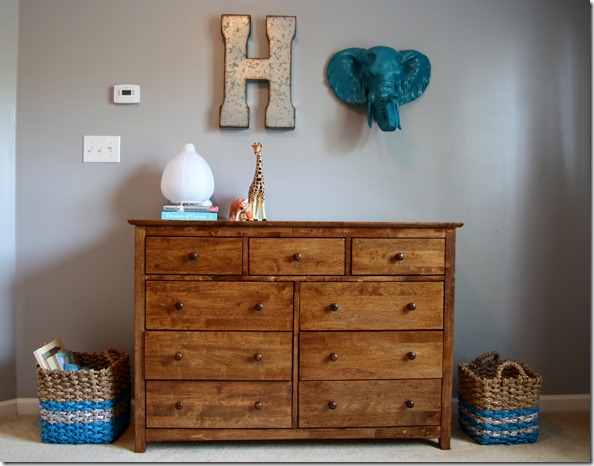 I got the dresser from an unfinished furniture store – it's great.  I wanted something that Henry could have for the next 20 years.  The white dresser in the nursery was originally my dresser from when I was 7 years old – there is just something about quality, solid wood construction.  Why buy a particle board dresser for $300 when you can spend a little more and end up with something that will last?  It's neat to think that Henry could maybe pass this down to his children one day.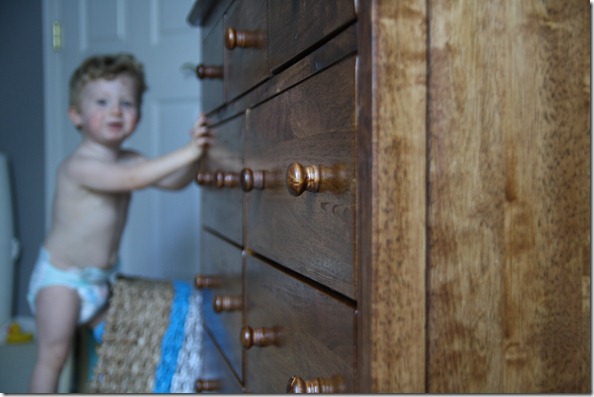 I also love how many drawers this dresser has – three more than his old dresser!  There is actually room to grow.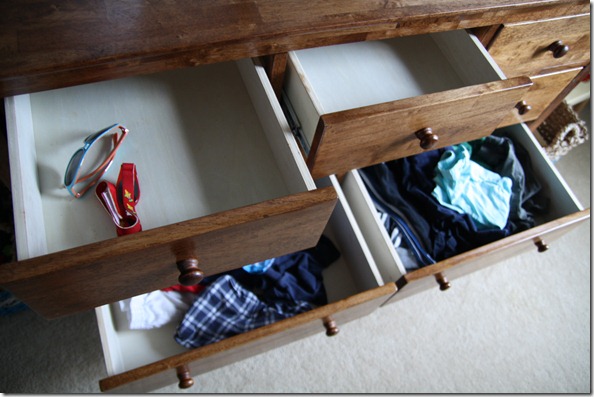 Okay, can we talk about the animal heads now?
I wanted big, whimsical, fun animal heads but didn't want to pay the big price tag – cute ones are easily $100 and they are SMALL.  I was browsing the web when I found this article on DIY animal heads. I promptly ordered a resin elephant head and a resin rhino head off Amazon with plans to spray paint them (FYI both were Prime when I got them; maybe they'll go back to being on Prime soon).
Henry FREAKED OUT (in a good way) when they arrived.  He thought they were the coolest thing.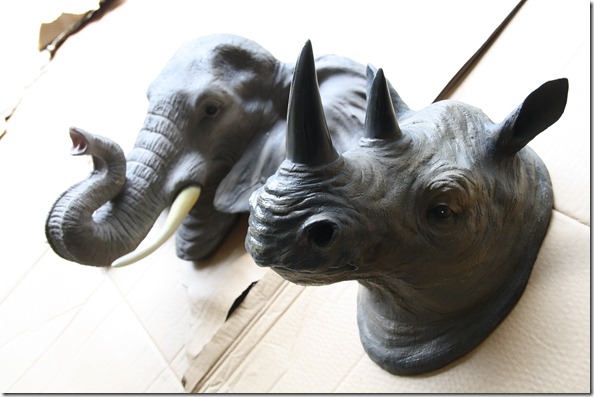 We used a spray paint primer on the heads first.  They actually looked pretty neat white! But very adult.  I opted for fun colors for Henry's room – blue and green to match his bedspread.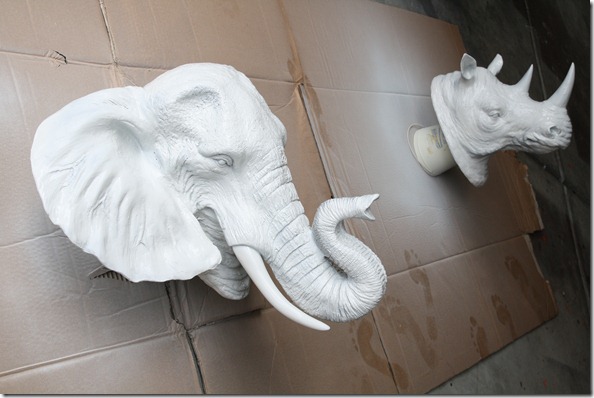 I want more animal heads for the room!  Rhino needs a friend or two over in the corner.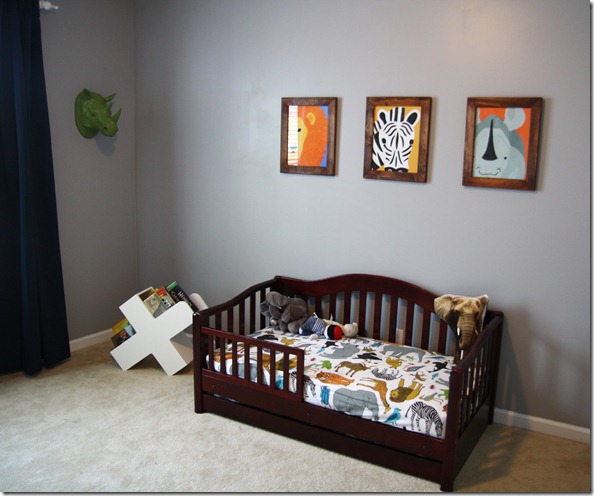 So – to sum up the design of the room, Henry loves it.  He really, really likes animals and thinks the room is super cool (the sheets and elephant head were huge hits in particular).  While no kid needs a crazy complex room, I do think that having such a fun space made the transition a lot easier – he WANTS to spend time in his room.
Other key ways we prepared Henry for a seamless switch:
I never talked about leaving the crib – it was always about getting into the big boy room.  No negativity.  No mention EVER that the new baby would be taking over his room.
I know many kids are fine with the leap from the crib to a twin mattress, but I think it's helped Henry tremendously that we used a toddler bed as a stepping stone (our crib does become a toddler bed, but that didn't help the vacate-the-crib situation).  The bed is the same size and orientation as his crib.  It probably feels really familiar because of the railings and mattress.
He had about three weeks to adjust to the bed itself – we would go sit on it every day to read books or play with toys.  We would pretend to sleep it his new bed.
He watched this YouTube video about being a Good Nighter, and we talked a lot about how the most important rule of big kid beds is once you get in, you cannot get out until Mom or Dad comes and gets you (it's been four days and, so far, this has worked – obviously it won't last forever).
I made the big switch at bedtime, not at naptime.  The first time we tried to switch, it was naptime, and it. was. a. disaster.
We put glow-in-the-dark stars on his ceiling – he loves looking at them when I turn off the lights.  I think this helps distract his mind a lot.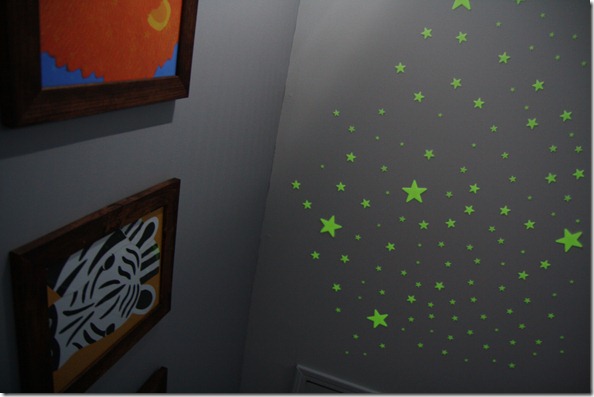 We also put a baby gate in front of the bedroom door.  If he REALLY wanted to, he could scale the baby gate – but he would  make a huge racket doing so.  My big fear about the big kid room is that he'll get up and get into serious trouble in the middle of the night – with the gate up, I don't worry at all.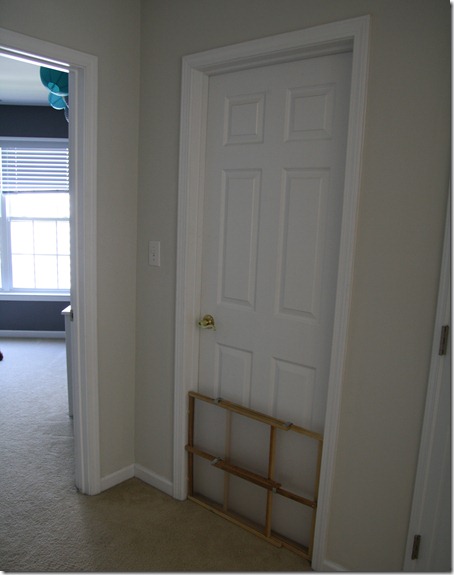 But most of all, I just waited until I thought he was truly ready.  We definitely had a "deadline" – I wanted him out MONTHS before the new baby arrived to provide as much separation between "losing my crib" and "someone else is taking it over" as possible.  But when I tried to get him out 7 weeks ago, and he flipped, I knew he just needed more time to adjust to the idea.  There's been no crying, no midnight meltdowns – the switch has been a breeze!
Yippee!  What a huge milestone for Henry!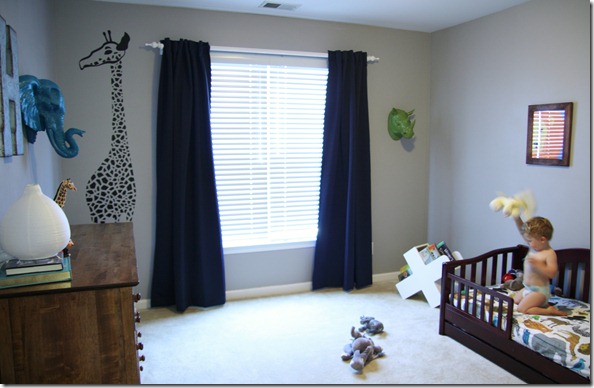 And now…
The nursery is empty and ready for a new resident.  Hooooly crap.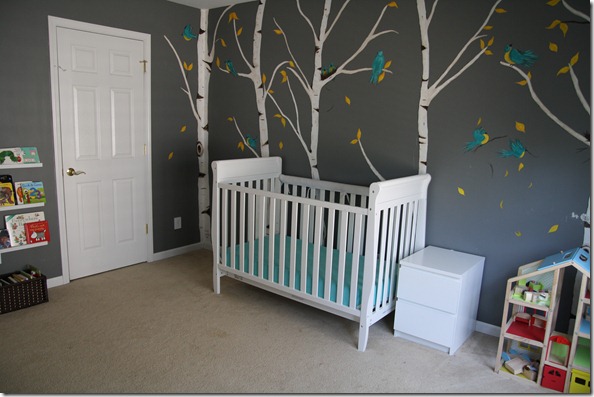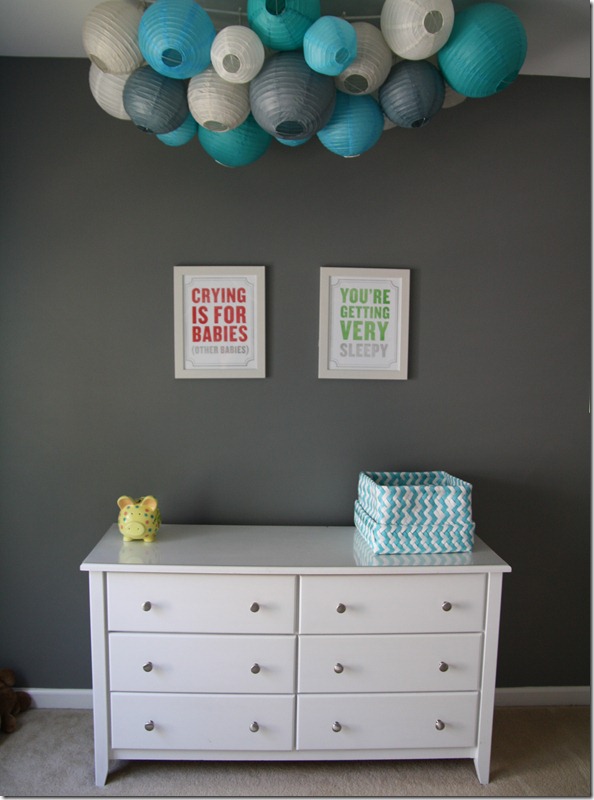 I can't wait to see who gets to live in the nursery next!  <3