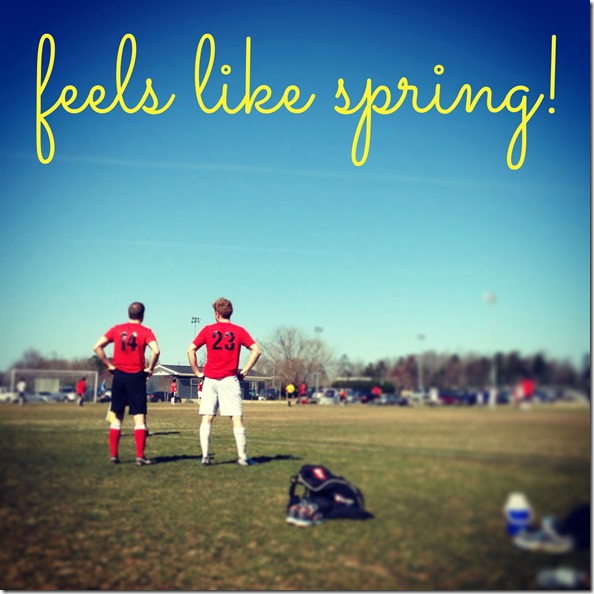 Holy heck.  The weather in Charlotte was BEAUTIFUL this weekend.  Especially on Sunday.  Warm and sunny and pretty much everything I think of when I think, "Spring!"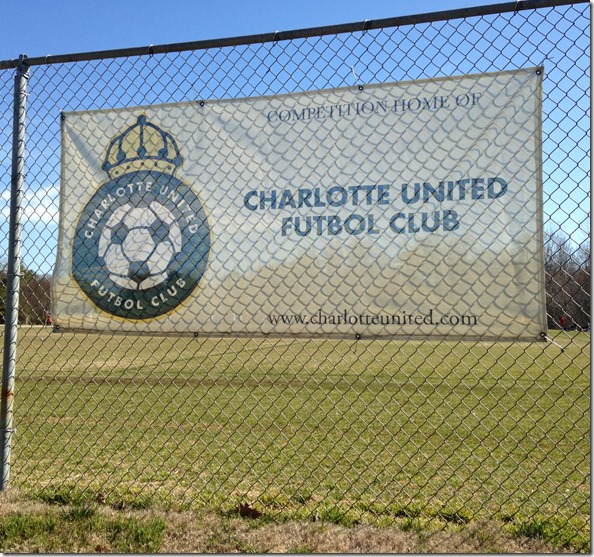 Daylight Savings rocked our world – I totally forgot about it and was super confused when Claire and I woke up at 9:45 (!!).  I bolted downstairs yelling, "You're going to be late to your football game!"  I can't believe that we made it to the Husband's game on time.  I put clothes on three people (myself included) in the blink of an eye.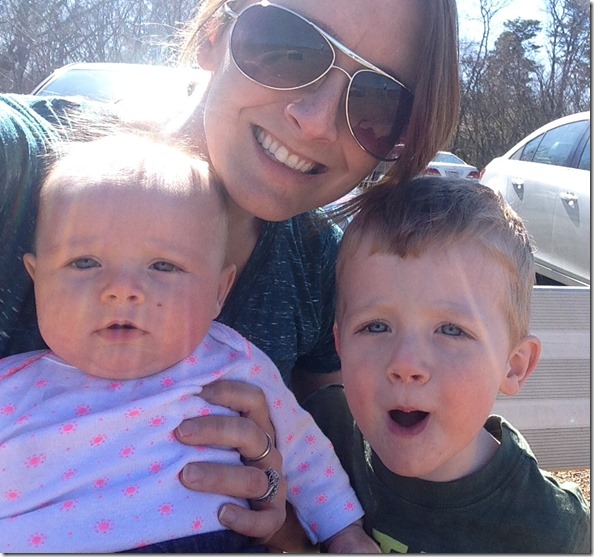 (Same exact eyes, huh?!)
It was so warm, in fact, that we could have dinner out on the back deck.  This is truly my spring/summer "thing" and nothing makes me happier than a meal + a big glass of wine on my back deck.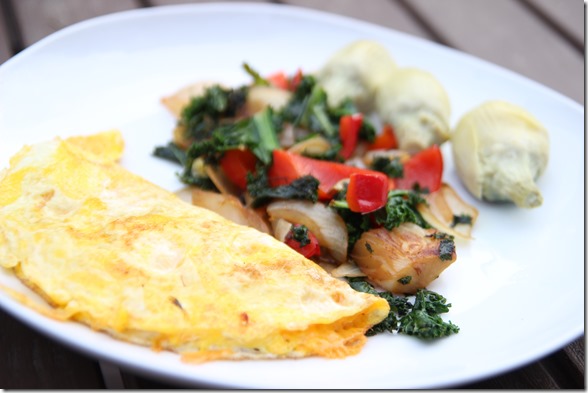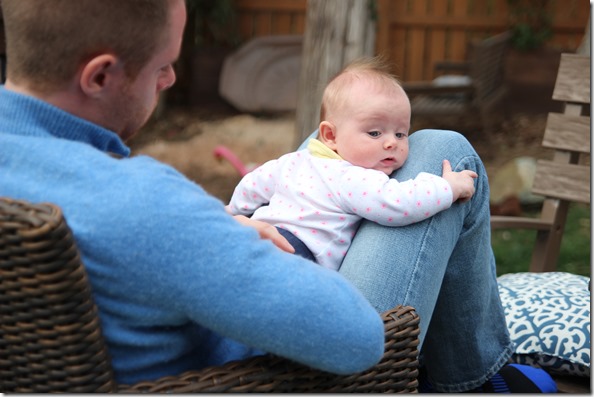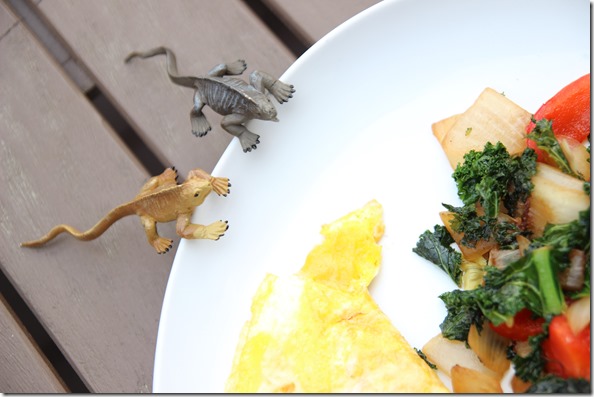 This week's workouts:
Monday:  High Intensity Interval bootcamp at the gym
Tuesday:  Rest
Wednesday: HIIT bootcamp
Thursday: 1200 yard swim
Friday: HIIT bootcamp
Saturday: 10 minutes on treadmill, 10 minutes on stairclimber, 10 minutes on row + some weights
Sunday:  A long walk <—my legs were tired!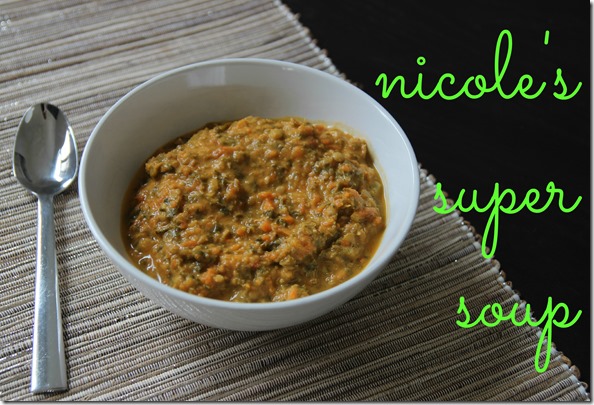 On Friday night, I went out with BFF Nicole to get margaritas.  Well, I should say that I got margaritas because it turns out that Nicole hates tequila.  I cannot get over the fact that I've been friends with her this long (five years) and never knew she hated tequila!  Anyway, we sat at the best bar ever and chatted for a long time, and then I went back to her place and had this soup.  It was SO good that I asked her to write down the recipe so I could share it.
It's got a ton of goodies in it – carrots, celery, lentils, tomatoes, coconut milk, kale… So healthy.  And so filling.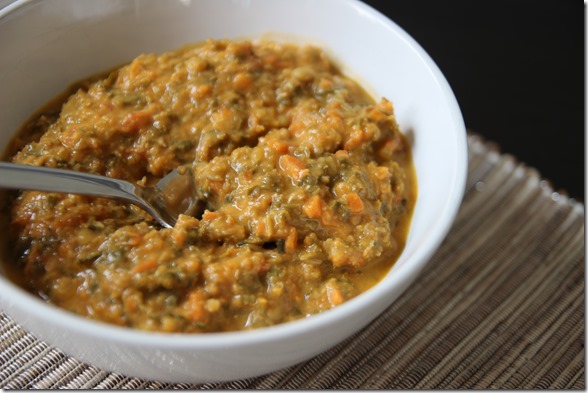 Nicole's Super Soup
Ingredients:
1.5 cups dried lentils, soaked overnight (just place in a big bowl of water overnight)
2 cloves of garlic, minced
1/2 inch ginger, minced
2 tablespoons olive oil
5 celery stalks, diced
5 carrots, diced
1/2 teaspoon salt
1/2 teaspoon pepper
1/2 teaspoon cumin
1/2 teaspoon coriander
16 ounce can diced tomatoes
1 quart veggie broth
1 cup water
7 ounces shredded kale (that's a lot of kale)
1 can light organic coconut milk
Directions:
Soak lentils overnight.
In a large pot, cook the ginger, garlic, and oil on medium until soft.  Add the celery and carrots and cook until tender.  Add the spices and mix well.
Add tomatoes and wait until mixture simmers.
Add veggie broth, lentils, water, and shredded kale.  Cook with lid until kale wilts down.
Using an immersion blender or a blender, blend mixture.  If using a blender, blend portions of the soup at a time.  Blend until kale and veggies are small pieces, but not until it is pureed.
If necessary, return soup to pot.  Add coconut milk and mix well.
Let simmer for 15 – 20 minutes or until all veggies are tender.
Serving ideas:  With goat cheese, shredded cheese, crumbled tortilla chips.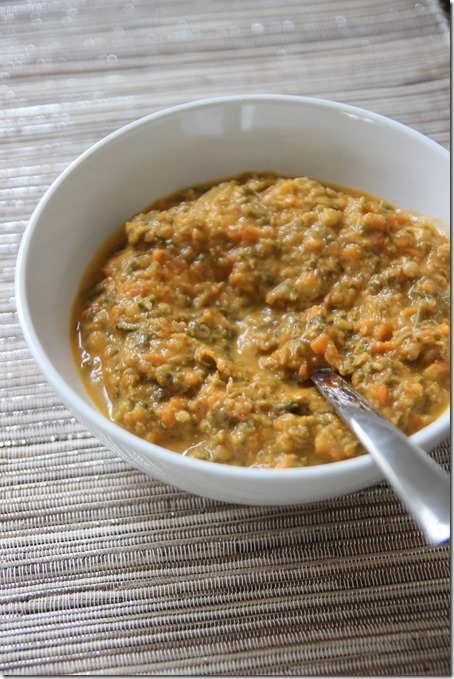 Have an awesome Monday!