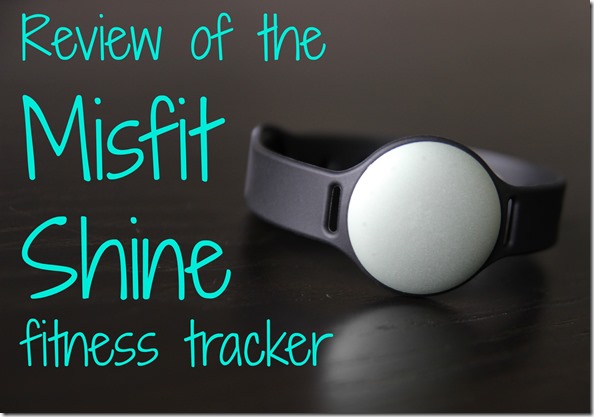 I've shied away from the fitness tracker trend because I always thought they felt a little Big Brother-ish.  But over time, I got really, really curious about the hype.  So a few heavy-handed hints to the Husband later, I received a Misfit Shine for Valentine's Day.  I decided to go with the Shine after hearing great things about it from the ladies in the Get Fit Blog Friends Facebook group.
One thing that really drew me to the Shine was its appearance.  It's really pretty -  like a little jewel (it comes in a bunch of fun colors).  Some other trackers look more utilitarian, so the Shine's, well, shiny look and pretty white lights was appealing.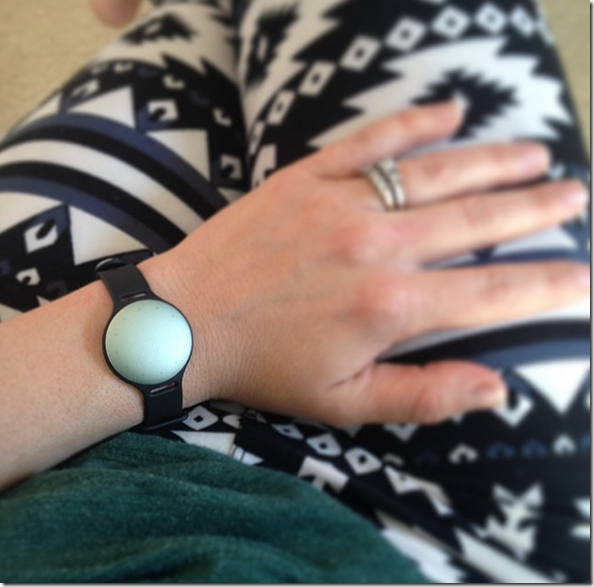 I also thought it was neat that you can wear it multiple ways.  It comes with a watch band and a clip for your pants, but you can also buy this totally cute stainless steel necklace!  I want.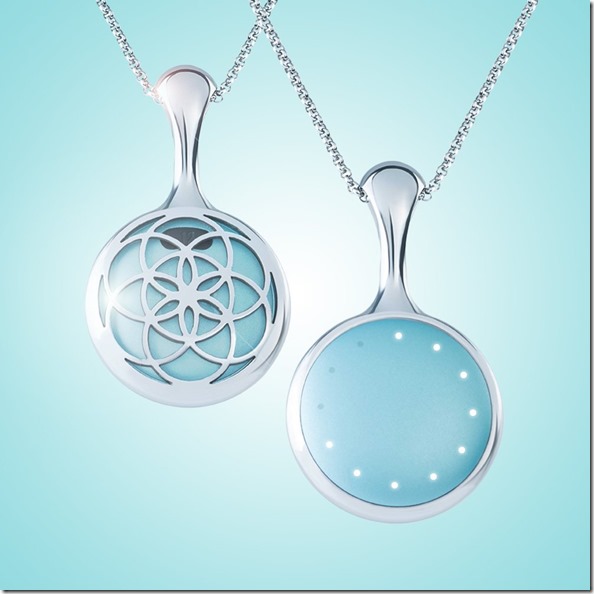 As you can see in the stock photo above, there are little lights around the Misfit.  The Misfit translates your daily activity into a points system, and as you approach your goal, more and more lights light up.
I really wanted a tracker because I thought that it would entice me to be more active in my daily life.  I thought if there was one more light left on the circle, I'd be more willing to get off the couch and go for a walk to make my goal.  Did it work out like that?  Well, yes and no.  It doesn't necessarily get me off the couch at the end of the day if my goal isn't complete, but it does make me run a little further on the treadmill at the gym or spin for a few extra minutes at the end of class – I like to see the lights fill up! 
One big thing that the Shine has taught me is that I am wayyyy more sedentary than I think I am.  WAY MORE.  I think a lot of stay-at-home moms believe that we're constantly running around and doing physical stuff with our kids, and maybe that's true when you don't have a small baby in the winter… But right now, man – I sit on my ass a LOT.  The tracker does not lie!  This has been rather eye-opening for me, actually.  The tracker app presents your data as a line graph, and it is always startling for me to see that my day is often flat line-flat line-flat line-HUGE spike associated with gym time-more flat lines. 
Below was one of my better, more generally active, days (I swam 1500 yards and ran 1.5 miles, then we had an active afternoon).
The Misfit tracks everything active as a run (unless you change the default activity in the back end), but then you can go into the app later and adjust the activity to something else, like swimming, soccer, yoga, dance, and more.  Also, the Misfit is waterproof, so you can swim with it on, and if you want to use it to track a bike ride or something else where your hands are stationary (like the stairmaster), you can just attach it to your shoe.
I don't count calories, but it is also pretty illuminating to realize how many calories I'm actually burning on a day I workout – it's generally not as much as I would've thought, even though I intellectually know this stuff (I wish Misfit had a "breastfeeding options" to add in those calories, but I just mentally tack them on).  
I also like how the tracker app combines all the data into weekly views so you can see trends on a larger scale.  It's been interesting to me to see that, even on the days I work out, I don't necessarily reach my movement goal (you set your movement goal to be whatever you want).  For example, last week, I worked out five days but only hit my goal on three, which were the days that I really went balls to the wall with workouts.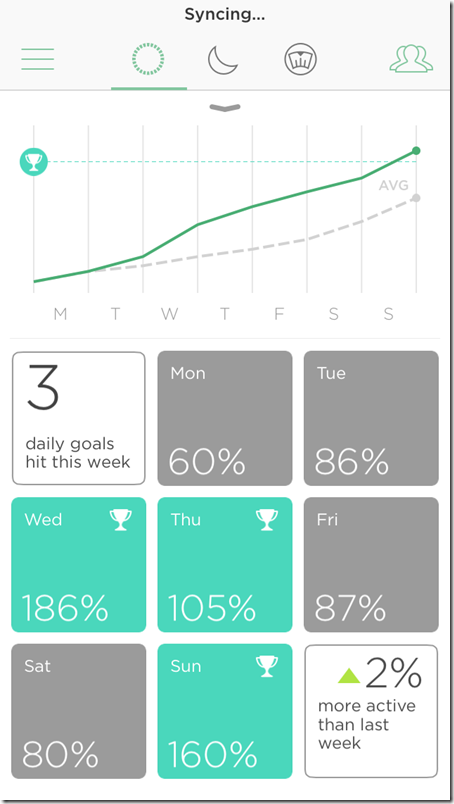 And last, but not least, the Misfit has a sleep tracker.  Here's a night where Claire only had one wakeup, God bless her.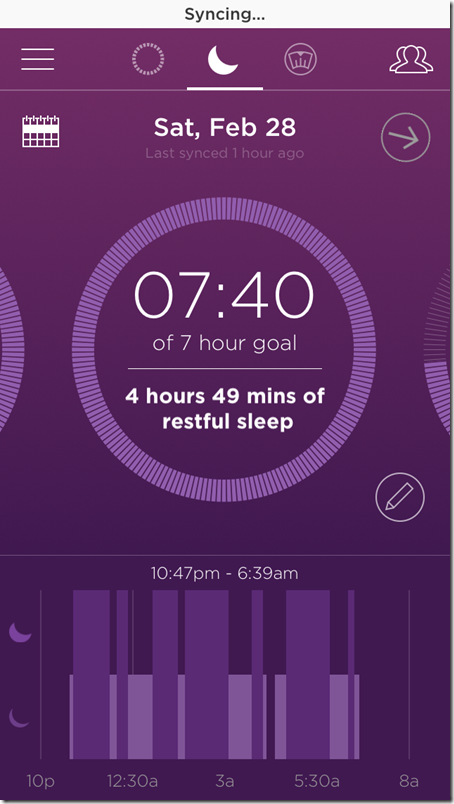 Based on everything I've read online, the data associated with these sleep trackers is kind of wishy-washy.  The Misfit tells me my "restful sleep" hours, which I think is REM sleep + Stage 3 deep sleep (it's not really clearly stated anywhere that I could find.  Basically – when you don't move around a lot).  The sleep tracker strikes me as "cool to know, but now what do I do with this data?"  Knowing your total hours is great, because it can motivate you to get to bed earlier, but I don't know what you're supposed to do with your restful sleep data. 
Oh, my number one complaint about the Misfit is that I have a ton of difficulty syncing it with my phone. It often takes several attempts to sync, which is frustrating.  However, I dropped my phone a few months ago and damaged it, so I'm not sure if it's my phone or the device.
All in all, I really like my Misfit.  I've never tried another fitness tracker so I have little to compare it to.  The biggest selling point for me is the appearance of the Misfit.  The app is pretty good but has some limitations that I wish they would sort out.   I'll keep wearing it, though, because it sure is a fun way to track my progress, and it also encourages me to be a little more health-conscious when I can.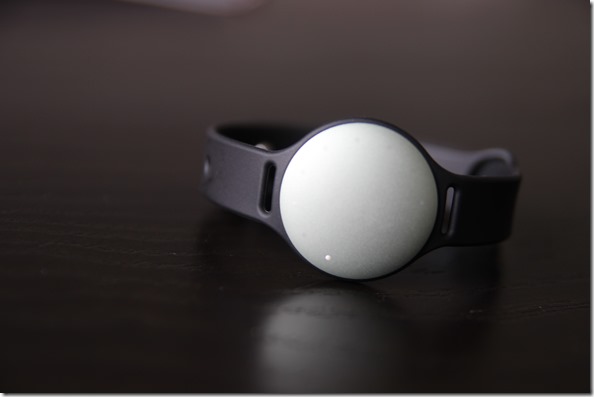 Do you have a fitness tracker? Which one? What do you like or dislike?