Here's an awesome way to start off Monday – with a jogging stroller review and an amazing giveaway.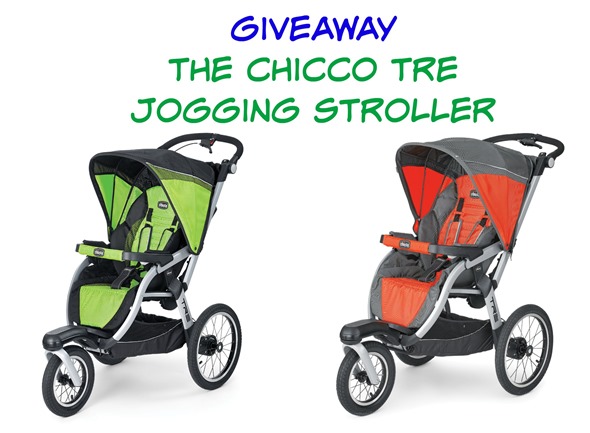 I was super excited to test out the Chicco Tre stroller, and I'm even more excited to give one away.  The Tre is a great jogger – I actually like it more than my BOB Ironman!  But before I get into a point-by-point comparison of the two strollers, let me sing the praises of the Tre.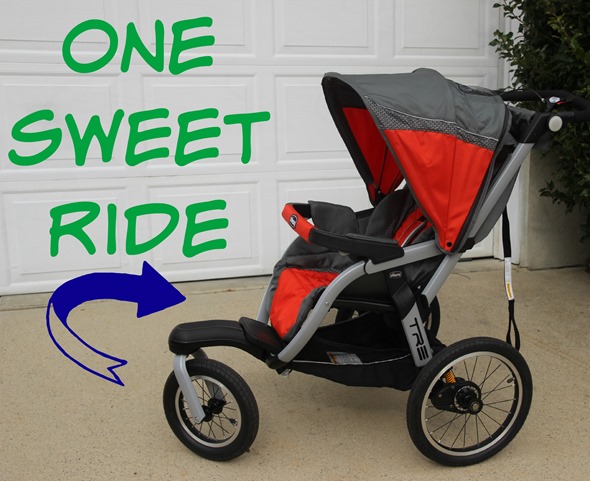 Why do we love the Tre?  First of all, if you already own the Chicco KeyFit carseat (which we do), you can "click" the carseat to the seat of the stroller.  You don't even need to buy any extra attachments (as I would've had to do with my BOB).  But this means that you can use the stroller to walk your baby almost immediately.  The coolest part is that the canopy of the carseat seamlessly matches up to the stroller's canopy, creating a wonderful windbarrier (you can see a picture of that in this post). Even with the carseat in the stroller, the stroller feels very sturdy.
When your kiddo is older, they'll sit in the actual seat.  I have lots of thoughts on this seat!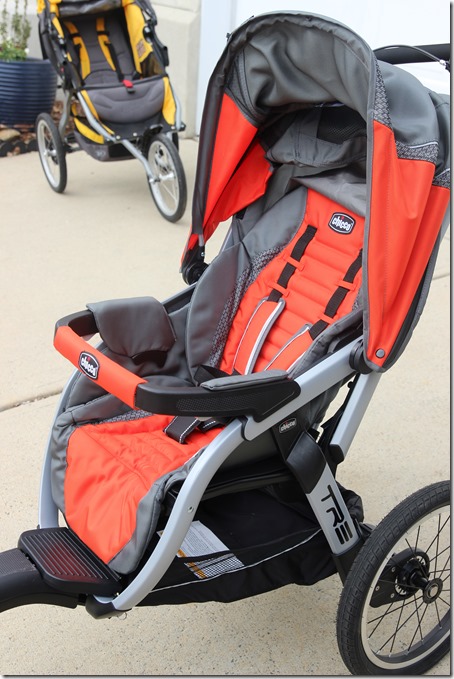 Our BOB Ironman's seat reclines too much, even in its most forward position.  The Tre's seat is MUCH more upright, more like a real chair.  Henry LOVES this.  Getting him into the Ironman has actually been a battle recently – he's always SO reclined in the Ironman that he fights to sit upright and ends up miserable.  With the Tre, he can see everything!
Of course, if the kiddo does slip into a slumber, you can let the seat recline into a comfy sleeping position…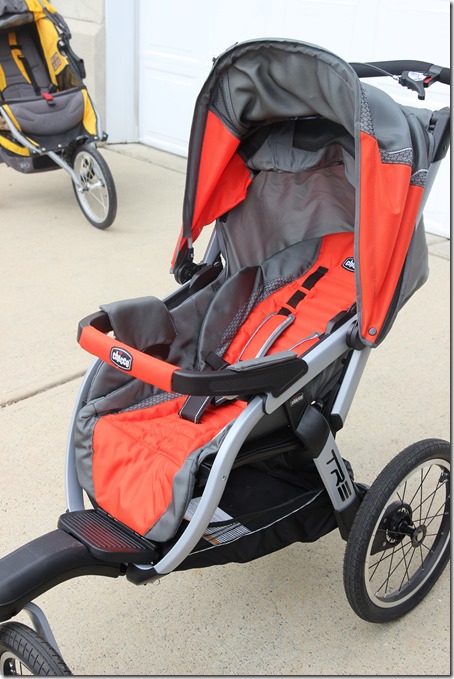 I also like the fact that this stroller comes with cupholder attachment and has a generous basket underneath.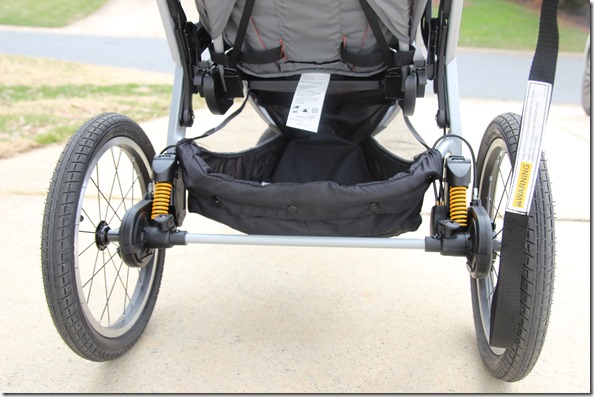 The first time I used the Tre, I couldn't figure out why the safety leash was SOOOO long.  But then, on a walk, I needed to tie my shoelace – and realized that I could reach down with the leash around my wrist and still reach my shoe!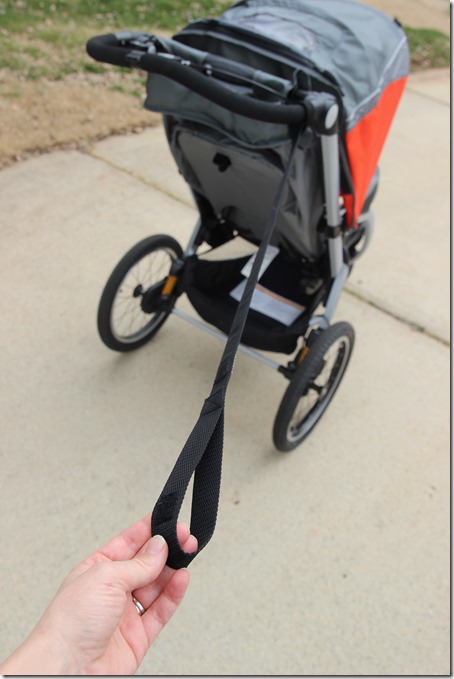 Like most jogging strollers, it has a handbrake.  My only complaint about this stroller was that you use the handbrake not just to slow the stroller, but also to put it in park.  It's kind of cumbersome.  I like a foot brake for parking more.  Also, it's kind of challenging to collapse.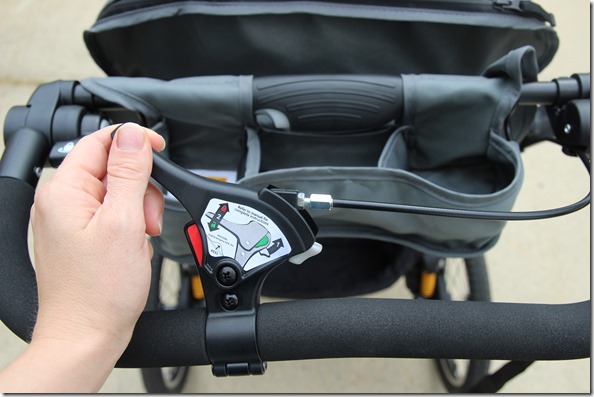 But how does it run?  Dude – it's amazing.  It's really smooth and, because it's compact (more on that below), it's easy to turn. 
Let's talk the Tre v. the Ironman: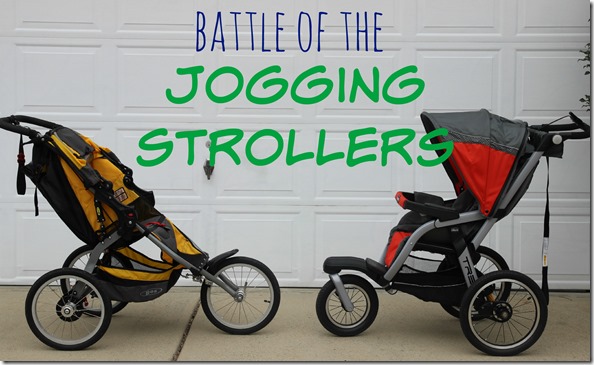 Now, I love my BOB Ironman – it's a hard stroller to beat, actually.  It's designed purely for running – and running fast. It's about 23 pounds (5 pounds lighter than the Tre) and has a big, fixed front wheel that make running down relatively straight lines (like sidewalks) a breeze.  It's also currently $65 less than the Tre.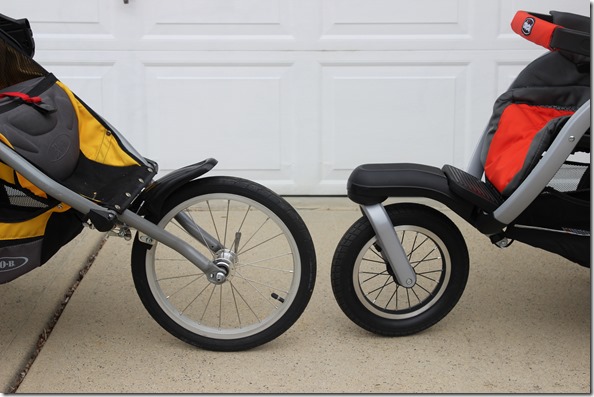 But… with a smaller front wheel that can be fixed or rotate, the Tre isn't designed for JUST running.  You could use this stroller at the park, at a festival, or in your neighborhood.  As far as jogging strollers go, you could even get away with it in some shops – it's about 5 inches shorter in total length than Ironman.  It can turn with just a flick of the wrist; because the Ironman is fixed, you have to lift the entire stroller to turn it (which takes some getting used to).
But for some reason, even though the Ironman is "designed" to be a pure, fast running stroller, the Tre seems SO much better on the road.   It rides really, really smooth.  And the Tre comes with so many perks that the Ironman does not – an adjustable push bar for the parent, an included cupholder, the crossbar for the kiddo, the ability to click in a carseat (but only the KeyFit), a storage area that's easier to access, and a MUCH better canopy.  In conclusion – I want to stay loyal to my Ironman (because it IS a good stroller) but man – the Tre is so. much. better.
So I'm giving one away!  Use the widget below to entire.  As usual, I'm closing comments on this post so there's no confusion on how to enter.
Good Luck!
Disclosure:  The Tre was given to me for product review purposes.