This week's Book a Week was an important one for me.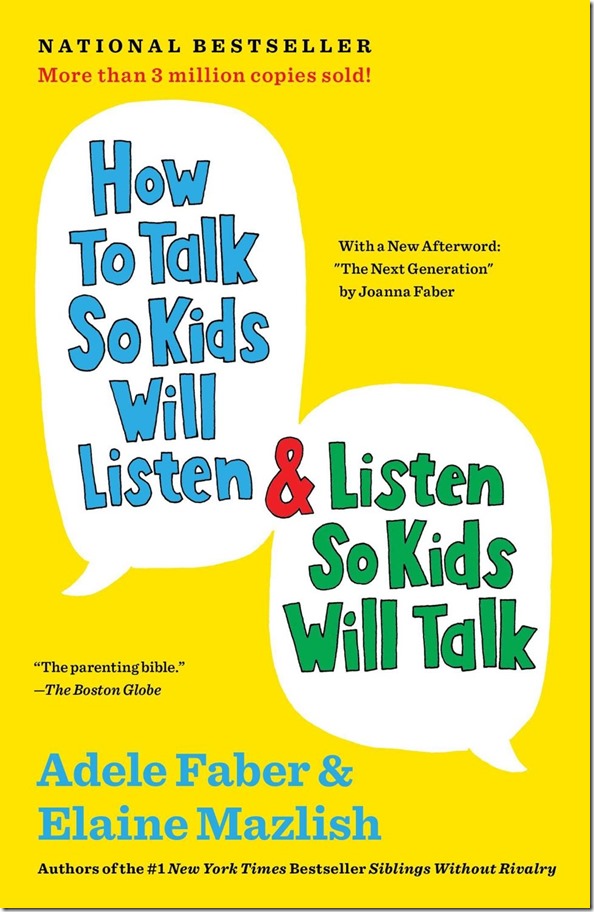 I read How to Talk So Kids Will Listen and Listen So Kids Will Talk.  I actually started this book last year but only got through two chapters before I set it aside.  The introduction recommends reading it sloooowly so you have time to learn and integrate the principles, but I think I was reading it TOO slowly before. 
When it comes to parenting, I really want to THINK about why I do certain things and try to improve on the way I interact with my kids.  I'm sure I have a million bad communication habits that I don't want to pass down to Henry and Claire.  And this book is not just a good book about communicating with children, it's a great book about communicating with PEOPLE.  How to Talk So Kids Will Listen really challenges you to think about the offhand comments you make and how those remarks either build someone up or tear them down. I loved how this book is formatted, too – there's a discussion of the technique, little cartoons showing you how to implement them with your kids (and this applies to kids of all ages, from toddlerhood to teenager), and then real-life stories from parents who tried the method on their children.
And the techniques actually work – and fast.  I love the idea of not peppering kids with questions.  I've noticed that when I ask Henry, "How was school? Did you play with Ben? Was your teacher nice? Did you go outside?" he shuts down. But if I just say, "Hello! I missed you!" he tends to start talking.  The book talks about how children – of all ages – have a private life and that's okay.  Makes sense to me – I don't want to tell everyone everything all the time, either.  There's also something really belittling about forcing children to talk. 
The book has made me say "Mmm?" and "I see" a lot, lot more. It's amazing what kids tell you when you shut up and stop asking!  Another big takeaway for me has been the recommendation to "describe problems" instead of directing orders. I do a lot of "I see a boy with no jacket on! I see snow outside the window! Brrr!" now.  You end up saying more words sometimes, but this technique really encourages cooperation.  I've also been doing a lot of, "Now that's what I call being responsible!" v.  "I'm so proud of you for picking up your toys."  Not only am I putting the focus back on him (v. me for being so proud) but he's learning new vocabulary words!
The other day, Henry was throwing a tantrum because I wouldn't buy him a new toy, so I excitingly whipped out a paper and a pen and made a list of all the toys he could think of that he wanted (there was a lot – hah!), and then I made a big show of folding the note up and putting in my purse, with the explanation that the next time I had money for a new toy, I would refer to his list.  The tears IMMEDIATELY went away – all he wanted was to be heard.  It didn't matter that I didn't buy him any new toys – he just wanted his wants to be acknowledge.  It was great!  I talked about another "Write it down" experience with Henry on this post.
My Review: 5 out of 5 stars. I think they should hand this book out at the maternity ward of hospitals.  I'm going to keep this book on hand and refer to it over and over again.
Everything Else in My Kindle…
Part of my Book a Week challenge is to rent more books from the library – but I've been lazy about that and keep buying them on my Kindle. It's just so much easier to download a book than drive to the library!  But not cheaper…
Anyway – I thought it'd be fun to list everything in my Kindle.  The good, the bad, and the totally embarrassing.  I BOLDED the books that I thought were really good!
Operation Beautiful by Caitlin Boyle (yeah, that's me – I bought the book, which is really picture-heavy, to see how it looks on Kindle – buy the hard copy; it's no good in Kindle)
How to Exercise When You're Expecting: For the 9 Months of Pregnancy and the 5 Months It Takes to Get Your Best Body Back by Lindsay Brin
NutureShock: New Thinking About Children by Po Bronson
World War Z: An Oral History of the Zombie War by Max Brooks
Packaging Girlhood: Rescuing Our Daughters from Marketers Schemes Lyn Mikel Brown
Ender's Game by Orson Scott Card
Speaker for the Dead by Orson Scott Card
The Midwife's Confession by Diane Chamberlain
Little Bee by Chris Cleave
The Hunger Games by Suzanne Collins
Catching Fire by Suzanne Collins
Mockingjay by Suzanne Collins
The Maze Runner by James Dashner
The Scorch Trials by James Dashner
The Death Cure by James Dashner
The Kill Order by James Dashner
Room by Emma Donoghue
The Circle by Dave Eggers
Gone Girl by Gillian Flynn
Hotel on the Corner of Bitter and Sweet by Jamie Ford
Something Borrowed by Emily Griffin
Something Blue by Emily Griffin
Love the One You're With by Emily Griffin
Baby Proof by Emily Griffin
A Friend of the Family by Lauren Grodstein
Water for Elephants by Sara Gruen
Unbroken: A World War II Story by Laura Hillenbrand
Into Thin Air by Jon Krakauer
A House in the Sky by Amanda Lindhout
Legend by Marie Lu
Reconstructing Amelia by Kimberly McCreight
Big Little Lies by Liane Moriarty
The Husband's Secret by Liane Moriarty
What Alice Forgot by Liane Moriarty
One Day by David Nicholls
Divergent by Veronica Roth
Insurgent by Veronica Roth
Allegiant by Veronica Roth
Four by Veronica Roth
All Joy and No Fun: The Paradox of Modern Parenting by Jennifer Senior
The Art of Racing in the Rain by Garth Stein
The Help by Kathryn Stockett
The Hobbit by JRR Rolkien
The Uglies by Scot Westerfeld
The Pretties by Scot Westerfeld
The Specials by Scot Westerfeld
The Beauty Myth by Naomi Wolf
What's in your e-reader?