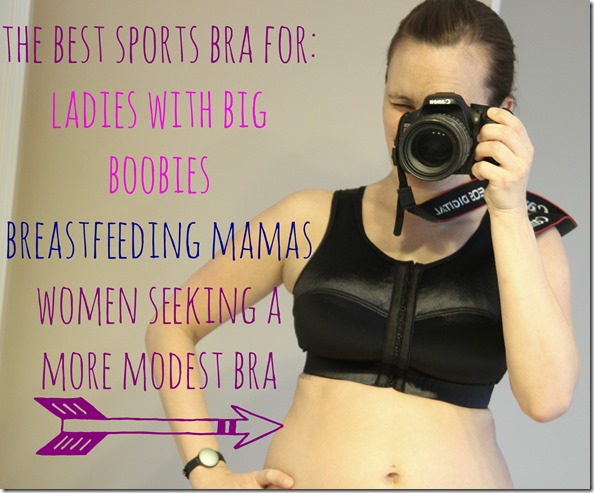 So I was digging through my exercise clothing drawer (okay – it's actually four drawers!) and trying to organize things.  I've weighed between 125 – 165 pounds in the last year, and I own a ton of gear in a wide range of sizes.  Every time I get dressed for a workout, I end up digging through the drawers to find that ONE CLEAN SHIRT that fits or the ONE CLEAN SHORTS that don't fall down and don't pinch my waist.  Ya know?
Anyway – in the back of a drawer, I stumbled upon my Enell sports bra, which I bought after I gave birth to Henry and kind of forgot about.  I am SO GLAD that I rediscovered this bra because I've been wearing it to death and really want to spread the word about how awesome it is.
But first, check out the back: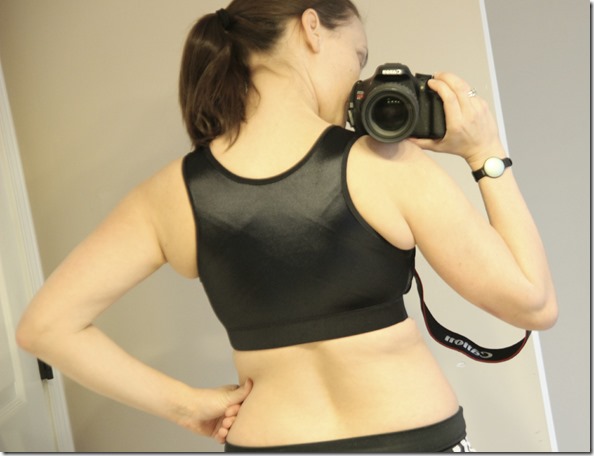 And let's acknowledge the obvious – this bra is UGLY AS ALL HELL.  Super, super ugly.  But it's an amazing bra in terms of comfort and bounce control. 
As you can see in the first picture, it has eye-and-hook clasps that go up the front, and the back is a large, solid panel.  The top goes up so high that it covers the entire breast, reducing "spillover" – no quad-boobs.  I have some decent sports bra that basically control 'bottom bounce' but don't accommodate for spillover – thus you still bounce around a lot.  The other nice thing about the front is that the bra almost totally eliminates cleavage, so if you wear it to spin class or yoga, there's a larger degree of modesty than normal bras. 
I have a pretty large chest when breastfeeding, and that plus the realities of milk production make it downright painful to run in a non-supportive bra.  With this bra, there is almost no pain because there is virtually zero breast movement.
I actually JUST ordered another Enell in a slightly larger size; this one squeezes my ribcage a bit at my current weight and makes it a tad hard to breathe when I run.  I want to lose those last 12 pounds, but I refuse to feel uncomfortable in the meantime, whether it's in regular clothes or workout clothes – so I can't wait to get the bigger size in the mail!  Enell uses a different sizing system, which you can read about on their website.  But the bra is specifically designed for women with larger chests (C cup or above) or larger clothing sizes, so it fits women with busts from 32 inches to 60 inches and ribcages from 27 inches to 53 inches.
What's your favorite sports bra and why?