Bringing a newborn home is so exciting – and stressful!  It really helps to ease the transition if you set up what I call 'survival stations' throughout the house (organize your stations before you go into labor!).  With Henry, I had three types of stations – diaper, breastfeeding, and in-the-bathroom.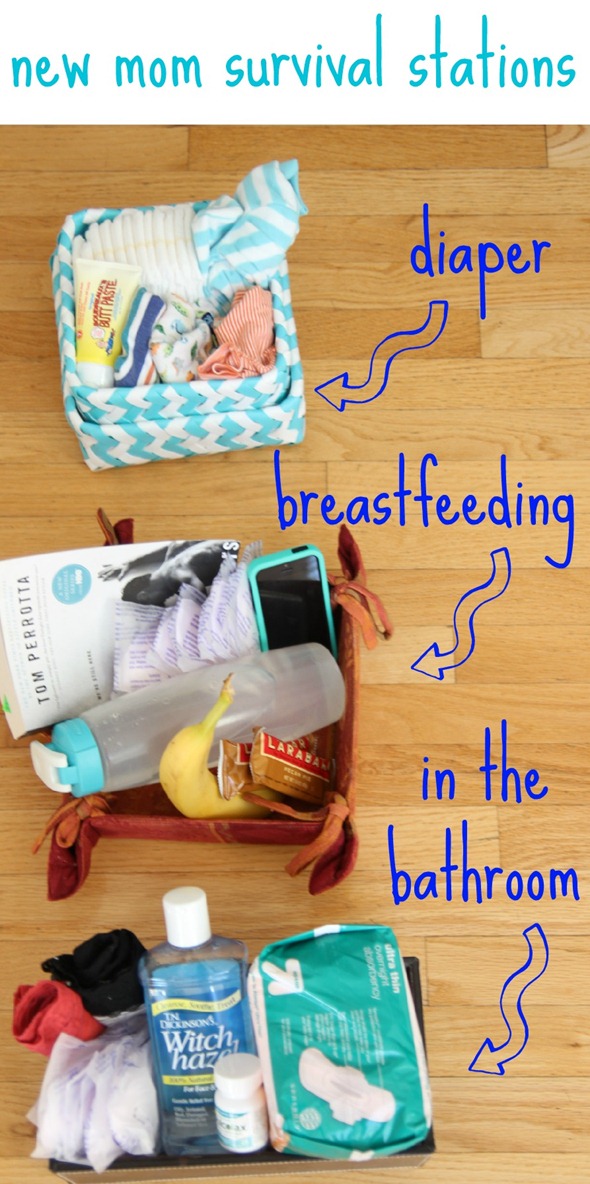 I started compiling my survival stations for Little One this weekend. Here's what I put inside:
Diaper Station – Newborns dirty a lot – a lot – of diapers.  And you'll be sending a lot of time on the couch.  So instead of relying on the changing table in the nursery (which your baby might not even sleep in yet!), set up a diaper station.  We kept ours in the living room.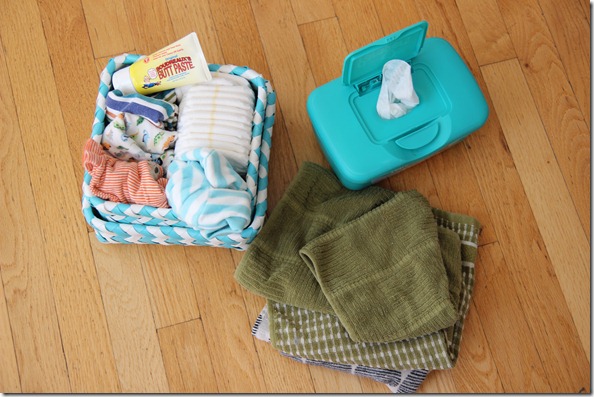 Newborn / Size 1 Diapers
Wipes
Diaper Rash Cream
Onesie change
Pajama change
Burp cloths
Old dish towels (to change baby on – trust me, a towel on the floor works just fine, and you'll get newborn poop everywhere no matter how hard you try to be tidy)
Plastic grocery bag for dirty diapers (they won't smell too bad yet!)
Optional: Extra swaddle, pacifier, coconut oil (a great moisturizer for baby's skin), any medication the baby may be taking (such as gas drops or gripe water)
Breastfeeding Station – Newborns eat.  A lot.  And if you're breastfeeding, that means you're pretty much tied to the couch as you and baby get the hang of it.   The breastfeeding station should probably be close to the diaper station!  Hah.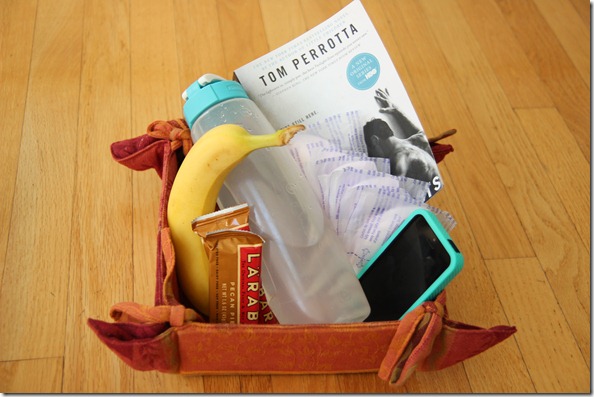 Breast pads (you'll probably leak, at least at first – I wore them the entire time I was breastfeeding)
Snacks
Water bottle
Book
Paper and pen or smartphone to track feedings (optional, but you'll probably want to track a little at first. I never found an app that I loved with Henry, but I've heard good things about Baby Connect)
Burp clothes or old towels
Baby wipes
Optional: Nipple shield, nipple cream (again – try coconut oil!), and something to help support baby (try a pillow, the Boppy pillow, or My Breast Friend).
In-The-Bathroom Station – The first few weeks of the post-partum period can be messy and uncomfortable.  Expect the heaviest period of your life!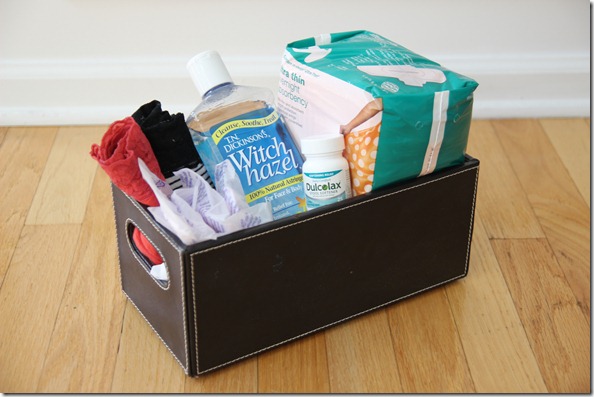 Extra underwear or extra pairs of the giant mesh panties they give you at the hospital
Breast pads
Witch hazel (can relieve the pain of stitches or hemorrhoids – you can make awesome witch hazel cold pads by dousing maxi pads with the witch hazel and popping them in the fridge)
Stool softener (talk to your doctor first, of course)
Maxi pads (I liked the overnight ones the most because they provide so much coverage)
PERI BOTTLE (It deserves all caps!  You'll get one in the hospital –ask for an extra.  Fill it with water and spray it on your vagina as you urinate to prevent burning)
Optional: Doctor-approved painkillers, hemorrhoid wipes/creams (like Tucks), and Gas-X.
I'd love to know what types of "survival stations" you set up and what goodies you recommend new moms include in theirs!  Also – what should moms put in c-section survival stations?