This post is sponsored by The Honest Company.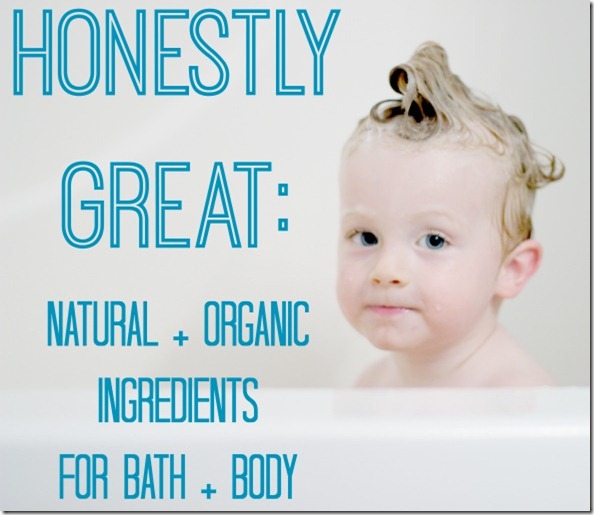 I was thrilled to have the chance to review three awesome products from The Honest Company, a one-stop shop for families who care about the quality of their bath, body, and baby products.
I have a ton of friends who use Honest diapers because they are hypoallergenic and free of chlorine and additives like fragrances (plus, the prints are so cute).  But I've never pulled the trigger on ordering some myself – and I kind of thought the only thing the company made was diapers.  Imagine my surprise when I discovered that the company makes a bunch of great bath and body products that follow similar principles.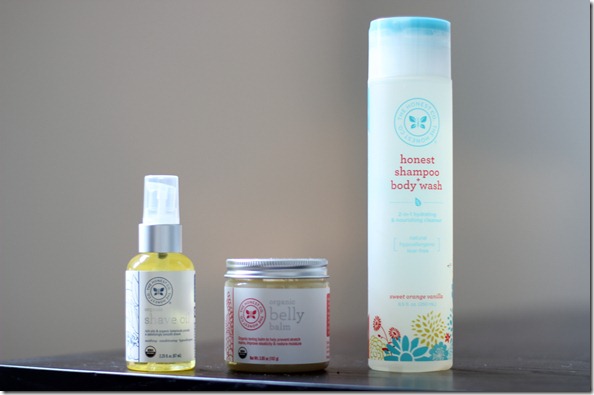 I know that many of you are constantly looking for 'greener' products, so my family each tested out one of The Honest Company's items.  I tried the belly balm; the Husband tested the shave oil; and Henry used the body wash.  Here are our thoughts!
My review: The Organic Belly Balm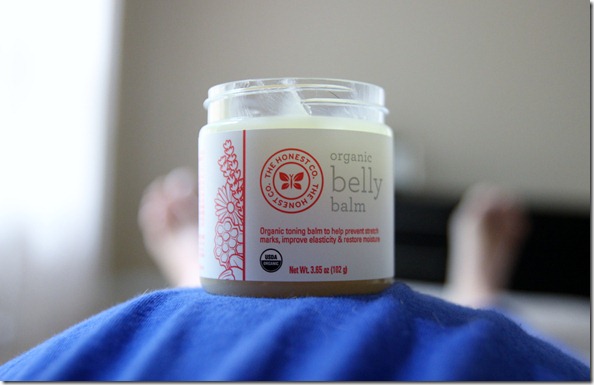 Cost: $15.95 for 3.65 ounces
This balm contains a mix of organic oils to "help prevent stretch marks, improve elasticity, and hydrate for soft and supple skin."  It's hypoallergenic, certified organic, vegetarian, and naturally non-toxic.  The balm is compromised mainly of oils like sunflower oil, beeswax, coconut, and olive oil, so it has a greasy feel when you rub it in, but it quickly absorbs. Your skin ends up just feeling really smooth and hydrated – I loved it! 
I get some stretch marks while pregnant (especially this time around), but nothing too crazy.  I use balms like this mainly because my belly skin always feels super dry – you know that crazy itchy feeling?  Yup.  Hate it.  But this balm really chases away the feeling, and it is so nice that I end up rubbing it all over my elbows, feet, and – you'll never believe it – HAIR.  I have been using this as a "leave-in conditioner" at night (I sleep on a towel), and when I shampoo out the balm in the morning, my hair feels so luxurious.  Sweet!  I've also noticed that my NAILS are looking fabulous – I've been rubbing this balm into each nail after I apply it to my belly, arms, and hair, and I swear that they are longer and stronger now.
The Husband's review: Organic Shave Oil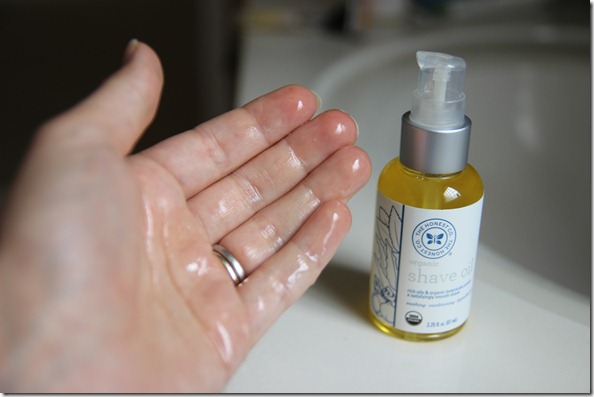 Cost: $15.95 for 2.25 ounces
When I rubbed this on my hands before turning it over to the Hus, I knew he would like it.  He hates conventional shaving cream (the foam stuff) because the chemicals trigger razor burn and make his skin break out.  This oil is organic, free of sulfates and parabens, and concentrated, so a little goes a long way.
His thoughts – "I really liked this!  Much more than the stuff I normally get [he buys an organic shave cream from another big-name natural product company]. I'd rub the oil into my beard and wait a minute or two – it really softened the hair and make shaving go faster. I got a really close cut, and there was no razor burn afterwards. Bonus – it made my skin feel moisturized."
Henry's review – Shampoo + Body Wash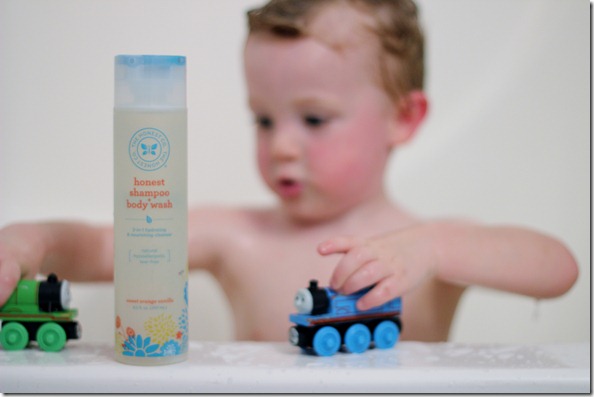 Cost: $9.95 for 8.5 ounces
I was excited for Henry to try this because we've gone through several natural shampoo + body washes and never really loved any of them. This wash is hypoallergenic, tear-free, vegan, and naturally non-toxic.  It's free of sulfates, parabens, dyes, and all the other random chemicals that you normally find in washes (even baby washes). It's also apparently safe for color-treated hair.
Here are Henry's thoughts – "I DON'T WANT TO TAKE A BATH. NOOOO. NO BATH TIME. NO BATH TIME. Can I bring Thomas the Train? And Spencer the Train? Okay! Let's take a bath. Don't help me – I can get in like a big boy. Don't turn off the water! More water!  Let me take the plug out. No, let me put it in. I don't want soap. No soap. NOOOOO. Oh – bubbles. Yay, bubbles! No, leave the bubbles in my hair. Look at my hair! Wait. Wait. Wait. I do it. Where's the cup? This smells nice. I DON'T WANT TO GET OUT OF THE BATH. NOOOO. STOP. BATH TIME. BATH TIME!!!!"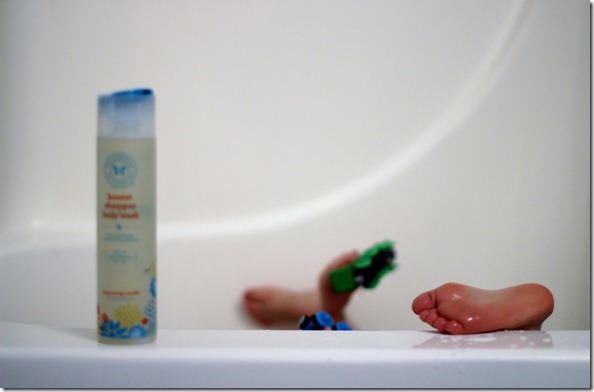 Translation: He liked it. I liked it.  Good stuff!
What's your favorite natural beauty or bath product?
The post was sponsored by The Honest Company. Thanks for reading sponsored posts and understanding that this is how I help support my family – I really do appreciate it a lot.