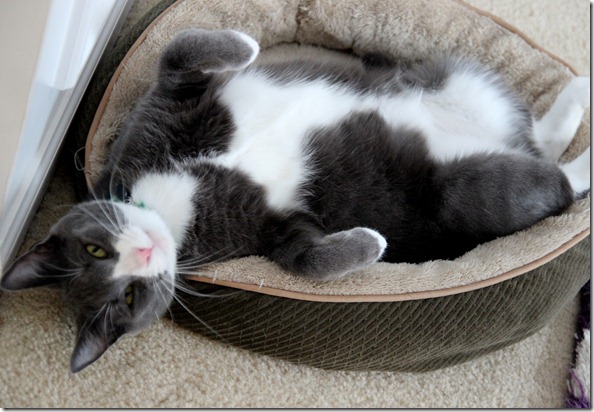 I read a great book over the weekend – The Leftovers.  No, it is not about Thanksgiving turkey.  Hah.  It's a great story about what happens after The Rapture occurs – millions of people suddenly vanish, leaving their friends and family behind to grapple with their new reality. It's been turned into an HBO series – if the show is anything like the book, I really want to see it!  Anyway, if you're looking for a great book, The Leftovers is an excellent – and eerie – choice.
In addition to a book recommendation, I have a yummy recipe!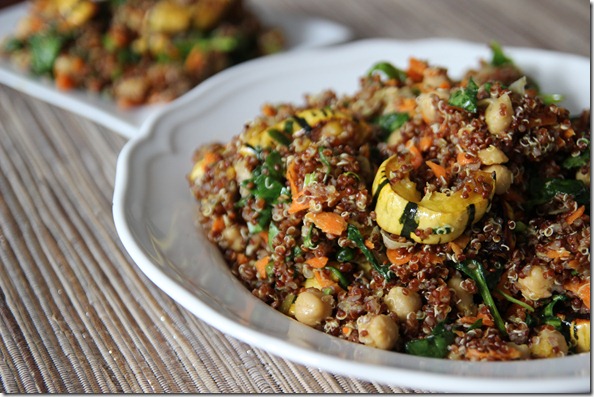 In line with my favorite of all favorite recipes, this one is super simple and easy to prepare.  The most complex step is roasting the delicata squash, and delicata squash is my favorite squash of all because you don't have to peel it!  I rarely buy other squash because it's such a nightmare to peel – so it's nice that you can eat delicata squash's tasty skin.
Basically, this delicious recipe is pretty darn easy to make.  Win, win.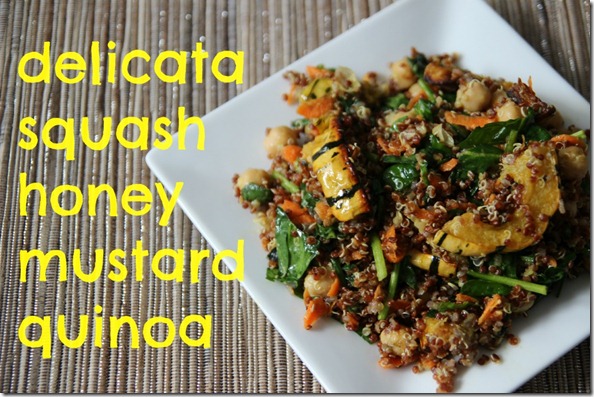 Delicata Squash Honey Mustard Quinoa
Ingredients (for 3 – 4 servings):
1 cup red quinoa, measured dry
2 cups water
1 delicata squash
Drizzle of olive oil
2 medium carrots, shredded
2 cups raw baby spinach, loosely measured
1 can chickpeas, drained and rinsed
3 tablespoons dijon mustard
3 tablespoons honey
3 tablespoons coconut oil
Salt, to taste
Directions:
Preheat oven to 375. Meanwhile, remove the edges of the squash, slice it lengthwise, and use a spoon to scoop out the seeds.  Then, slice into 1/2 inch C shapes. Dip in the drizzle of olive oil, arrange on a cookie sheet, and bake for 35 minutes.
On the stovetop, cook the quinoa in the water for 15 minutes or so, according to package directions.
In a large bowl, mix shredded carrots and thoroughly chopped spinach.  When quinoa is cooked and still hot, pour on top of veggies to soften them.
When squash is done, add to quinoa mix.
In a microwaveable bowl, combine mustard, honey, and coconut oil.  Microwave for 30 seconds to soften and then thoroughly mix.  Pour over quinoa mix, combine, and add salt to taste.
This would be an AMAZING vegetarian Thanksgiving entrée (or a nice side dish for a more traditional meal).
Thought of the Day: