Did you have a nice weekend?  Ours was easy breezy.  I've gotten really good at mentally 'checking out' for the weekend, and I have to say – it's so nice.  We just spend the days relaxing and soaking up our family time (and watching Parenthood marathon-style).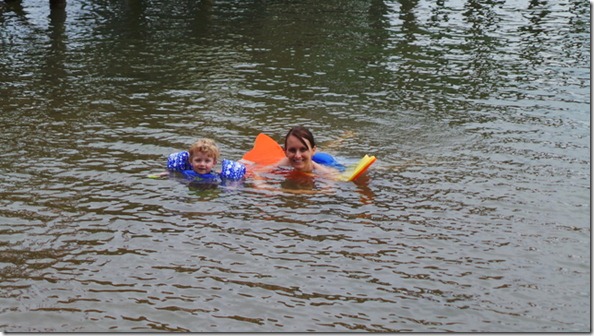 On Saturday, we hit the lake.  We joined Julie and Ryan + Brittany and David for some fun in the sun.  Brittany lives off the beautiful Lake Norman.  Henry has recently decided that he is a Lake Boy, and I truly cannot keep him out of the water!  He's getting much more confident with 'swimming' and has zero fear of the muddy bottom and the fish zipping between our legs.  We even paddled out 30 or 40 feet to get a closer look at a parked jet ski and two ducks.  I was impressed.  Future open water swimmer!
My Sunday included some family visits and some baking.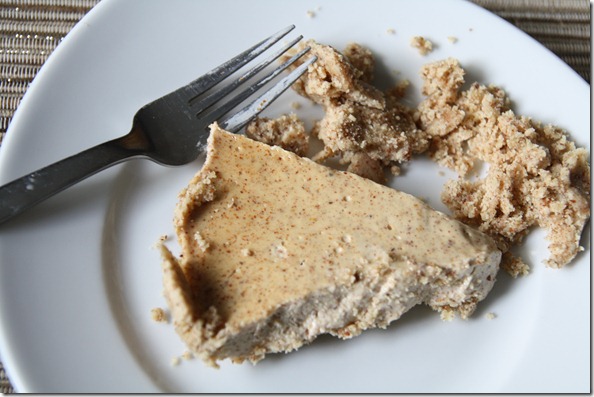 I had an idea to make an almond butter + Greek yogurt freezer pie.  Lo and behold, after some Googling, I found that I wasn't the first one to hit upon this idea.  But I wanted something that was basically added sugar free, I wanted a gluten-free crust, and I was searching for a chance to try some stevia baking 'sugar.'  So this pie was born.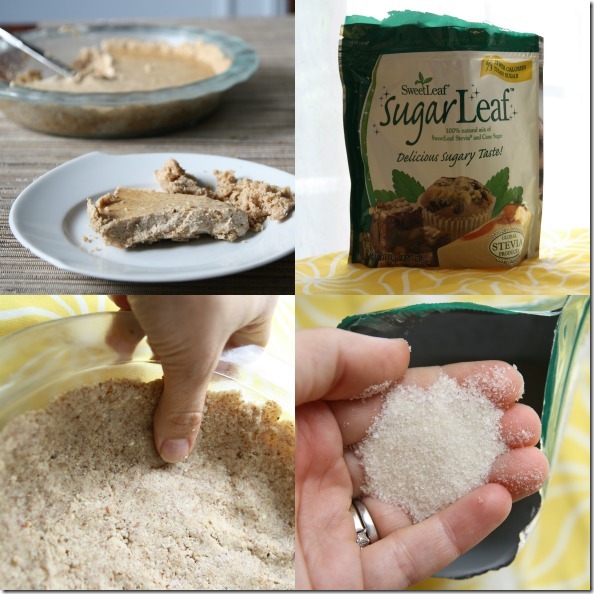 I'm doing a review of the SweetLeaf stevia drops (which I love in my tea!) on Wednesday, and the company tossed a bag of the baking crystals in their shipment.
This pie turned out pretty good.  The flavor was awesome, the consistency rocked, and I liked the SweetLeaf 'sugar' (there was a bit of that tell-tale stevia aftertaste, so in the recipe below, I reduced the amount I used by half… a little goes a long way).  But the almond meal crust didn't work after baking and then freezing it – it fell apart!  I followed a recipe intended for hot pies, so I think this was just effect of chilling it.  Still – the pie overall was really good, and I bet you could use a traditional premade or homemade graham cracker crust with much success!
Almond Butter + Greek Yogurt Freezer Pie Filling
16 ounces plain Greek yogurt
1 cup creamy almond butter
3/4 tablespoon SweetLeaf Sugar Leaf (or about 3 tablespoons regular sugar)
1/16 teaspoon vanilla extract
Directions:  In a blender, combine all ingredients.  Pour into crust and freeze for two hours.
What else?  Oh, we started to do family tea parties at night.  We all drink a non-caf tea together (Henry's is room temp).  Gotta instill some British traditions in the kid.  It's super cute to watch Henry navigate a tea cup – and I swear, he sleeps better at night!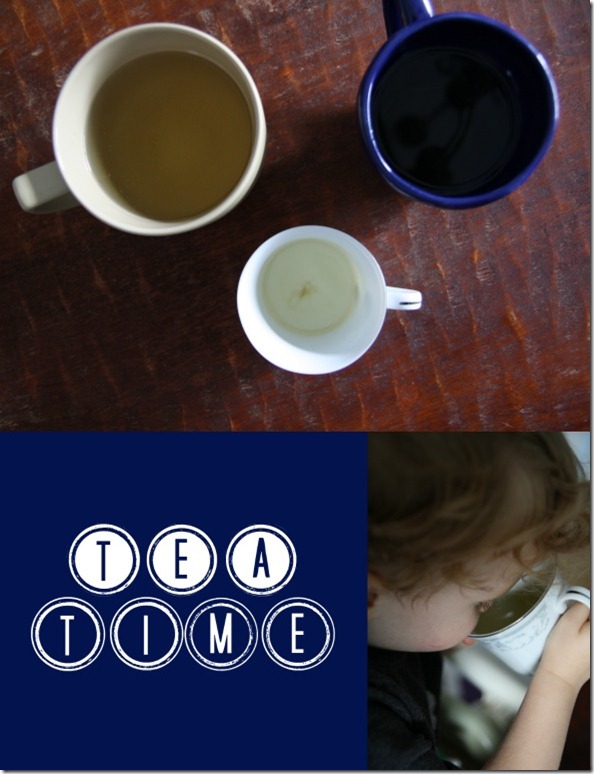 And last, but CERTAINLY NOT LEAST, this weekend, I hit the "OMG I feel pregnant" marker.  We went on a 2 mile walk and I was huffing and puffing by the end.  And my thighs were BURNING.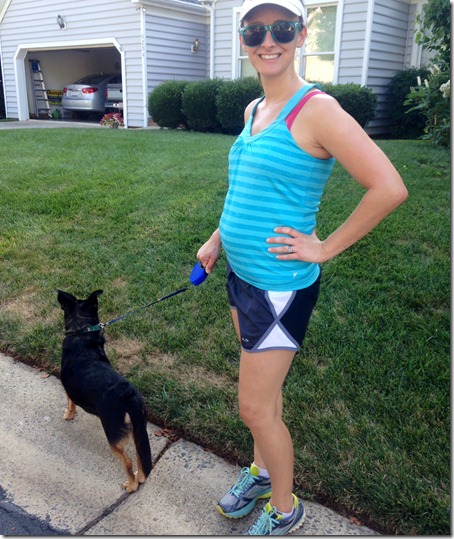 I'm almost totally in maternity gear. None of my bras wrap around my ribcage. All my 'normal' workout gear has been pushed to the back of the drawer. Even my undies look dubiously small. I know I have so much farther to go, but… OOF! Let it be known – 18 weeks was "THAT" week.  Hooray! It's getting uncomfortable, but it sure is exciting. Grow, baby, grow! <3 <3 <3
Thought of the Day:
"Believe in yourself! Have faith in your abilities! Without a humble but reasonable confidence in your own powers you cannot be successful or happy." – Norman Vincent Peale