I had a major hankering for pizza on Saturday but there was one big problem:  I didn't have any in the house.  So I whipped up this healthier alternative.  I love this meal and have already made it again!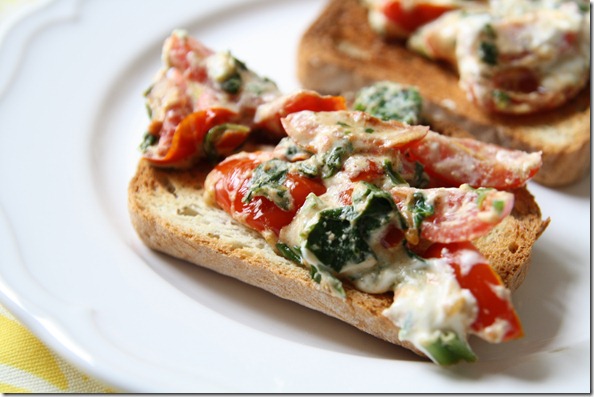 Here's what you need:
Two slices of toast (I used Udi's)
About 1/4 cup goat cheese
7 cherry tomatoes
Small handful of frozen spinach
Toast two slices of bed.  Meanwhile, slice the cherry tomatoes four ways, and then, in a small pan, cook them on medium until they start to wilt.  Add in the spinach and cook for another minute or so; dump the goat cheese on top and stir it all on top.  Pour the cheesy mix on top of the toast and – TADA!  You're done.  It takes less than 5 minutes from start to finish. 
The best part is that Henry saw my plate and remarked, "Mommy's pizza!"  I had to laugh because you know a 'healthy' version of a real dish is a winner when a toddler correctly IDs it.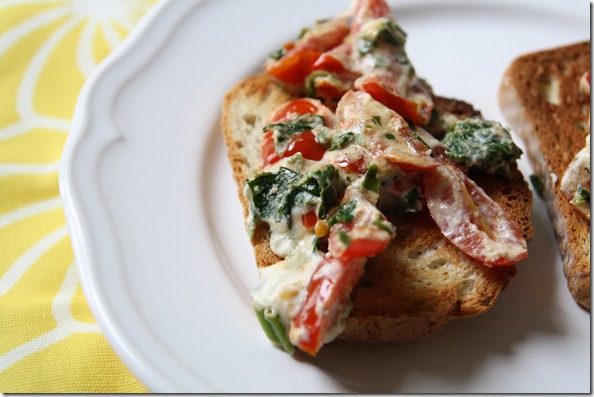 Fun Debate:  Cool at 13, Adrift at 23
I read this article on the New York Times with interest:  Cool at 13, Adrift at 23.  I thought it would be a fun debate topic for the blog!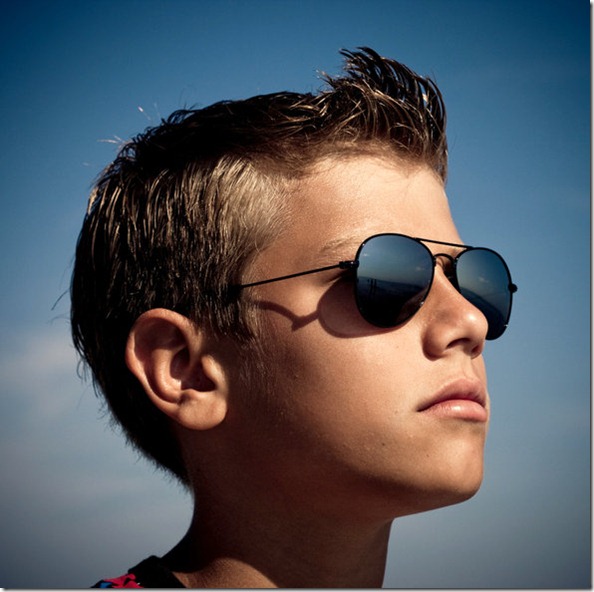 Kristien and I have been having this debate for year:  Do we want our kids to be 'cool,' grown-up, and very popular or more 'dorky,' wholesome, and with just a few close friends?  (Side note:  We realize that we don't really have control over this; it's just a discussion about childhood v. growing up that we like to have).  We both saw the NY Times article and simultaneously e-mailed it to each other! 
The article basically states that kids who are seen as 'fast track' and cool in middle school may eventually experience a social status crash, as they 'lose their way' and end up more likely to do drugs and engage in criminal behavior.  Note: 'cool kid' status is a predilection, not a predictor, of these behaviors – there are always cool kids who end up super successful.  I've personally seen this go both ways. 
So – here's the debate questions.  In general, do you think cool kids experience a social status crash or do they always rule the roost?  Do dorky kids end up being in charge?  Would you rather your kids be super cool or a little dorky?  <— Side note: I use the label 'dorky' lovingly!