I had some serious StitchFix growing pains during my first trimester (StitchFix is a personalized online shopping site; here's a post describing it with pictures from one of my first fixes).  It was partially my fault – I gained weight pretty quickly and didn't update my sizing, although I did tell them that I was pregnant.  But I really needed to change all my 'smalls' to 'mediums' and didn't.  But there was also some funky styling going on – I got a few tops and dresses that really, really did NOT fit a pregnant person's body.  It was frustrating because I love the idea of the service. 
I made some tweaks to my style profile – mostly bumping up all my sizing info.  But I described my new body shape in the notes.  And I made very specific requests.  Lots more blousey shirts, no more tight tanks, and please, please – nothing that hit me in the middle of the bump!  Before, I kind of let the stylist have free reign, but that was clearly not working with pregnancy.  I've gotten two really good fixes since.  Although StitchFix doesn't officially "do" maternity clothes, they try to make it work for pregnant shoppers.  And now that we're ironed out the creases, I'm back to being satisfied with the service.
I've only seen one other pregnant StitchFix review so I thought I'd toss my latest into the hat.  Let's start with the NO WAYS.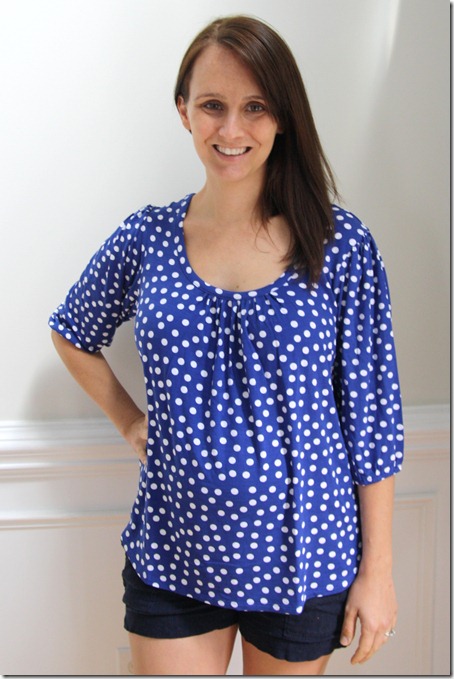 Polka Dot Cross Back Top ($58).  This shirt was not my style, at all.  It was also too large in the neck.  The back was cute (a little criss-cross action) but the general shape was blah.  I felt like I was in pregnancy top from the 1970s.  Also – didn't love the price point.
Henry, however, loved it.  (He gets super excited when he sees a StitchFix box because we drop everything and start trying all the clothes on in the hallway – hah!)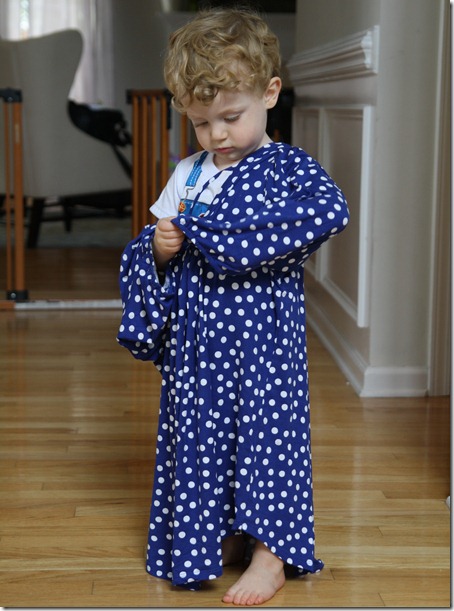 Another reject – this Colorblock Hi-Lo Tank for $48.  I was so hopeful when I pulled it out of the bag because the colors and print are my style, but it's a definite NO.  The "high" part of the shirt goes up too high for a bump – you could see my maternity panel!  And the color blocking around my breasts weren't flattering.  So sad, but it went back in the box.  It would be really cute on a non-preggers person.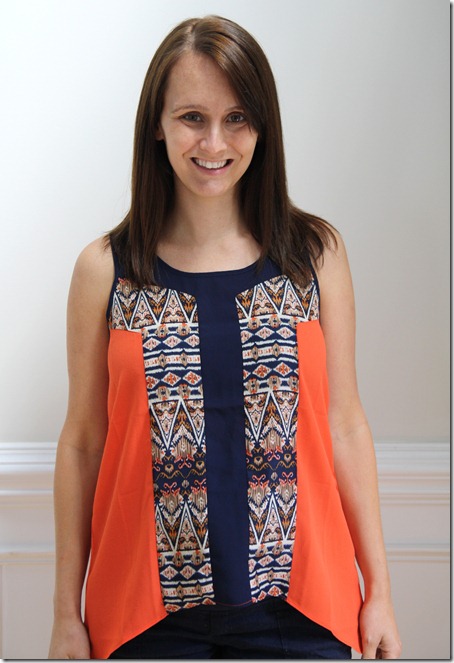 Okay… here's are the YES PLEASE pieces (I don't think I've ever kept three pieces before!).
Love, love, LOVED this maxi dress. I kept asking my stylist for a good maxi dress and she finally delivered.  At $88, it isn't cheap at all, but it's so soft and super comfy and light.  I struggle to find maxi dresses that provide full coverage up top so I really loved this dress.  I can probably wear this through the end of my winter pregnancy with a cardigan.  But the dress is a little long – I need to hem it.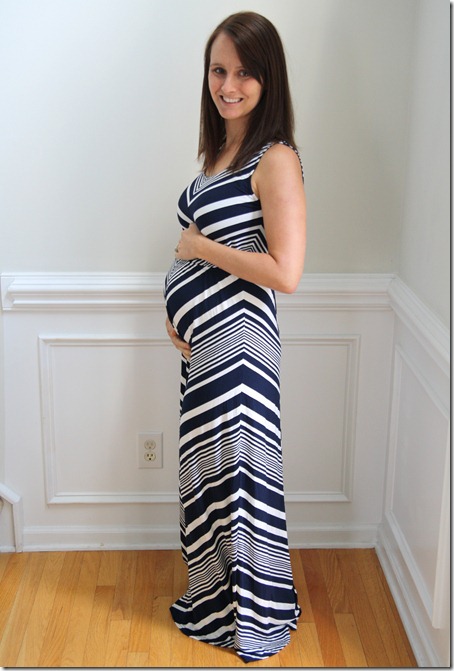 The picture below is meh, but this top is great.  It's really a nice color and pattern, and it's soft and light.  It's $54, which is on the higher side, but I think I could easily dress it up or down with the right bottoms.  I think I'll max out of this shirt by 7 months or so, though.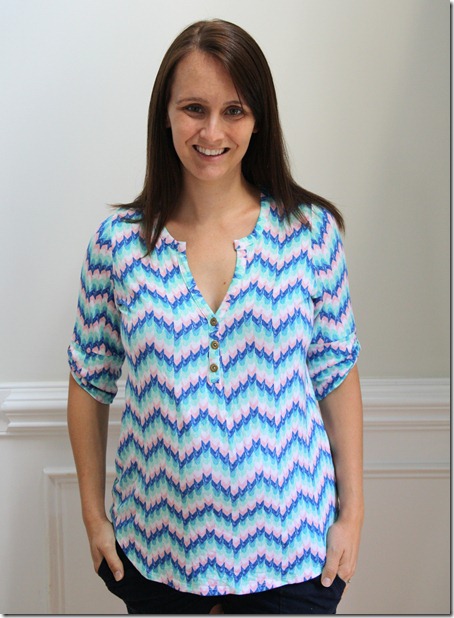 And last, but not least, this light sweater ($48).  When I first pulled it out of the box, I thought, "Come on, StitchFix – a sweater in July?!"  But it's a lighter sweater and will be perfect for movie dates or cooler September nights.  I'll be able to wear this through the end of pregnancy and beyond.  Wahoo!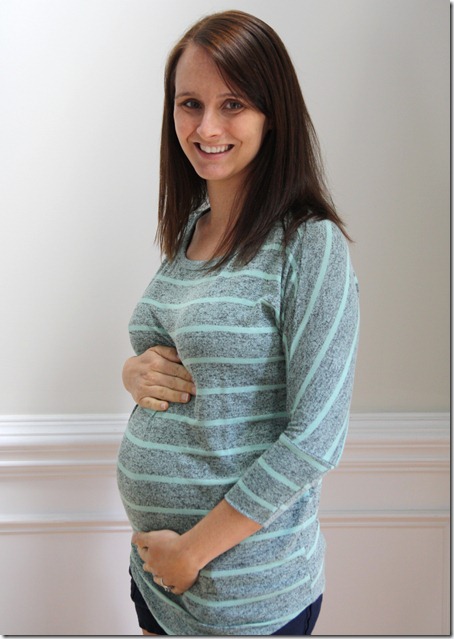 Another recent StitchFix maternity shirt was the orange top I wore at Henry's birthday party.  I also got a pretty blue criss-cross one that that I wore to a business meeting a few weeks ago.  I will outgrow that one soon, but I like it because it will be an AWESOME nursing top (God willing).
So – in conclusion, I think StitchFix can work for pregnant women.  I just found it to be a bit trickier than when I was not pregnant because my body shape changed so rapidly, so my sizing and style preferences were impacted.  I hate shopping for clothes in malls, and I find maternity stores to be particularly nightmarish, so I continue to seriously adore the concept of StitchFix.  The bumps in the road (pun intended) were worth working through!
This post includes affiliate links.  As with the last StitchFix post, if enough people sign up with my referral credit, I'll do a fun giveaway of my credits!