Oh man – where to start?  This past weekend in Boston was so much fun, and the 5K and 10K were just the icing on top of the cake!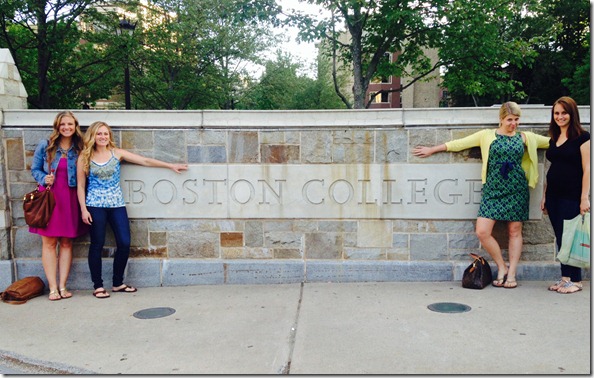 Probably my favorite part of the weekend was seeing my buddies.  There was a big group of bloggers that Runner's World invited to the race, and it was nice to see both familiar and new faces.  The race starts on the Boston College campus, so we actually all stayed in the dorms!  I haven't been in a dorm since I was, oh, 19 years old?  It was everything that I remember it being!  Julie was my roomie; we had a blast!  (Oh, and soon we're going to be NEIGHBORS!!!) <— I can't wait to babysit her doggie.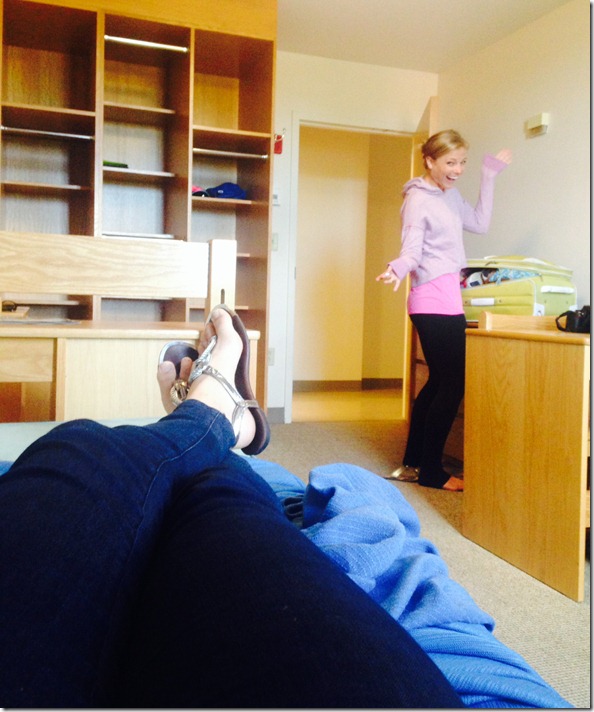 The weekend kicked off on Friday morning with a workout with the November Project.  The free fitness movement, which started in Boston, is now available in about a dozen cities across the country.  Basically, a group of like-minded people meet up and do a crazy challenging workout.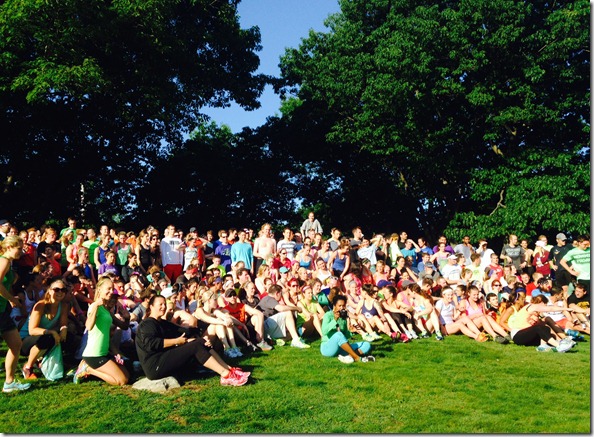 Our November Project workout included tackling a giant, nearly 1 mile long hill (with an incline varying from 6 – 17% – yikes) and darting under an obstacle.  If you're a regular, you do the hill five times – OMG!  I did it once and walked the entire thing.  I was terrified that I'd burn myself out before the race.  It was no joke!
After the November Project, we all headed out to breakfast.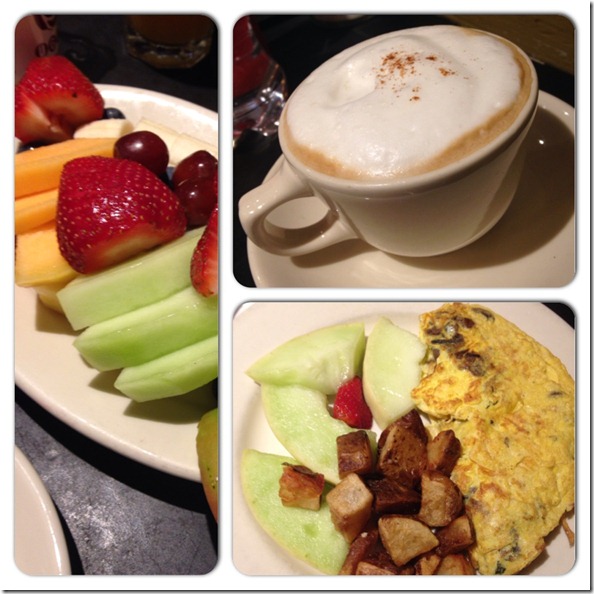 And then we went back to Boston College for some race activities.
The cool thing about the Heartbreak Hill Half Marathon Festival is that Runner's World really wanted it to be an EXPERIENCE – not just a race.  So in addition to the 5K, 10K, Half Marathon, and Doggie Race (which was adorable), there are all sorts of lectures, seminars, movie screenings, and meet and greet opportunities that racers can attend FOR FREE!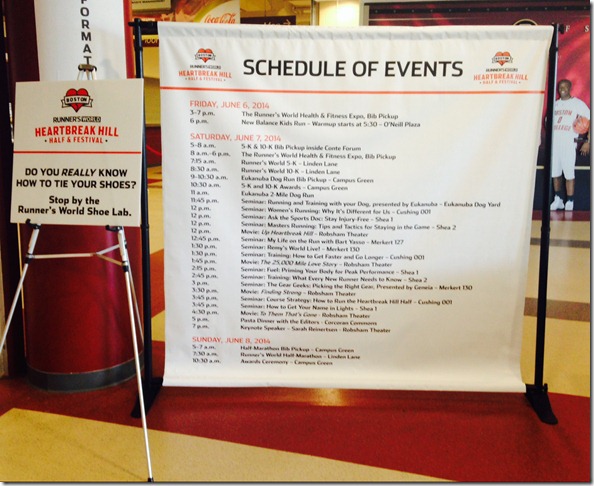 For example, there were lectures on Women's Running, Sports Nutrition, and Staying Injury Free.  There were some big-name runners on hand – like Shalane Flanagan!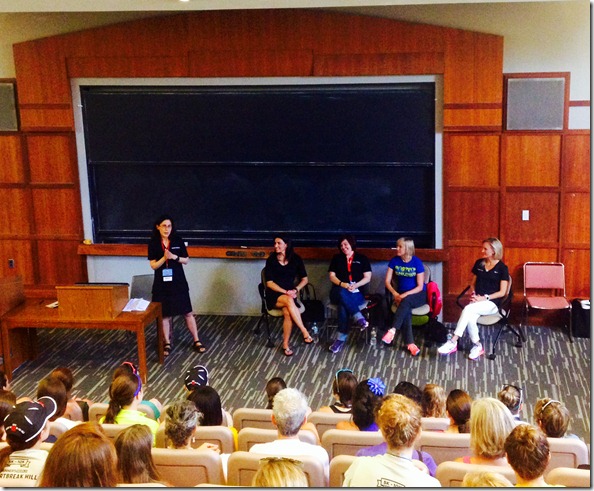 We also attend the race expo.  I'm going to dedicate an entire post to the race sponsors and swag because I got to try out some AMAZING running gear – hopefully I can do some giveaways, too!  Spoiler alert:  The best thing I tried out was a new product from The Stick – it's a special massager for trigger points on your neck.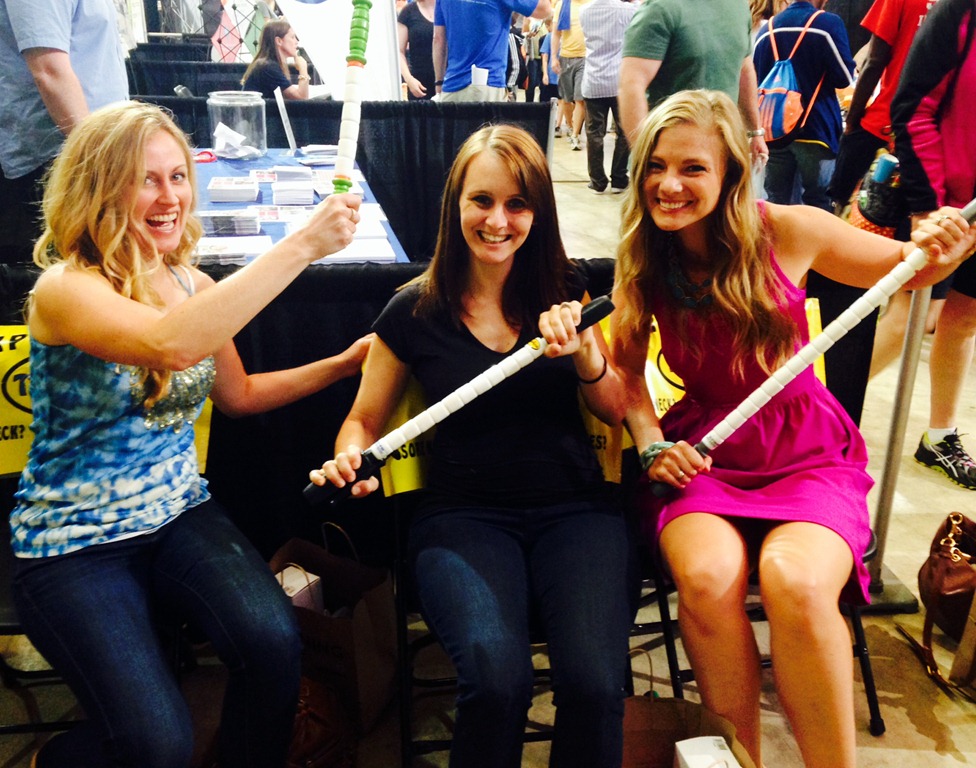 Okay – onto race morning!
Here's a list of the runners who were invited to the race by Runner's World – if you're looking for some inspirational fitness or running blogs, check these ladies and gents out!
Julie: www.pbfingers.com
Charlene: www.fabrunning.blogspot.com
Matt: www.nomeatathlete.com
Anne: www.fannetasticfood.com
Katie: www.runsforcookies.com
Sarah: www.sarahfit.com
Jason: www.strengthrunning.com
Theodora: www.preppyrunner.com
Presley: www.runprettyblog.com
Amanda: www.runtothefinish.com
Katy: www.katywidrick.com
Karla: www.runkarlarun.com
Heather: www.relentlessforwardcommotion.com
Marnie: www.runstreet.com
Sarah: www.pickyrunner.com
Larisa: www.larisadixon.com
Jessica: www.keepingmommysane.com
Dani: www.weightoffmyshoulders.com
So, as mentioned in this post, I was pretty nervous about tackling the 5K and 10K back-to-back just because I haven't really had a great last few months of running thanks to the first trimester blahs.  But my buddies convinced me that I could do the races if I followed a walk/run plan that would clock me in around 13:00-minute miles.  I knew the official cut offs for the races was a 19:00-minute mile and a 15:00-minute mile pace, which I was PRETTY sure that I could maintain.  I wasn't looking to break any personal records – I just wanted to get out there and walk/run with my Little One.  Baby's first race!
So, on race morning, I lined up at the back of the corrals.  It's fun to hang out in the back – people are extra friendly!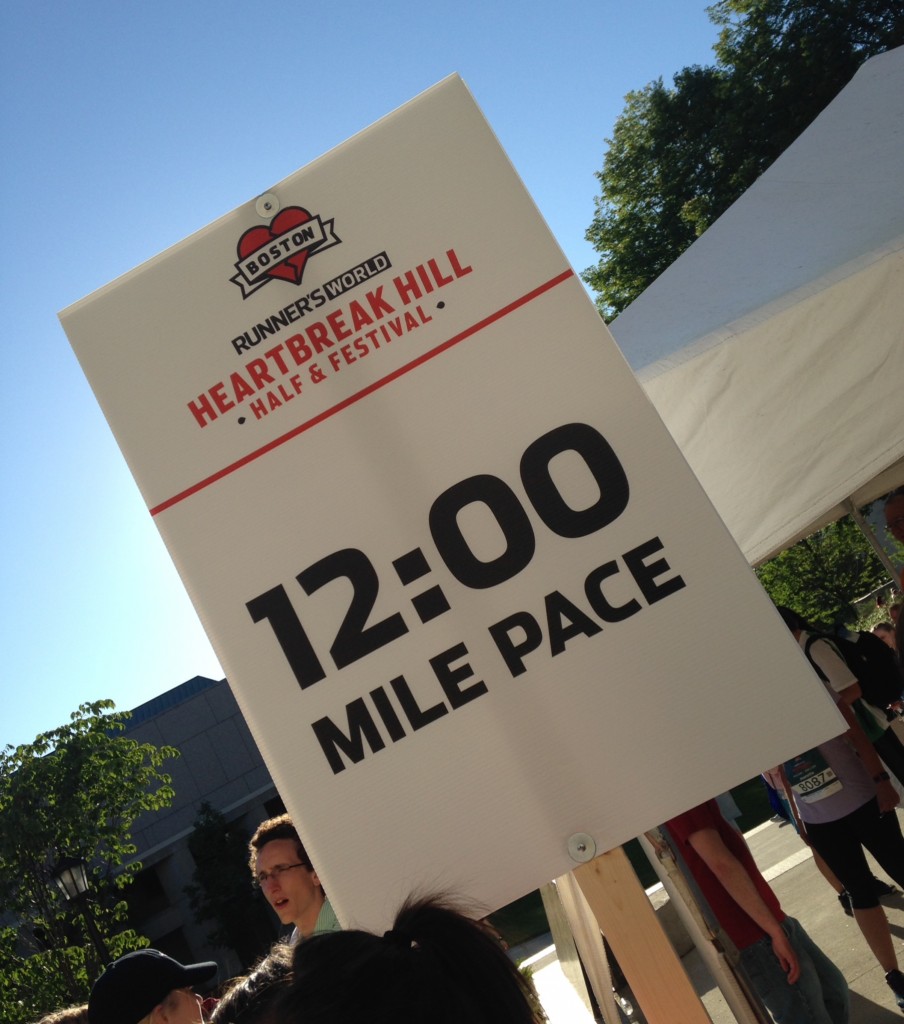 The 5K was first.  My game plan for this race was to go easy and really try to pace myself.  The course was a nice loop around a nice lake, but there were a LOT of hills.   I mostly walked up the hills and ran on the downhills and flats.  I finished in 41:25 – a 13:20-minute mile.
In between the 5K and the 10K, I fueled up on potato chips…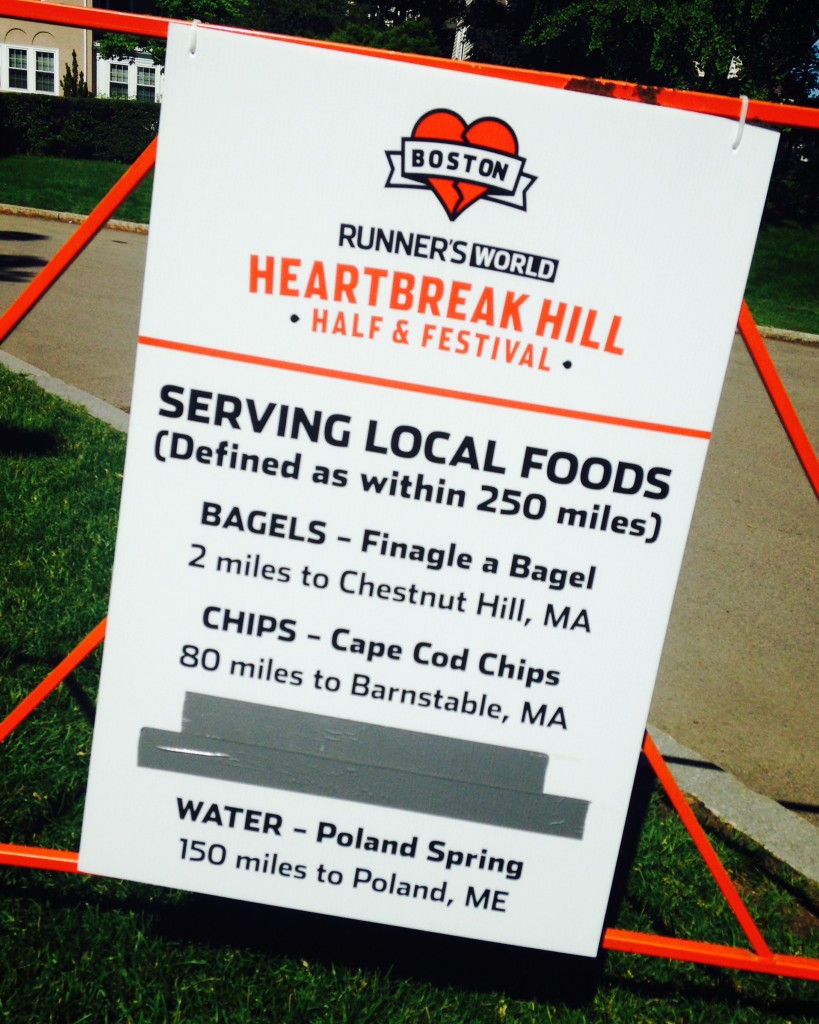 And Swedish Fish.  Um, yes.  That was a totally awesome idea.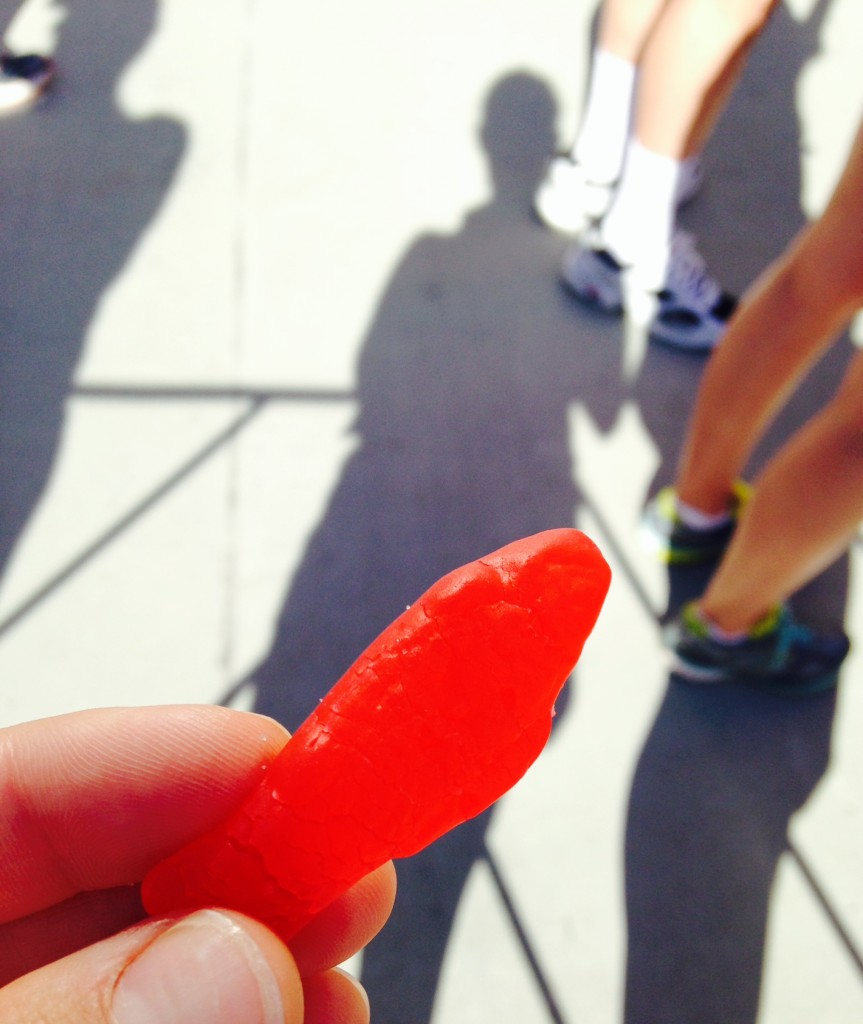 And then it was time for the 10K!  My plan for the 10K was again to walk/run, but to start off as easy as possible and hopefully pick it up towards the end (with the understanding that THE hill – Heartbreak Hill – would be during Mile 5).  Again, I started off in the back, but I quickly found two of my bloggie friends to walk/run with.  I stuck with them for about two miles.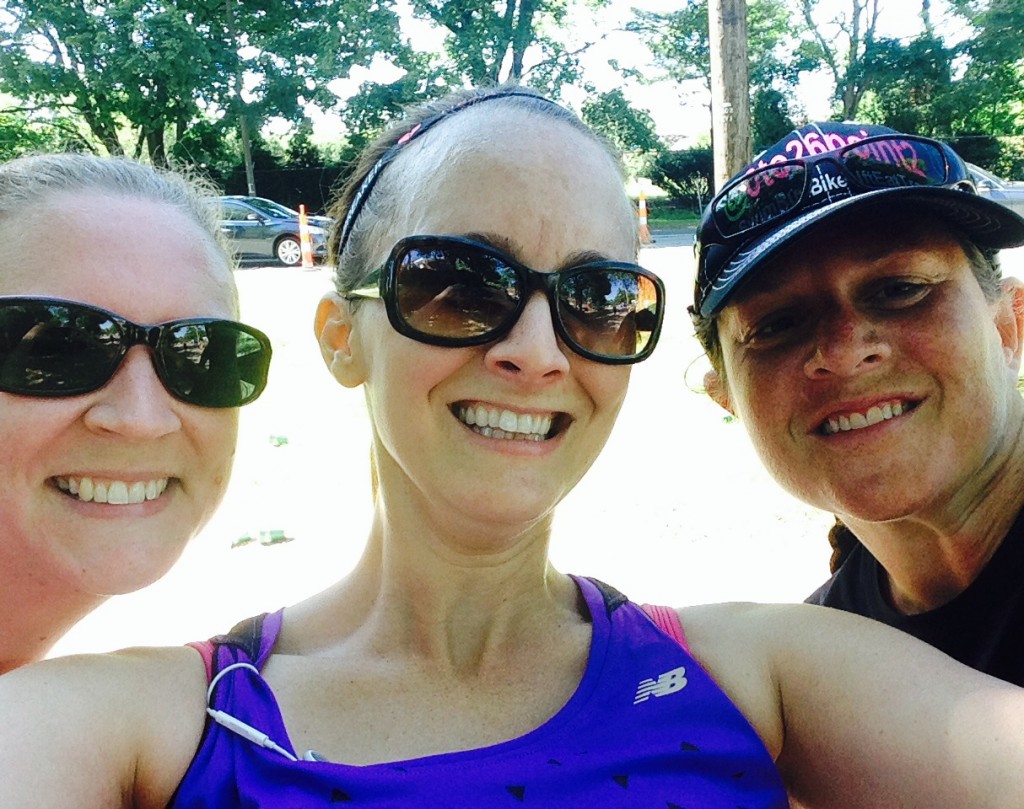 After Mile 4, I decided to pull away.  I ended up running the second half of the 10K about 3 minutes faster than the first – even with the big hill!  I was proud of myself for that because, to me, that meant that I had paced myself really well through the races.  I probably could've completed the whole thing faster, but I was mostly concerned about having fun and being safe for the bump.
I finished the 10K in 1:21:36, a 13:08-minute per mile pace.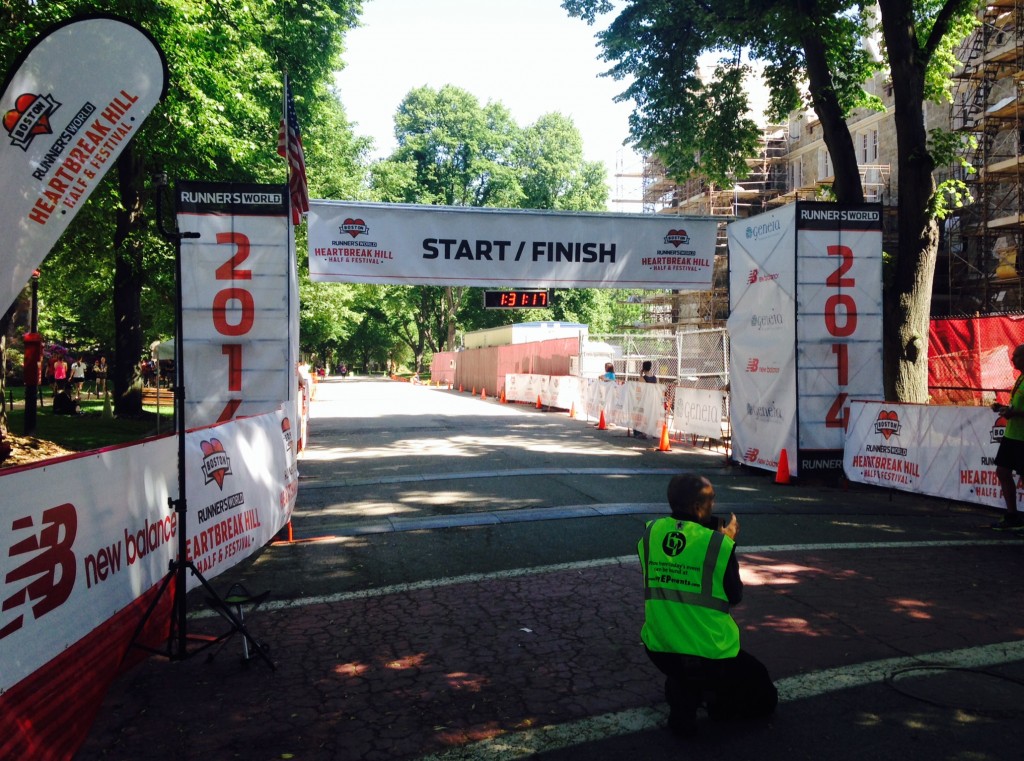 We spent the rest of the day watching the doggie race (like I said – totally cute), listening to workshops, and stretching out.  I was so sore by the time I arrived back in Charlotte on Saturday night.  But then on Sunday, I woke up and attended a flow yoga class… And ended up feeling better than ever.
So – I truly cannot say enough great things about this festival.  If you're looking for a great race for next year, sign up to receive alerts about the 2015 Heartbreak Hill Half Marathon.  To me, this event stood out for several reasons:  it was SUPER well organized; the 'extra' speeches and workshops were both fun and educational; the expo was great; the medals were so cool; and I loved the option to combine races together to make an entire weekend out of it.
Did you race this weekend, too?  How did you do?
As mentioned, my attendance at the Heartbreak Hill Half Marathon was sponsored by Runner's World.  For more of my past race recaps, click here.