This post is sponsored by Udi's Gluten-Free.
I recently had a friend ask me for the link to the page where I discuss the TRUE basics of going gluten-free. I've rambled a bit about this topic (like my favorite gluten-free food blogs, being gluten-free during the holidays, and how to make dietary changes without going crazy), but I've never written out the truly bare-bones advice for those making the leap to gluten-free life. So… here it is!
Here are 8 essential things to know if you're making the shift, too:
#1: Know what has gluten in it. This is a BIG ONE. Most people do not really understand what gluten is and what foods contain it. Gluten is a protein found in grains like wheat, barley, and rye. There are grains/seeds that are safe to eat (like corn, millet, rice, and quinoa, among others). Generally speaking, unless the product is labeled "gluten-free," you want to avoid conventional version of things like: brad, cake, pies, cookies, cereal (many versions of Chex are okay, though!), crackers, pasta, some flavors of ice cream, and meat substitutes (soy is okay). You also need to avoid things like beer (so sad) and gravy. Gluten lurks in many foods, so be aware that this is not an all-inclusive list.
#2: Get rid of all your gluten-containing foods. You'll be tempted to eat the crackers if they are still in your pantry. If the box is opened, toss it out; if it's sealed, donate it to a food pantry. Read all the ingredients on all the foods that you already have – gluten lurks in some surprising locations.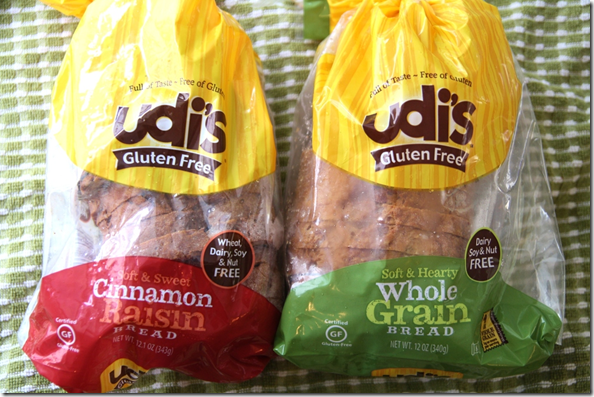 #3: Know how careful you need to be – some people need to be very careful. There is a difference between Celiac disease/an allergy and a gluten sensitivity. I talk about that more in this post. I don't worry a lot about cross-contamination. I don't willingly eat gluten, but I also never think twice about cross-contamination at restaurants, etc. However, if you're Celiac, your reaction may be so severe that you cannot eat out or cannot eat processed food manufactured on shared equipment. Talk to your doctor about this issue.
#4: Make a list of foods that you can actually eat. When I went gluten-free, I initially felt like was NOTHING that I could eat. But that's not true – there are tons of things to eat on a gluten-free diet, and many foods that you eat now are actually naturally gluten-free. Tofu, some types of tempeh, meat and fish, beans, eggs, fruit, yogurt, veggies, nuts, hummus, rice, and quinoa is perfectly safe (but always check labels!).
#5: Try some gluten-free specialty products. Gluten-free products really helped me adjust to the lifestyle. I can still have sandwiches thanks to Udi's. I can still have pasta thanks to brown rice spaghetti (I recently discovered the Trader Joe's version is actually really good). I can still have tacos thanks to corn tortillas. There are more and more gluten-free products on the market every year, and while some of them are expensive, I have found that the price varies a LOT from store-to-store, and it is possible to buy such treats without breaking the bank – you just have to shop smart. Here's a list of all my favorite gluten-free goodies.
#6: Learn some swaps. You can't have beer, but you can have cider or wine. You can't have bread, but you can have rice cakes, Udi's bread (or another brand), or wrap your burgers in lettuce leaves. You can't have burritos, but you can have corn tacos. You can't coat meat or tofu in breadcrumbs, but you can use oats or crushed Rice Chex. You can't have pasta, but you can use zucchini noodles or spaghetti squash. You can't have soy sauce, but you can have tamari sauce. You get the drift! You can still eat versions of your favorite foods, you just have to be a little creative.
#7: Find gluten-free friendly restaurants. Many restaurants offer gluten-free menus. Mexican restaurants are traditionally mostly gluten-free, but you always want to double check (are you sensing a theme here? Always double check!). I've found that curries at Indian restaurants are often safe, too, but check that the dishes don't contain flour or soy sauce. I love the Whole Foods hot bar because allergen info is clearly labeled – it's a great version of "fast food" for someone like me.
#8: Know that it gets easier. When you have to give up a major food item like gluten, there is definitely a mourning period. That's normal and natural. But as time passes, I swear you will end up thinking it's not as big of a deal as you initially made it out to be. It really does get easier over time. I wrote some suggestions on adjusting to the change here.
If you're gluten-free, too, what do you think is a good "basic" rule that newbies need to know?
Learn more about living gluten free! Visit http://udisglutenfree.com/community This is a sponsored conversation written by me on behalf of Udi's Gluten Free. The opinions and text are all mine.