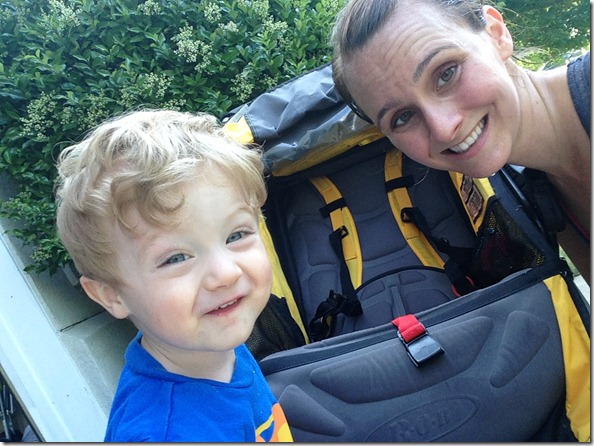 On my morning run, Henry was my cheerleader!  "Go, mommy, go!" or "Up the hill, mama!"  When Henry was little, I always fantasized about the day that he'd be able to encourage me during my workouts – and the day is here!  It's so silly and fun.  The best part was when I took a walking break and he said, "Whew, I need a break, mommy." 
He's going to grow up thinking that 'going for a run' means sitting peacefully in a jogging stroller…
Anyway, on my run, I was thinking about the Do's and Do Not's of the Comparison Game… or at least how I've learned the rules.
DON'T:  Compare yourself to others.  Everyone has different God-given abilities, has spent time and energy honing different skills, and prioritizing different things.  Some people are also just lucky.  Know that the version of life presented on a blog or Facebook may be highly sanitized.  Most people don't Facebook about their hardships, but everyone experiences them.  Also know that everyone who excels at something gives something else up – maybe you're willing to give that up, too, but maybe you're not.  That's okay.
DO:  Look to others for inspiration and advice.  Here are questions that I love to ask my kick-ass friends:
How do you find the time to do X, Y, or Z?  What's your secret weapon?
What did you give up to get that [career, amazing marathon time, rock-hard body]? 
What kind of help do you have [with your kids, at home, at work]?
What mistakes have you learned? What do you wish you knew?
Here's how I [cook, clean, work, juggling home and family life, workout]. What would you change if you were me?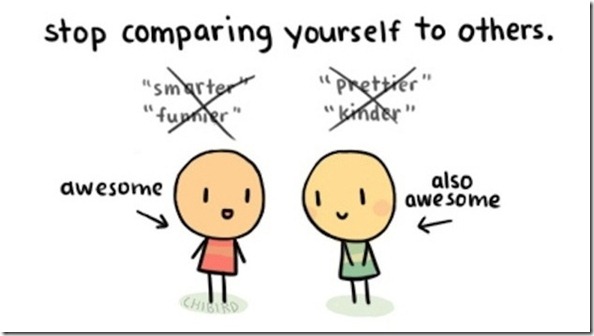 DON'T: Compare yourself to your past self.  Or – at the very least – be careful about this.  Circumstances change.  Life gets busier and more challenging.  Maybe tasks that used to feel like a piece of cake are emotionally draining now that you have more on your plate.  Plus, we change physically over time.  Your body may not perform the way it did at 19 when you're 33.  Take an honest inventory of your circumstances, responsibilities, and desires before comparing yourself to your past self.
DO:  Set healthy expectations.  This is huge!  Compare yourself to the life you see in the mirror… I don't mean that as a pass to be lazy or unambitious, but I do think it's important to set realistic goals (I'm all about that this week, huh?) after taking an honest assessment of where you are in life, where you REALLY want to go, and what you're willing to give up to get there.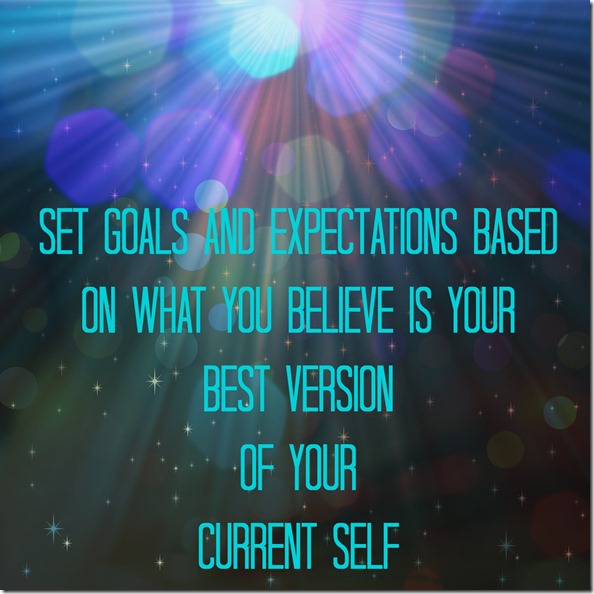 For me, in my life, the question of "What am I really willing to give up?" has always been huge. I think it's so easy to look at another person's successes and feel jealous… and yet you forget to count all the things that they gave up to get there.  Most successes require sacrifice. 
So – that's what I was thinking about on my run this morning! 
What did you think about during your workout today?