Today is the Husband's 30th birthday!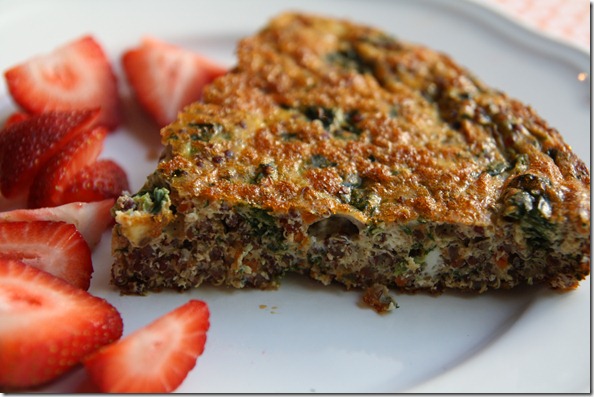 I am so excited because I have a BIG SURPRISE for him.  Kristien's very best friend Joe is flying in from Philadelphia today!  I pick Joe up from the airport this afternoon.  I'm not sure if K will truly be surprised – he said he spoke to Joe on the phone over the weekend and he was 'suspiciously giggly' – but I do know that he'll be thrilled regardless.  (Don't worry – he won't see this before then!)
I have a ton of prep work to get done before Joe arrives.  My car broke at the beginning of the week so I've been carless.  Gotta get to the store so I can feed everyone this weekend.  Our fridge is bare.
Well – not so bare that I couldn't make this lovely pie for breakfast!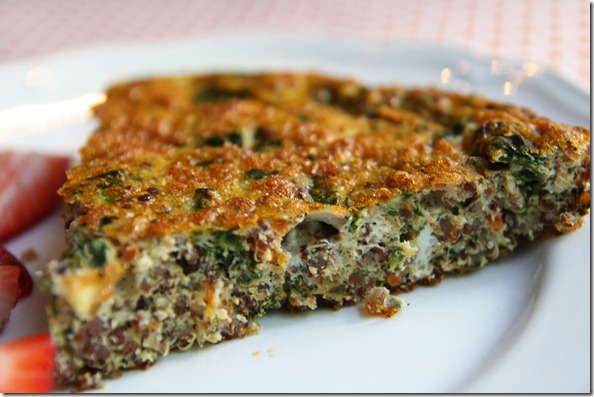 I love making casserole/pies like this in the morning because I can mix up all the ingredients before Henry wakes up, pop it in the oven, and pull it out when we're all ready to eat.  Prep work is minimal and the result is a pretty, delicious dish.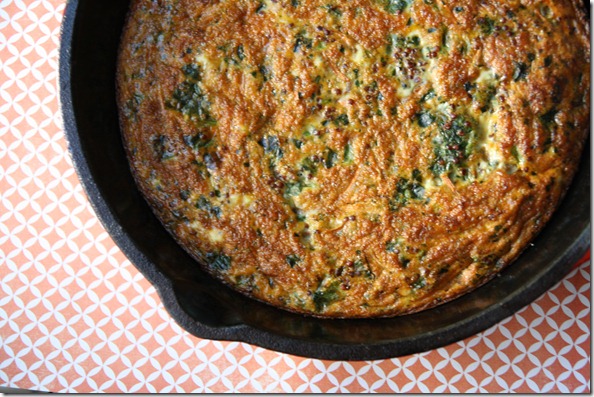 Quinoa and Spinach Breakfast Pie
Ingredients (for 3 – 4 servings):
1/2 cup measured dry quinoa
6 eggs
1/2 cup frozen spinach
1/4 cup shredded carrots
1 tablespoon olive oil
1/4 cup pasta sauce
Salt to taste
Optional: Top with shredded cheese (a white cheese would be good!)
Directions:
Cook quinoa according to these directions.
Preheat oven to 375 degrees and grease a cast iron skillet or a pie dish.
In a large bowl, combine eggs, spinach, carrots, oil, pasta sauce, salt, and cooked quinoa.
Pour egg mix into cast iron skillet.  Top with cheese, if desired.
Bake for 35 minutes.
Remove from oven, let stand five minutes, slice and serve.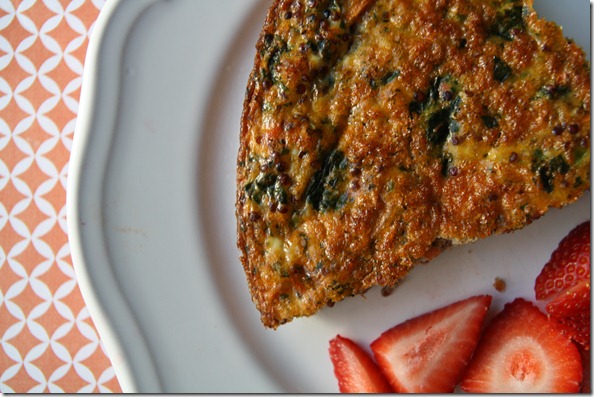 We put a candle in Kristien's slice so we could sing Happy Birthday, and then we put it in Henry's piece so he could practice, too.  With my birthday in April and Kristien's in May, I think Henry will be an old pro at candle blowing by the time his second birthday rolls around in June!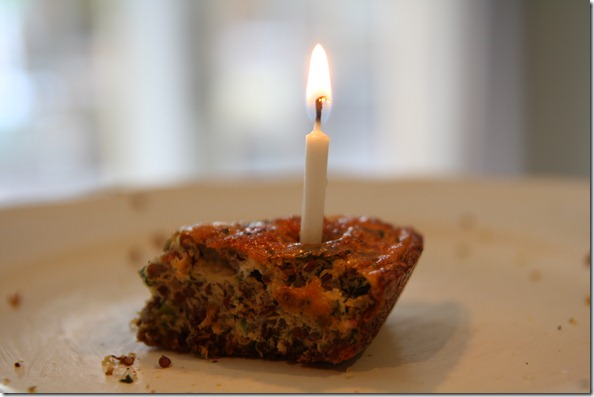 Have a wonderful day.