I've been meaning to write this post for a while, but I really wanted to give our robot vacuum a long trial period before I penned my thoughts. We bought our Neato back in December and have used it multiple times a week since our purchase, so I think I'm ready to weigh in.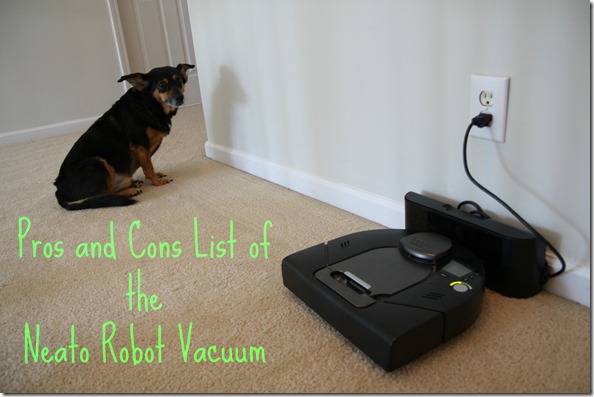 WHY did we buy a robot vacuum?  That is a great question.  You could vacuum the house yourself for a lot less money!  We decided to shell out the bucks for our Neato because we kept buying $100 vacuums that broke or worn down quickly.  When looking at higher-end vacuums, we realized that a nice upright cost nearly the same as a robot vacuum.  With two dogs, a cat, and a toddler, we do a lot of vacuuming, and the idea of not having to do it ourselves really appealed to the Husband and me.  So I did a bunch of research and ended up purchasing the XV Signature Pro Pet & Allergy Robot Vacuum Cleaner.
The reason we went with the Neato brand instead of the more well-known Roomba is that Neato vacuums are more vacuum-like than sweeper.  We have a lot of carpet.  I didn't need something that was just going to pick crumbs off my hardwoods – I needed a robot vacuum that would function like a real upright over carpet.   And the Neato does!  It's shaped like head of an upright vacuum because that's what it is – it looks like a regular vacuum when you flip it over.  This means that the Neato is LOUD – it's as loud as a regular vacuum.  And it sounds like a jet plane taking off when it turns on!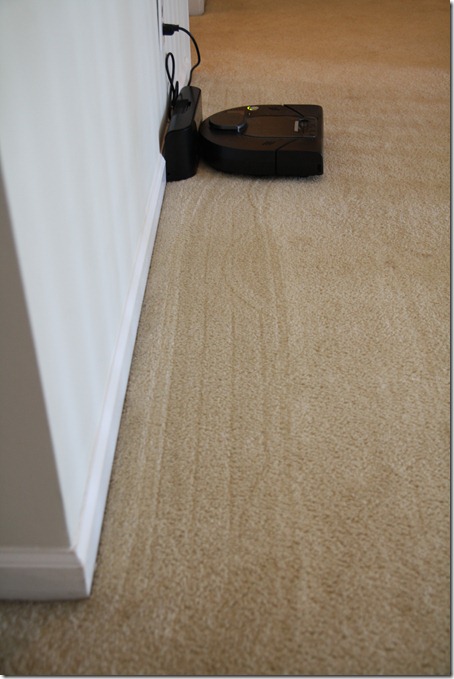 First, I'm going to address the Neato's many, many positives:
PRO #1:  My favorite thing about my Neato is that I can vacuum while doing other chores.  This makes cleaning SO MUCH MORE EFFICIENT, especially when I'm running around trying to get the house ready for guests.  Instead of spending 45 minutes vacuuming my house, I can turn on the Neato, which does (almost) all the work for me.  I can vacuum when I'm cooking dinner, watching TV, or playing with Henry.  I value a clean floor (and again, with so many animals and a kid, it gets really dirty), and I love that the Neato does the work for me so I can spend my time doing other things.
PRO #2: The Neato uses a laser system to map out the room and then it methodically cleans (versus a random pattern like the Roomba).  This  means that there are perfect carpet lines in your floor when the Neato is done.  There are even little swirly marks around table legs!  I'm one of those people who really enjoy carpet lines, so this aspect of the Neato truly appeals to me (bonus points: when people come over and see my carpet lines, they are always impressed by "my" cleaning abilities… lots of people have remarked on our carpet lines – I do confess the truth, though!).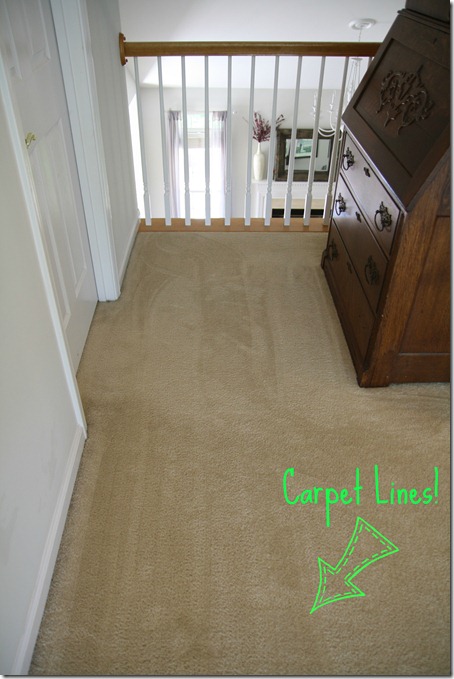 PRO #3:  The Neato is pretty good about going under tables, beds, and desks and around chair and table legs.  How often are you going to vacuum under your bed?  Not often.  But the Neato will every single time.  Also, it can navigate multiple surfaces (going from carpet to rug to hardwood).  It doesn't get stuck very often (and you quickly learn the spots where it is most likely to get stuck and can accommodate for that).
PRO #4:  It's smart.  As mentioned, the Neato uses lasers to make sure the entire room is cleaned.  But it's also smart in other ways.  It has a hydraulic system, which helps it break free of "stuck" situations without assistance.  It also knows when the battery is running slow and will return to its charging station.  When it's recharged, it goes back to the spot it left off and begins cleaning again.  Crafty!
PRO #5:  It's super slow.  You would think this is a "con," but no – it's definitely a positive.  The Neato takes its time, slowly and effectively sucking up everything in its path.  It goes way slower than I ever would, which is great because that means it picks up a TON of stuff.  To give you an idea of timing, it can do my upstairs hallway, Henry's room, and our bedroom in about 30 minutes.  Sometimes, it sucks that it is so slow (like when I'm rushing around trying to get ready for a surprise guest), so I usually break out the upright in those moments.
Okay – time for the negatives…
CON #1:  The Neato doesn't take all the work out of vacuuming.  When we first brought it home, I had this fantasy that I would never need to do anything but press a button.  That's not exactly how it works.  Before you turn it on, you need to tidy up the room.  For example, I pick up pillows, throw blankets, lift up certain curtains, and pick up Henry's toys.  You have to clear the path, basically.  Also, the Neato is supposed to be able to handle navigating open floor plans, but I've found that it works a lot better if I "corral it" into certain spaces so it can clean one or two rooms at a time.  For example, in my large living room /  kitchen, it gets a little lost, so I usually put a magnetic strip divider (it comes with the vacuum) to "tell" it to do one room at a time.  I also usually have it do Henry's room + the upstairs hallway before turning it loose into the other spare bedrooms.
The dust basket holds more dust than you would think, but it's not as large as a upright's container, so you have to dump it more regularly.  The basket can handle my living room + kitchen + hallways before needing a dump.  I need to dump it again before it does my upstairs.  You also need to replace the filter every now and then.  We've replaced it once in 6 months.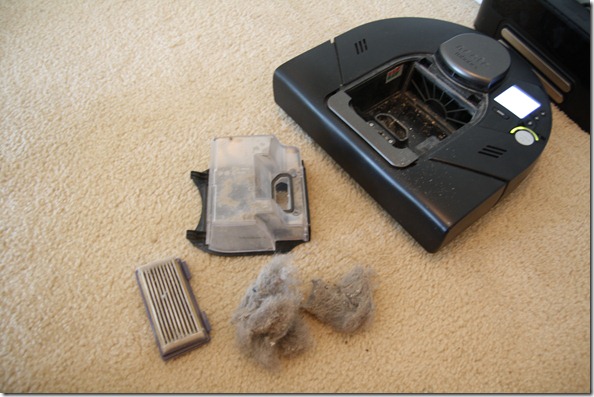 CON #2:  Sometimes, the Neato gets stuck.  The Neato has a timer function so you can run it when you're away from the house, but I prefer to run it when I'm home, both so I can corral it and so I can save it when it gets stuck.  There are certain pieces of furniture that really give my Neato trouble – Henry's glider, my office chairs, and one side table.  I try to remember to put something in front of these pieces of furniture, but sometimes I forget and the Neato wedges itself into tight spaces that it can't escape from.
CON #3:  It can't handle dust in corners or do the stairs.  The Neato does not totally eliminate the need for a vacuum, especially if you have stairs.  I still run our old upright every now and then to get the corners and do the stairs.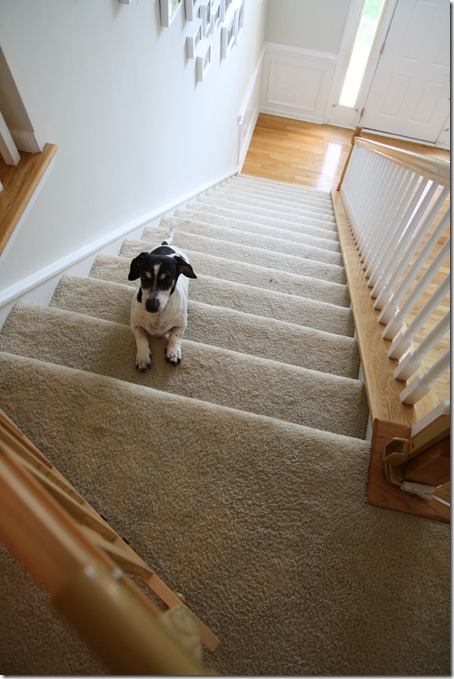 CON #4:  We had some initial battery trouble.  Apparently, this is a defect with the model because when I called headquarters (excellent customer service, by the way), they knew exactly how to walk me through the battery reset process to get it fixed.  Now, the battery is perfect and lasts about 45 minutes to an hour before needing a charge.  Also, the Neato is supposed to know when the dust basket is filled, but my sensor has never alerted me.  I kind of chalk this stuff up to the fact that Neato is a small company with a relatively new product… I don't expect stuff like this to be perfect in every way.  I just want it to be perfect at its core purpose (clean my floors), which it is.  And, as mentioned, the company was helpful and responsive to my battery issue.  They offered to send me a replacement for the sensor issue, but I didn't really care.
Another "con" is that my cat Ferguson has not tried to ride it yet.  Haha… 
I keep waiting for that!  However, Henry does like to put his toys on top of it as it cleans.  He also knows how to turn it on and off, which is cute.
In conclusion, I love my Neato and would highly recommend it to anyone who loves clean floors but hates to vacuum.  It's not a 100% perfect device, but it excels at what it is designed to do, and I can't imagine cleaning without it!
Do you have a robot vacuum?  If you could have any chore done by a robot, what would it be?