Fellow blogger Kelly recently did this post – simply taking a photo every hour to illustrate an entire day – and I loved the concept!  What a fun way to document a random Sunday.  It's interesting what taking photos every hour shows – and what it leaves out.
7:30 AM –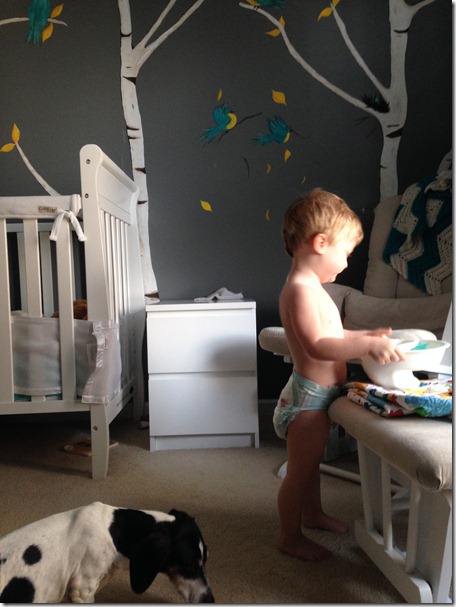 Normally, Sundays are my lie-in day, but Kristien wasn't feeling great, so I got up with Henry.  At 7:30 AM, Henry was eating blueberries while I leaned up against his dresser.  I wasn't sitting in the chair because he doesn't let anyone sit in it anymore (he starts to frantically scream, "TOO BIG! TOO BIG" when you sit down. Gee, thanks, Henry!).
8:30 AM –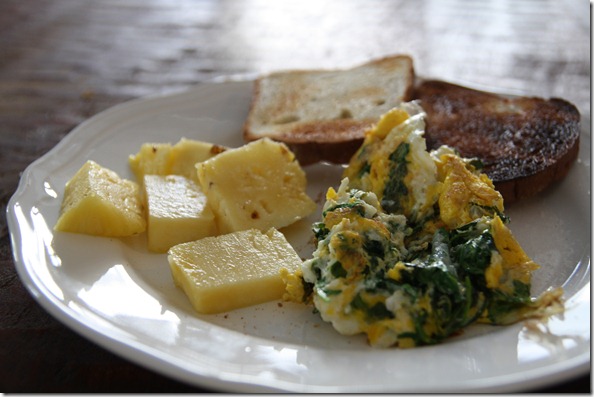 Breakfast time!  I have my staple of fruit, eggs with greens, and toast.
9:30 AM –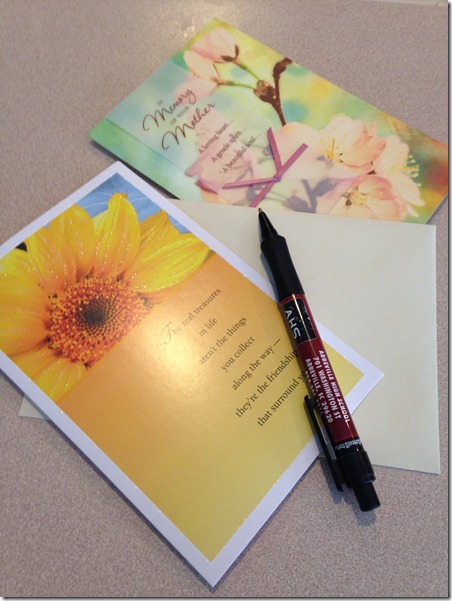 I write out a birthday card and a sympathy card while standing at the kitchen island.  Kristien is up and making himself a cup of tea.  Henry is watching Frozen on my iPhone – he loves Let It Go and is obsessed with Elsa building a castle of ice.
10:30 AM –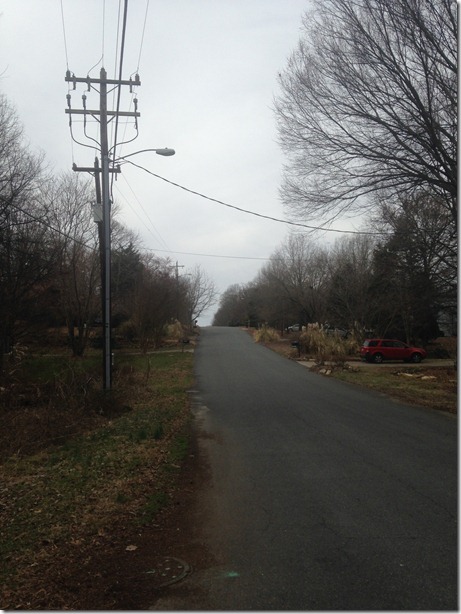 I'm running!  I am doing a long run by myself for the first time in weeks – the Husband isn't up to it today.  That's okay because I really want to run a 'race pace' to see how fast I should do the Half Marathon at.  I try to take minimal walking breaks.
11:30 AM –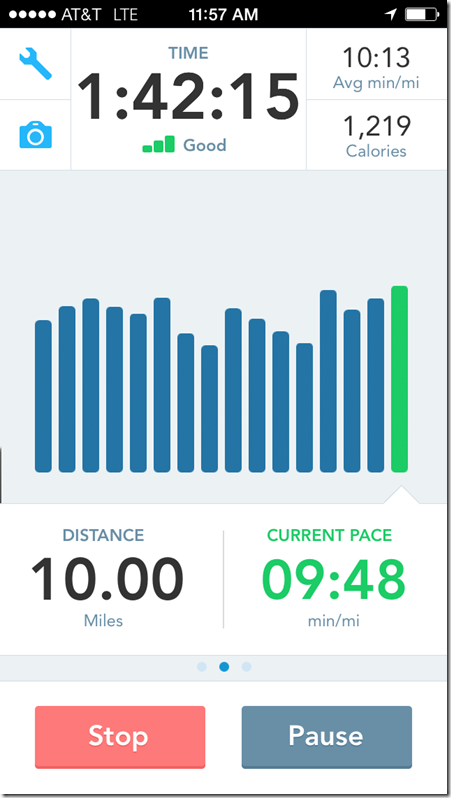 I'm still running.  I took the above screen shot at noon, which is when I finished my run.  I did 10 miles in 1:42.  Feeling pretty good about it!  I'm excited for the race because the course is Uptown and goes right by our old apartment and the Husband's clinic, but I'm worried, too, because there are lots of hills and one HUGE hill at Mile 11.5 – 13.1  We shall see how it goes – I bet a lot of it just depends on how I feel on race day.
12:30 PM –
The three of us are at Lowe's.  I showered and grabbed a smoothie before heading out – but my hair is soaking wet!  Good thing it isn't cold out.  At Lowe's, I buy new cabinet handles, a new air vent for the bathroom, and new shades for the light fixture in the powder room.
1:30 PM –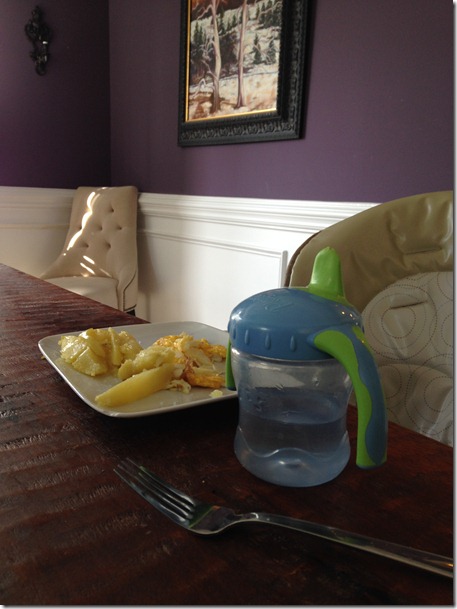 We are in full-out toddler meltdown mode, partly because Henry is sleepy and hungry, but mostly because while I was making his lunch, I let him watch an actual scene from Frozen (instead of a song).  I didn't preview the scene beforehand ("It's Disney, how bad can it be?") and it turns out that the scene concludes with a giant frozen chandelier being almost dropped on Princess Elsa's head during a huge battle scene.  Henry is FREAKING out because he thought Elsa was hurt.  I feel SO bad.  It takes the Husband rocking him like a newborn while I spoonfeed eggs and potatoes into his mouth to calm him down.  Then he goes to sleep.
2:30 PM –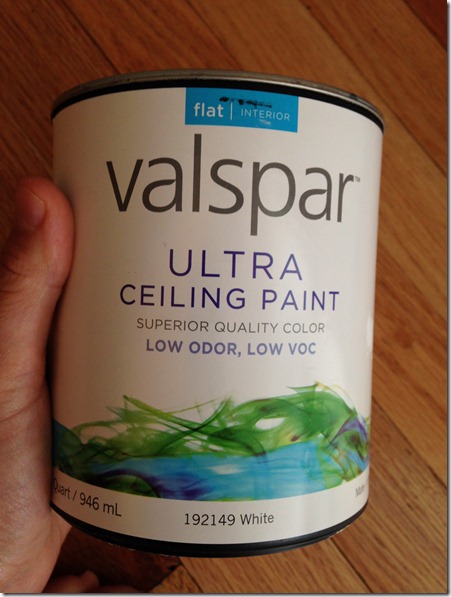 I try to finish painting the guest bathroom – I only have half the ceiling to go!
3:30 PM –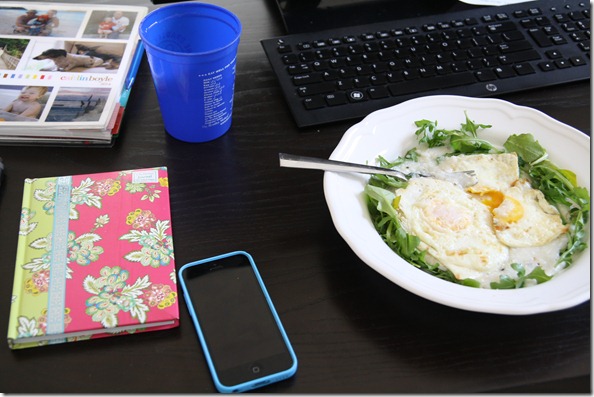 I write and publish this post about Goat Cheese Grits.
4:30 PM –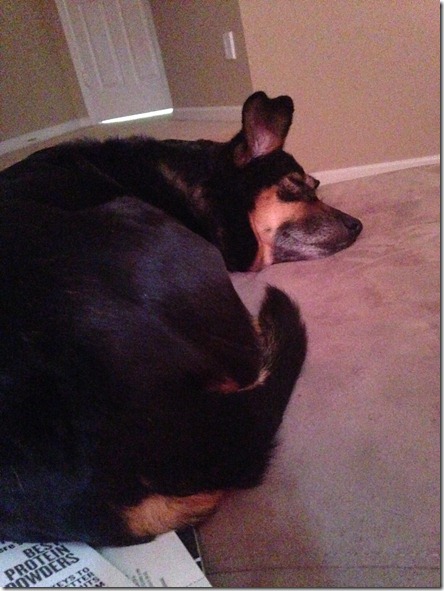 I sit on the couch with the Husband and James and watch a little TV.
5:30 –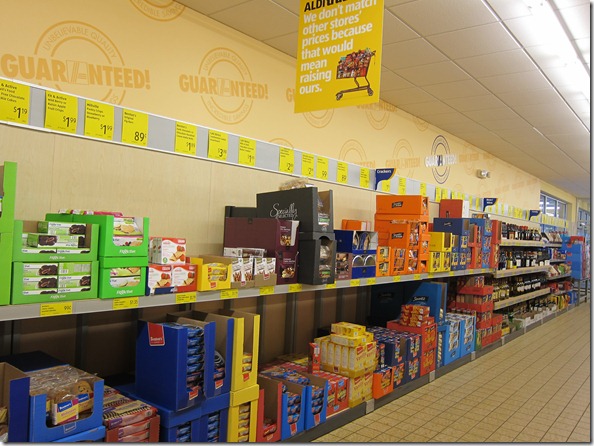 Henry and I go grocery shopping at Aldi's.  I try out a new grocery list technique, which works really well.  More on this tomorrow!
6:30 PM –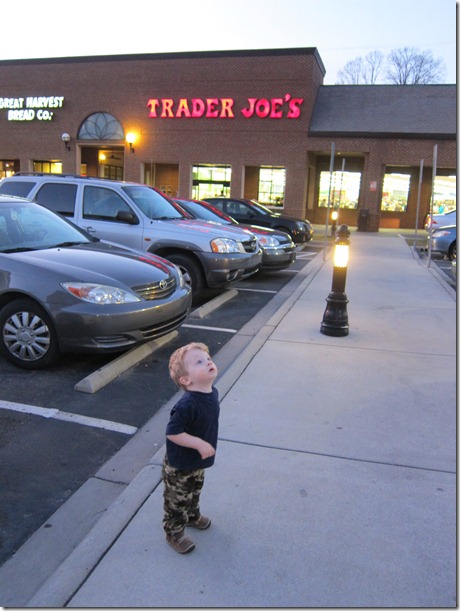 We head over to Trader Joe's for Grocery Store #2.  It takes us a while to get into the store because there are so many airplanes overhead!  One of the best parts of being a toddler momma is how it's reminded me to SLOW DOWN and stop rushing.  Taking 15 minutes to get into a grocery store would've made me pull my hair out two years ago.  I realize now how fun (and fleeting) these moments are…
7:30 PM –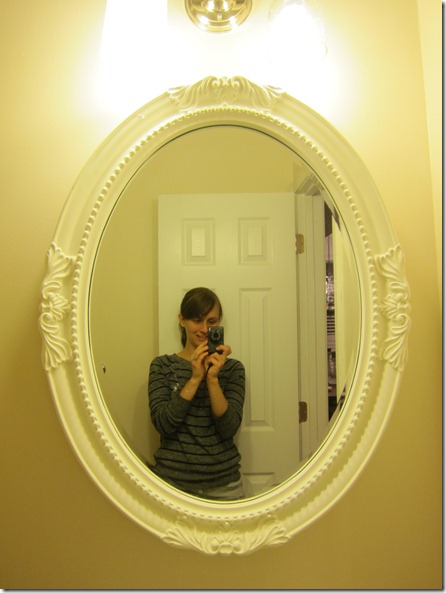 Henry is eating dinner with Kristien.  I install one of the new light shades in the bathroom to see if I like it.  I do!  I decide that it's absolutely impossible to photograph anything in this tiny space.  The paint color doesn't even look close to right (it's really a creamy white/pink)!  Oh well.
8:30 PM –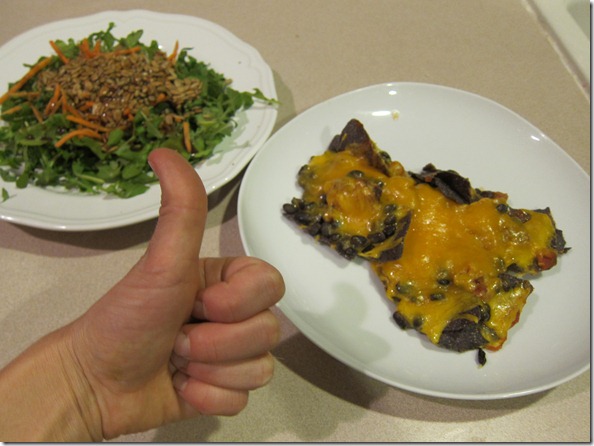 Henry is in bed, and we are on the couch, watching TV and reading Time magazine.  I just finished this amazing dinner – a huge salad and a big pile of cheesy nachos.  I would've given it two thumbs up but one hand was busy taking pictures.
9:30 PM –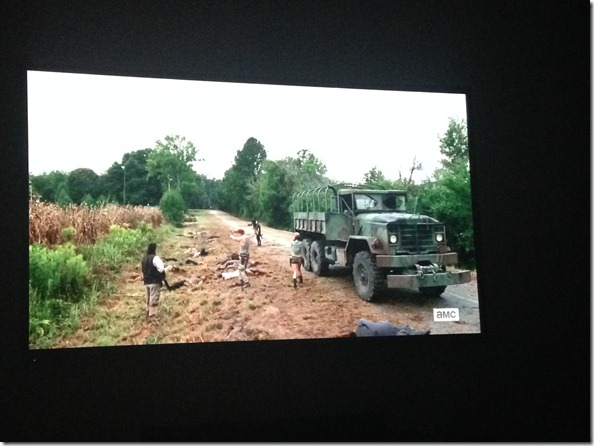 We're watching The Walking Dead.  I haven't been too wild about this show recently (sooo slow – sooo repetitive) but the new plotlines are giving me hope.
10:30 PM –

It's dark because I'm in bed and fast asleep!  Today seemed to be incredibly grueling, at least physically.  I was ready to drop by the time that I crawled into bed.
How was your Sunday?  Anyone else a fan of Frozen?!  (Meeeeeee!)