2014 is my Get Organized Year.  One area that I'm really trying to organize is my finances – I want to save more money for important things and really fun things (like travel) instead of wasting funds on stuff that doesn't matter to me, and I want to do it through budgeting.  Edited to clarify:  So I am excited to share this guest post from Ashley, a 25 year old who writes about her passion for beginning to budget when you're young at Saving Money in Your Twenties (she has a newsletter, too).  It was a good reminder for me to stick with my budget goals in the midnight hour of my late 20s.  Hah. Read on for her guest post!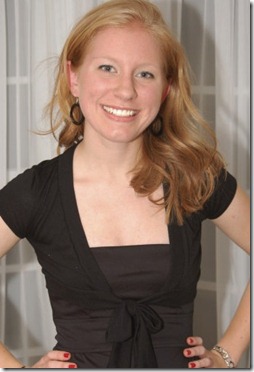 It can be hard to stick to your resolutions.  It can be even harder to stick to resolutions that you're not really excited about.  And for most people, budgeting is one of those not-so-exciting resolutions.
At the end of December, Caitlin shared with us her 2014 resolutions. One of them was to get her finances in order and stick to a budget. As someone who is obsessed with budgeting and personal finances, I was so excited about that resolution.
But I know that I'm kinda weird, and you might not share my budgeting excitement. So for you resolution-makers who have been procrastinating on this one, I'm here to show you how easy (seriously!) it is to get started budgeting.
Have you heard of the 50-30-20 rule?
Start by figuring out your monthly take-home pay. Your take-home pay is the amount of your paycheck after taxes are taken out. (if you have retirement contributions or health insurance automatically taken out, be sure to add those amounts back in!)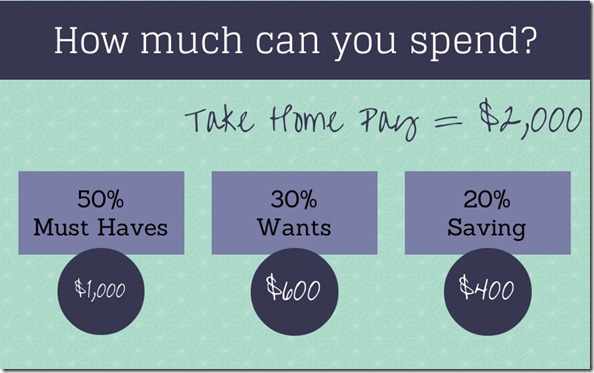 The 50-30-20 rule says that…
50% of that take home pay should go to "Must Haves"– shelter; food; necessary utilities like water, electric, and gas; gasoline to get to work; health insurance; etc
30% of your take home pay can go to "Wants"– restaurants; shopping sprees; cable subscription; froyo; etc
20% of your take home pay should go to savings– paying off student loans; building an emergency fund; 401k contributions; etc
What kinds of expenses do you have?
Now you need to figure out which category each of your monthly expenses falls into.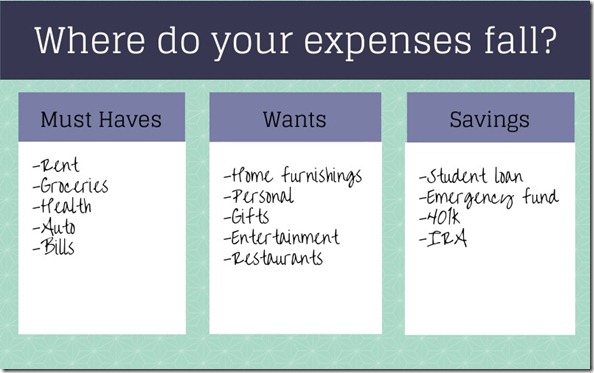 Remember that anything that is not an absolute necessity should go under "Wants". Yeah, I know you needed your Netflix subscription… but it probably belongs in the "Want" section 🙂
Time to Budget!
Once you've decided where each expense belongs, you can start to build your budgets.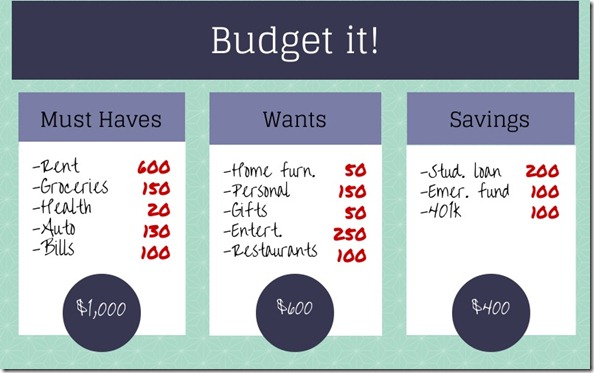 Take the 50/30/20 amount for "Must Haves", "Wants", and "Savings" and start assigning budgets to each expense that falls within those categories.
If you've never tracked or budgeted your money before, this step can be tough. It's hard to figure out how much you should spend on each expense! If you can, use old credit card statements or receipts to estimate your average expenses. Just give it your best shot and remember that you can tweak the numbers after the first month if you find a problem with them.
Remember to keep your "Must Haves" under 50% of your take-home pay and your "Wants" under 30%. That "Wants" category is usually the toughest to keep under control 🙂
If you're really far off in any category, you might need to reconsider your expenses. Can you cut out one of your weekly restaurant meals? Can you cancel your BirchBox subscription or pause your pricey gym membership? Do whatever you can to get your "Wants" down below 30%, and your savings rate to at least 20%.
Keep up with it!
This final step might be the hardest- but you've come so far, you can't slack off now! Sign up for an online tool like Mint.com to help keep track of your budget. Mint (and many other free online services!) makes it super easy to monitor your expenses and ensure you're sticking to your budget.
Remember that budgeting is a process- there's going to be trial and error until you figure out what numbers work best for you. Don't get discouraged if you go over budget one month- there's always next month! And remember, the simple act of creating a budget often subconsciously makes you spend less… so pat yourself on the back for just taking the first step!
Got any questions for Ashley?  Ask away in the comments section!