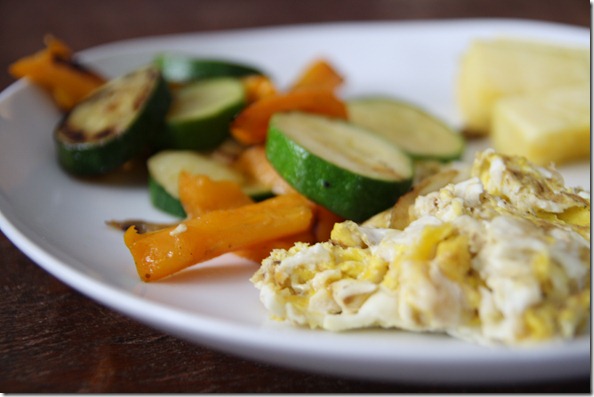 Today is a very important day. You see, for the last few months, we have been tearing our way through Breaking Bad.  And tonight, we will watch the final two episodes.
I am so excited.
Is it 7:30 PM yet?!
I already know what happens at the end of the series because it was impossible to be on social media during the finale and NOT be spoiled.  Disappointing but, hey, that's the risk you take by not watching shows in real time!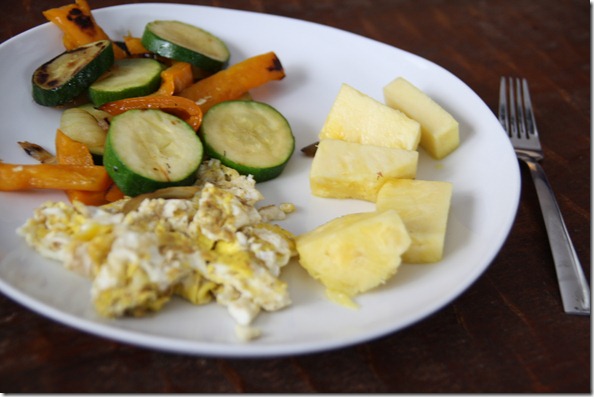 (My breakfast has nothing to do with this post but I thought I'd share what I ate – eggs, pineapple, and a stir fry of zucchini, pepper, and onion. I've successful switched my tastebuds over to savory breakfasts and usually have a few servings of veggies in the morning now.)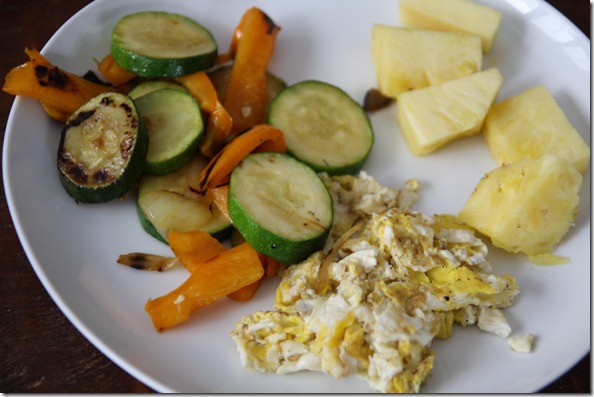 I firmly believe that Breaking Bad is the best show ever. You never know what the characters are going to do, and no one is safe from doom. Plus, I love the evolution of the main character… I love to hate Walter.  Also, I have a serious crush on Jesse Pinkman. 
And has anyone else noticed how much color plays into the series?  The characters wear certain colors when certain things are happening/about to happening.  For example, there was this one scene where Marie was wearing a bright yellow shirt instead of a purple one (per the usual), and I turned to Kristien and said, "OMG, she's not wearing purple! Something BIG is about to happen!" And it did!   (Right after typing that paragraph, I Googled to see if anyone else noticed and – sure enough – there was a thread on Reddit and an interview with the costume designer that discredits my yellow shirt theory – darn!  But others think the color theory is real regardless.)  I also have a theory about how much cleavage Skylar is showing… when she's happy, she wears low-cut shirts, and when she's miserable, she wears turtlenecks.
Anyway – I guess these are the things you obsessively pick up on when you watch sixty-something episodes back to back to back to back.

So – Happy Saturday!  I hope you have a great day.  I'm sure we'll have an awesome TV night, but I'm  not sure what I'll do with my life when the show is over…
Are you a Breaking Bad fan?  Did you pick up on any interesting little nuances in the show?