I've always been into the idea that small changes make the most difference. This holds true in many areas of life, but I think it's especially applicable for health and fitness.  Hence the name of my blog; the idea has always been that small switches and additions can create tremendous momentum and help change your life (a Healthy Tipping Point).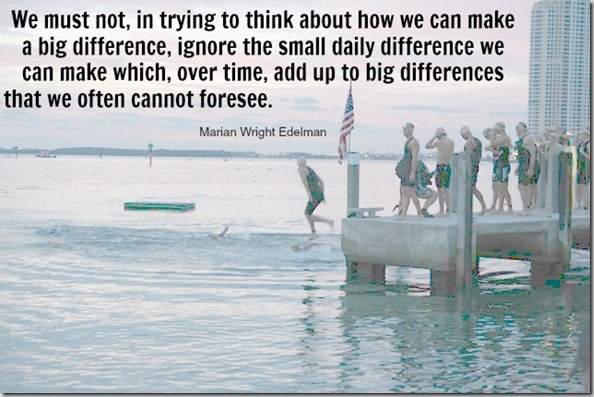 If you've ever trained for a race, you know this is true. A training plan is based on this philosophy.  Over time, efforts build on each other, transforming you from a couch potato to a runner. At Week 1, it's hard to imagine that you'll ever been able to accomplish the workouts in Week 8, but by Week 6, your daily efforts have compounded and that long run seems more attainable.
So while I value big fitness goals, I believe the bread-and-butter of healthy living is really in the choices you make every day.  The small efforts are how you get to the big goals. Every day, you must wake up and make the choice to craft the life you want to live. It's a decision that you make over and over again.
Here are five of my favorite ways to recharge your fitness routine. The suggestions are simple, but I promise – they'll add up to something awesome.
Recharge Tip #1:  Turn TV night into a workout.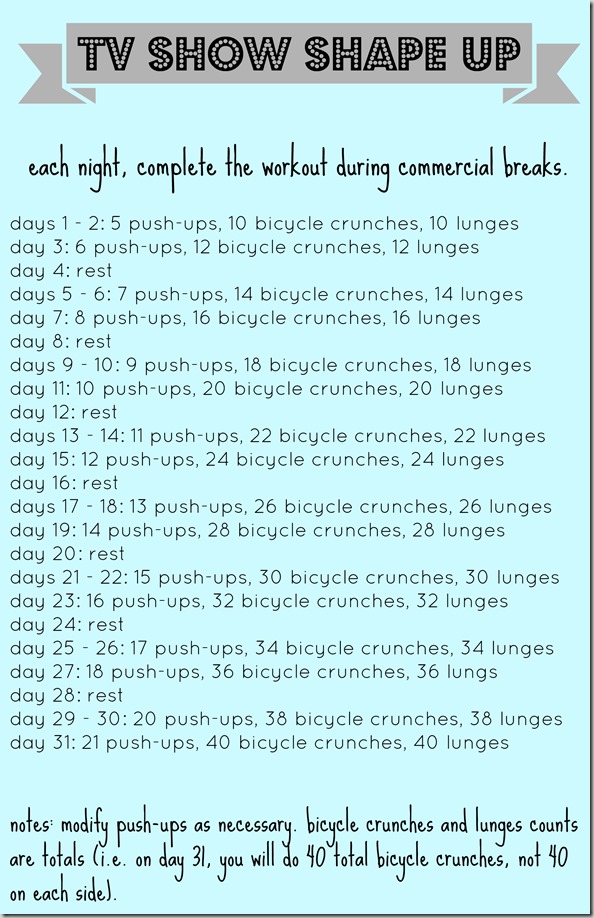 I've been working on this TV Show Shape Up for about a week – I'm up to 7 push-ups, 14 bicycle crunches, and 14 lunges. While that may not sound like much, it's more than I would normally do while zoning out to back-to-back episodes of Homeland.  By the end of the challenge, I'll not only know how Carrie Matheson plans to save America from a terrorist plot; I'll also be capable of 21 push-ups (albeit it modified, I'm sure!), 40 crunches, and 40 lunges.
I've been doing a lot of reading about how the biggest health problem for most of us is simply being sedentary. When I first read that, I thought to myself, "I'm not sedentary! I work out 5 days a week!" But then I began to add up the hours that I spend at my desk or on the couch.  I easily clock 6 hours of sitting a day.  This little challenge is one way to keep me moving during a time that I'd otherwise be a lump.  This leads me to my next tip…
Recharge Tip #2: Follow a 30 / 2 Rule.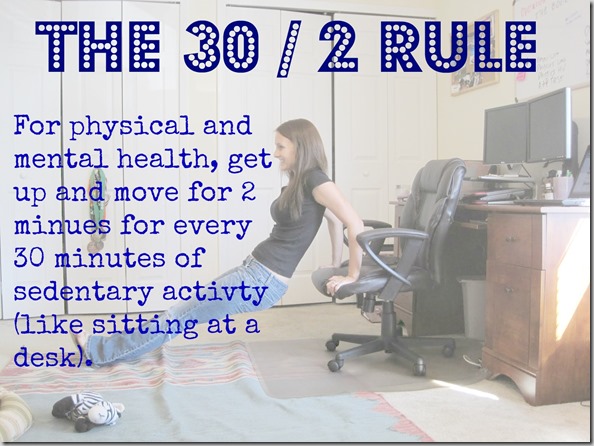 I recently interviewed Tom Roth, author Eat Move Sleep, for another post (going up next week), and one of the ideas that came out of our conversation was that, during sedentary periods, you've got to get up and get moving.  Basically, if you're planning to sit at your desk and plow through your company's 2013 budget analysis, you need to build in breaks. This isn't just good for your body; it's also good for your mind.
Set an alarm (I like Online Stopwatch), and every half hour, take a break (the more often you can break, the better, but I think every 30 minutes is realistic for most of us). If your boss would frown on you taking a jaunt around the office for 'fun,' use the time to walk to a coworker's desk to talk about your latest project instead of shooting an email. If you've got a bit more freedom and privacy, do these workouts at your desk:
Tricep dips
Decline push-ups
Wall squats
Lunges
Sumo squats
Crunches
Calf raises
Planks
As I wrote in this old post (which includes pictures and links to the moves above), when I worked in an office (not a home office), I still did exercises at my desk.  I'll never forget the day my boss walked in on me in plank position while reading a report on the floor!
Click through to read three more of my favorite recharge tips + enter to win one of 15 prize packs valued at up to $500 each from HSN's #refresh2014 promotion.
Recharge #3: Focus on Form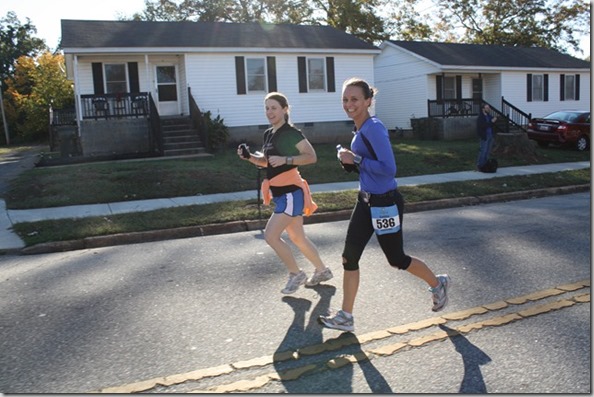 Poor form by me – The dreaded heel strike…
This little change can make a BIG difference in your running, swimming, biking, or whatever sport you prefer. Form is HUGE! Proper form will not only make you faster, it will save help ward off injuries.
Runners should pay attention to head and shoulder position, arm motions, whether their torso is straight, knee lift, and how your feet are striking the ground.  This article on Runner's World provides a good breakdown on one ideal of running form. I've also heard great things about the Chi Running program.  When it comes to triathlons, form is a major part of every leg of the race, but for me, it's especially relevant for the swim.  Poor swimming form makes cutting through the water seem impossible. Here's a great checklist on proper swim form.
Spend the time working on form, and you'll see it pay off big time in your workouts.
Recharge #4: Reduce Added Sugar
HSN repinned this article from Self magazine – it's a great round-up of sneaky sources of added sugar. I'm trying to watch my added sugar intake (it's so hard!); I know that I perform better at work, with my family, and when at the gym when I'm not hopped up on sugar.
The average American eats about 22 teaspoons of sugar a day, but the American Heart Association recommends a limit of 5 teaspoons a day for women. Eek! But where is it coming from? Dessert isn't always the main culprit. Read on for more sneaky sources
Recharge #5: Love Your Workouts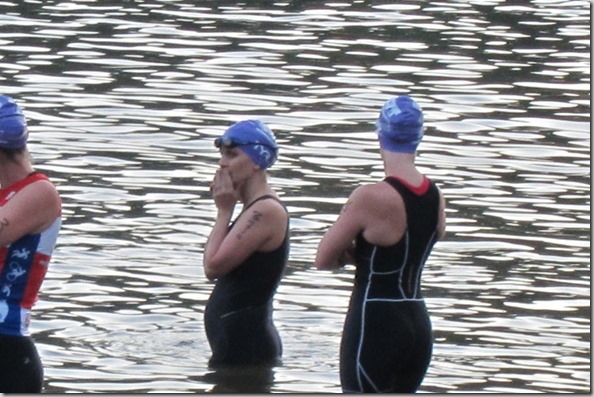 In the photo above, I am 11 weeks post-partum and about to kick off a sprint triathlon.  There's a reason that I signed up for a race so closely to Henry's due date: I love triathlons SO MUCH that I really, really, REALLY wanted to squeeze one in before the end of the season. I was totally sleep-deprived, and my body was going through serious hormonal changes, but nothing was going to keep me from the starting line. I love running, but triathlons are my soul mate. I adore the events, I enjoy the variety in the training, and I almost even love that lovely lead-leg sensation between the bike and run.
Before I found activities that I loved, it was really hard to stay motivated.  I had to trick myself into exercise and – truthfully – more often than not, my tricks wouldn't really work.
Here's a truly simple and small way to recharge your workouts: FIND SOMETHING YOU LOVE.  And do that.  Just because everyone else is running or Zumba-ing or yoga-ing doesn't mean that you have to, too.  There are loads of ways to stay fit, and the most important thing is that YOU adore getting dressed in your workout clothes.  Exercise is 'me' time – it should be something that you really want to do. Don't know what you like to do?  Try different classes at your gym, sign up for a race, or get outside the gym and try things like hiking, rollerblading, or even rock climbing.  Find a workout that you can be excited about and – I promise! – it will make all the difference!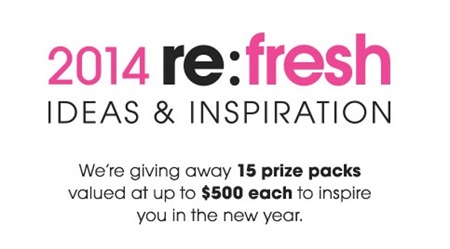 If you're looking for even more tips and ideas on recharging your fitness, enter the HSN re:fresh Pinterest Competition.  They'll be giving away 15 prize packs valued at up to $500 each. To enter, fill out this form.  The HSN re:fresh Pinterest board will help you stick to your New Year's Resolutions with ideas to recharge and refresh your fitness routine, diet, home life, and more.  You can also follow them on Facebook, Twitter, and Instagram.
This post was sponsored by HSN.  Thank you for supporting the HTP family by reading my blog.
What small change made the biggest difference in your fitness routine?