Well, that was an awesome way to end 2013!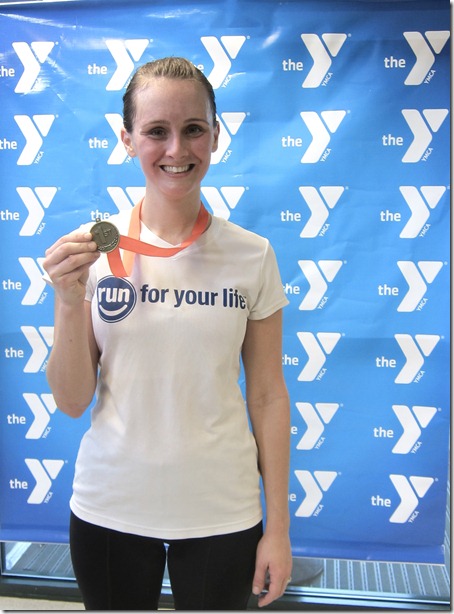 I signed up for this race three weeks ago, and I had grand plans of really stepping up my swimming to prepare. But, alas, that nagging chest injury from the Half Ironman flared up again, so I swam twice and stopped.  I crossed my fingers that I wouldn't be sore on race day (and that I wouldn't make my injury worse by racing!).  I woke up feeling great, so I was determined to go all out despite the lack of swim training…
I ended up signing up for the Advanced course, which was:
600 yards pool swim
10 mile spin bike ride
3 mile treadmill run
My friend Brandi did the race with me.  I don't think the race would've been half as fun without her.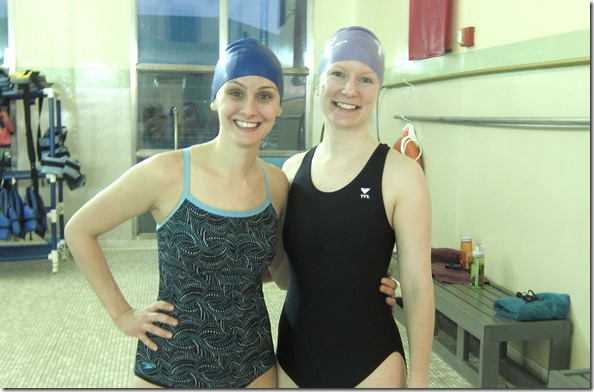 The race was small but well-organized. We waited until our wave and got into our lanes. The volunteer told me that she'd count my laps for me _ WAHOO. I can never remember what lap I'm on.

Note to self: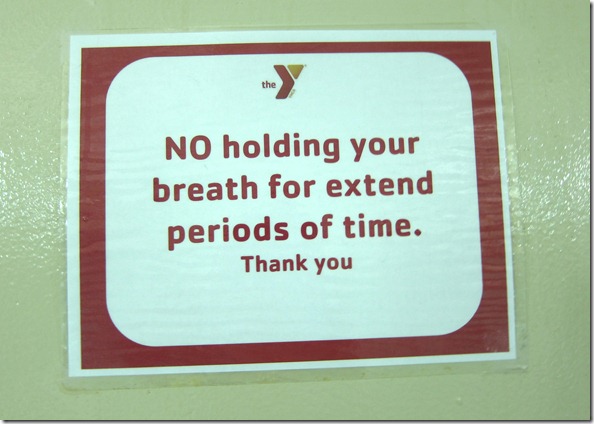 600 yards went by pretty quickly.  I could definitely tell I wasn't in great shape but it wasn't too terrible. It's nice when cardiovascular fitness crosses sports!  I finished in 12:07.
The best thing about this race was transitions weren't timed!  How sweet is that?  Brandi and I took our time changing and refueling.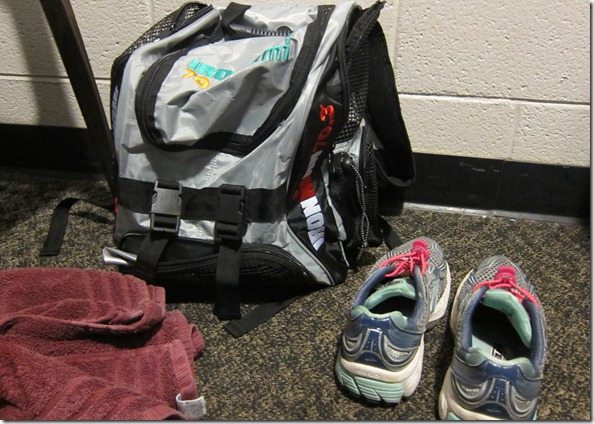 And then it was time to bike.
The rules said the bike had to be set on 8 resistance (or higher, if you wanted).  That's pretty low – my legs were spinning like crazy. I didn't want to up the resistance too much because I wanted to go as fast as possible.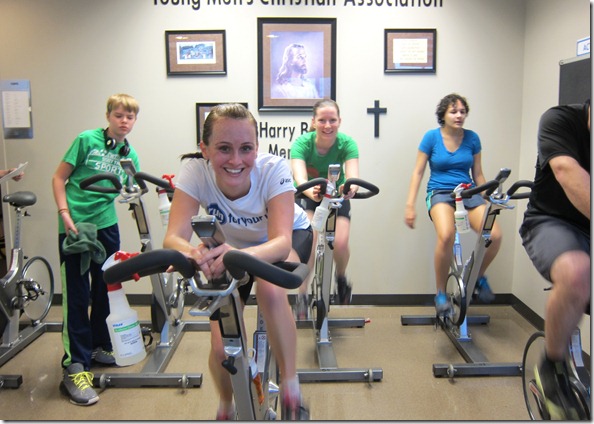 The RPM was up at 115 – 120 the entire time – woah woah woah.  I finished the 10 miles in 17:45.  I wish I could do that on the open road!  That would be nice.

I stretched out after the bike and then Brandi and I walked over to the treadmills.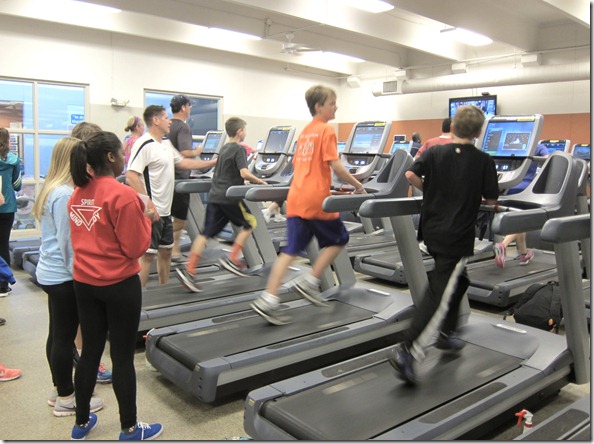 (There was also a family division – so cute!)
The run was actually the hardest part.  My legs were tired but not TOO tired – the problem was that it's difficult to pace for the fastest race on the treadmill.  I kept wanting to inch the speed faster, but then I'd pull back.  The entire three miles was a balance between too fast and not fast enough.  But I finished in 28:12.
Grand totals:
600 yard swim – 12:07
10 mile bike – 17:45
3 mile run: 28:12
Total: 58:04
Not too shabby, right?  I had a lot of fun.  I've really been focusing on running lately, but this race reminded me how much I love triathlons, especially shorter ones.  I have my fingers crossed that my injury is fully healed – it doesn't hurt so far… – but I guess time will tell.  There's another indoor triathlon at another YMCA in February – I'd love to be able to participate!  These indoor tris will get me through this yucky winter and have me better prepared for spring tri season.
What was your last workout of 2013?