Can you believe that 2014 is right around the corner? I can't!
With January comes New Year's Resolutions.  I love resolutions, but in 2013, I opted not to set one.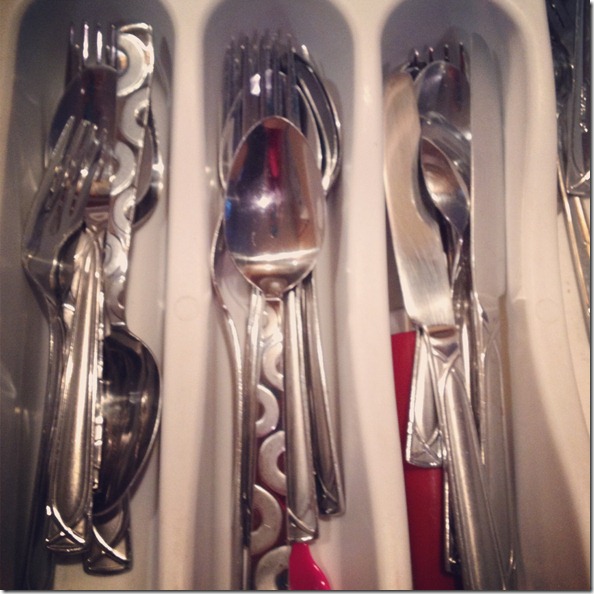 This year – for the first time in a long time – I'm not setting a NYR.  Well, I technically am, but my resolution is to stop setting goals.  It's kind of an oxymoron, I know.  Let me explain.   I have begun to understand that, at this point in my life, it's not about doing more things more efficiently… it may be about doing less so I can focus on what actually matters.  And – you know – be truly happy.

 

Last year, I wrote about my messy little secret.  For as organized as the rest of my life is (or I try to make it), my silverware drawer is a disaster.  When I unload the dishwasher, I just toss the silverware into the slots randomly.   My friends and family think this quirk is hysterical.  They will open the drawer, searching for a spoon to stir their coffee, and die laughing.  "Seriously, Katie?" they say. "What's up with your drawer?"

 

I explain that I have never understood why people organize their silverware.  It takes so long and doesn't actually save you real time when you select your silverware.  I don't care that my silverware drawer looks like a disaster.  It works for me.  A few weeks ago – it hit me like a lightening bolt.  The secret to greater happiness lies within that damn silverware drawer.

 

I hereby declare this year The Silverware Drawer Year.  I've always said that the Type A personality is the best and worst to posses.  If used for good, it can be pretty amazing – you can accomplish a lot, check off goals, and move forward in your career.  But if used for evil, it can trip you up.  The drive for perfectionism is really a double-edged sword.  I've reached a tipping point (hardy har har) in my life – for the first time, I think my personality is truly starting to get the best of me.

 

….Here's to doing less but living more.  May this year be the most fulfilling yet.
Specifically, I promised to:
No longer will I worry about getting this done or that done unless it really, really needs to be completed. 
I will not take on any projects that I'm not 100% behind. 
I will go to bed instead of doing laundry. 
I will not train for races that I don't have time or energy for; I'll still exercise and race because I love it, but I'm going to adopt a different attitude about it. 
I will take more opportunities to simply rest on the couch while Henry naps. 
I will let go of some of my Type A quirks that bring me down, not lift me up. 
I will take deep breaths when I start to hyperventilate over my dirty floors because dirty floors really don't matter in the grand scheme of my life. 
I will refuse to panic if an email or phone call is not answered immediately. 
I will work to my make business and my husband's business successful, but I will never work past my breaking point. 
The words 'time management' will not escape my lips. 
I will focus only on the things that matter:  my husband, Henry, my animals, myself, and my family and friends.
How did I do?  I think I did pretty well, actually.  Sure, every now and then, a little bit of that Type A personality came through. I'd worry needlessly about this or that, occasionally sign up for stuff that I didn't really have the time for, or freak out over the state of the house when it didn't really matter.  But overall – and maybe this is not a shift that is readily apparent on the blog – I took a HUGE STEP BACK from my prior attitude.  I learned to let a lot of stuff go.
Here are four concrete changes that I made in my daily life as a result of The Silverware Drawer year:
I adopted a "one week to answer" rule for my emails. I try to answer time-sensitive emails immediately, but if non-pressing emails sit in my inbox for a while, that's cool.
Once or twice a week, I opt to relax, read, or nap while Henry naps.  It's glorious.
We worked hard at defining "work" and "home" time and have done a great job about drawing a clear line between them.  For example, we refuse to discuss work in bed anymore, which we used to do all the time.
I put away my iPhone (and thus my access to all things work) for several long stretches each day so I can focus 100% on Henry.
Taking a year to work on "doing less but living more" was truly amazing.  It really helped me reshift my priorities, slow down, and generally be a better worker, wife, and mom.  I feel like I have my head on a bit more straight.
For 2014, however, I have some more traditional resolutions that I'd love to tackle.  Here's how I'm going to go about it:
ORGANIZE MY HOUSE.
I would love to be more organized. It'd be great to know the location of the screwdriver, extra toothbrushes, and wrapping paper without spending ten minutes tearing apart a closet.  I'd love to open drawers and not be confronted by an overwhelming mess.  It's be awesome to have a clean closet!  Based on a friend's recommendation, I signed up for Apartment Therapy's The January Cure. It's basically a month's worth of small projects to clean and tidy up your home.  You can read all the posts here.  I'm excited to get started!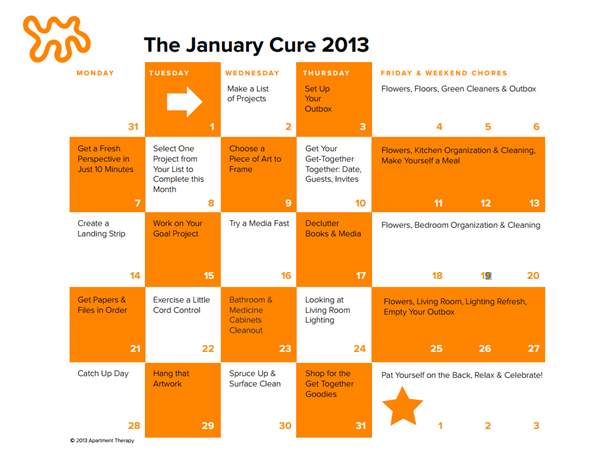 I am also following Money Saving Mom's Four Weeks to a More Organized Home.  Some of the tasks of this plan and The January Cure overlap, but some tasks on each plan don't apply to me, so by combining these plans, I hope the get the most bang for my buck!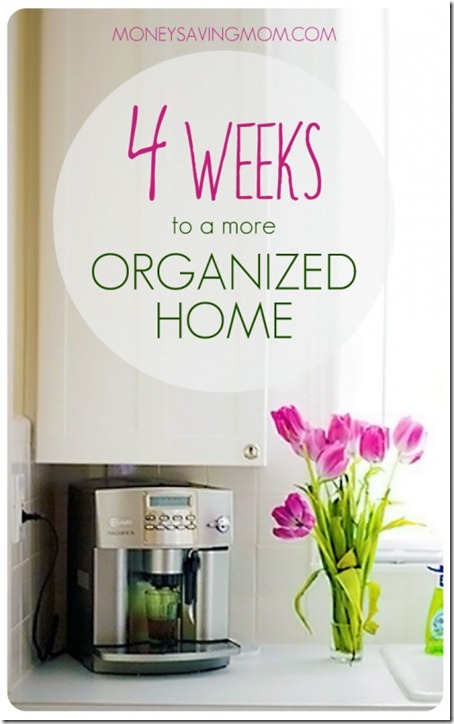 Side note: organization does not apply to my silverware drawer.  That will stay messy.

ORGANIZE MY BUDGET.
I recently spent a ton of time going over our 2013 taxes (which I'm almost done with – wahoo!) and essentially worked backwards to discover the answer to the most pressing financial question of all time… "WHERE DOES IT ALL GO?"  I highly recommend doing this if you haven't before, because I was feeling pretty crappy about our finances before I sat down and figured out, well, where it all went.  Because I don't budget regularly, I "forgot" about that $500 dishwasher, for example.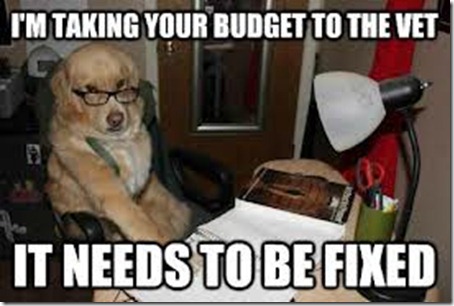 Even though I figured out where a lot of it 'went,' there's still a ton of missing money… basically, stuff we blew on eating out, fun activities, random purchases, and Starbucks. I'm not opposed to fun money, but I'd like to spend less and save more in 2014. Therefore, I'm committing myself to one year of weekly budgeting.  I spent a ton of time creating a massive yearly budget based on last year's earnings and expenses and am so excited for January 1 to roll around so I can use it!
CONTINUE TO RACE.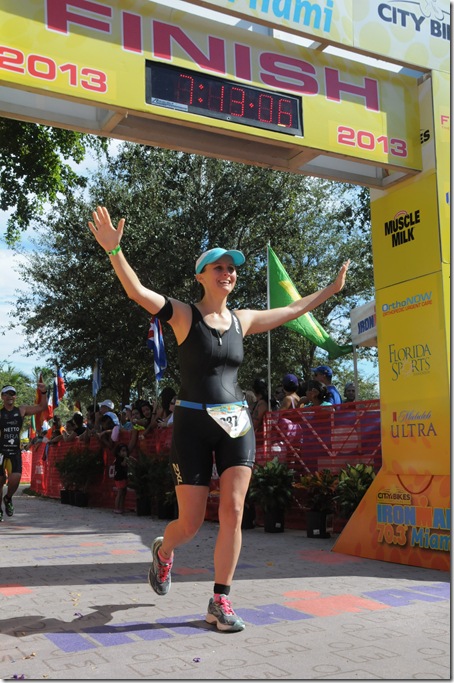 I am very excited about my upcoming indoor triathlon (three days!) and my upcoming half marathon (10 weeks or so!).  I would love to do more triathlons when the weather gets warmer. I had a serious case of post-Half Ironman race blues, but now that it's over, I realize that races really are the best way to keep myself committed.  Do I want to do another Half Ironman in 2014? HECK NO. Hah. I had a blast during the race, but the training was a huge time commitment… I'd like to stick to shorter, more manageable races in 2014.  And – most importantly – I want to have FUN! That's what it's all about, anyway.

How did you do with your 2013 resolution and what do you want to accomplish next year?