Have you heard of Bitchy Resting Face (henceforth BRF)?
Basically, BRF is when you look hostile or sad when you're really just 'resting' your face (for men, the alternative is Asshole Resting Face).  And yes, it's a joke.  But it's also kind of a real thing…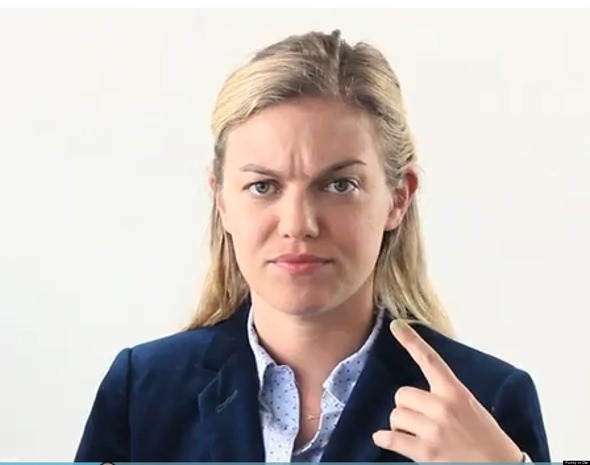 BFF Nicole and I constantly talk about BRF because, well, we both have it. You know you have BRF because people will spontaneously ask you, "Is something wrong? Are you okay? Did I do something to make you mad?" when you're just staring off into space, thinking about how you really want to finish off the tub of hummus in your fridge and watch back-to-back episodes of Homeland (oh wait, that's just what I want to do tonight).  In all seriousness, BRF is the culmination of a bunch of little body and facial cues that add up to make you look unhappy, unapproachable, and, well, like a you-know-what. 
So – BRF.  A funny Internet meme, something that you see all the time in real life, but not actually a big deal… right?. Well, I recently watched this Ted Talk, which I would HIGHLY recommend listening to in it's entirety.
According to Amy Cuddy, body (and facial) language impacts how WE see OURSELVES.  This is an interesting idea, right?  We normally think of body language in terms of how it influences how others see us.  But according to Amy, "power posing" (standing or sitting in confident positions) triggers the production of certain hormones in the body, thus altering how confident we feel and how much we can achieve.
Power poses look like this: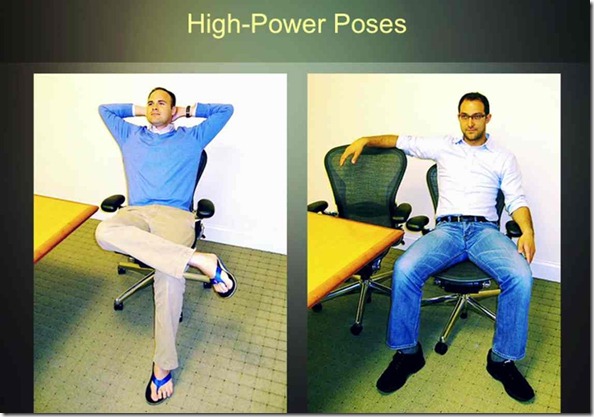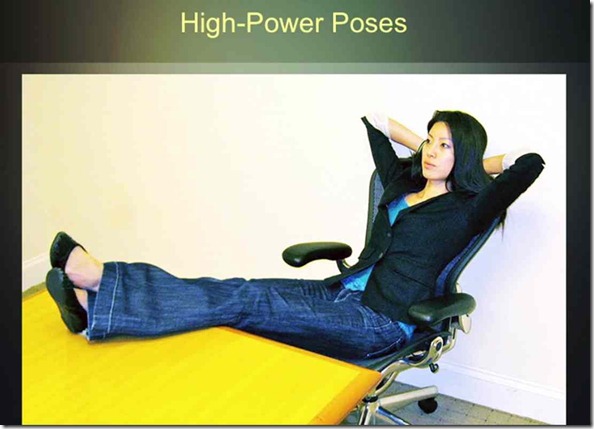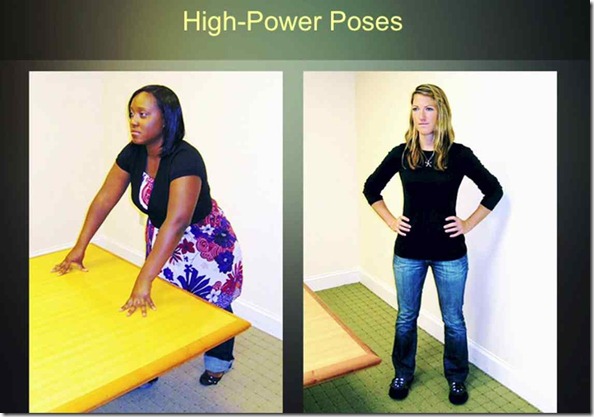 (Images are screenshots from Amy's presentation – Source <— This also has a really good summary of Amy's talk, in case you'd prefer a text version.)
Interestingly enough, power poses are innate. Amy says that blind people will power pose when they win an event, even if they have never had that position described to them!  Animals do power poses, too.
In contrast, low power poses look like this: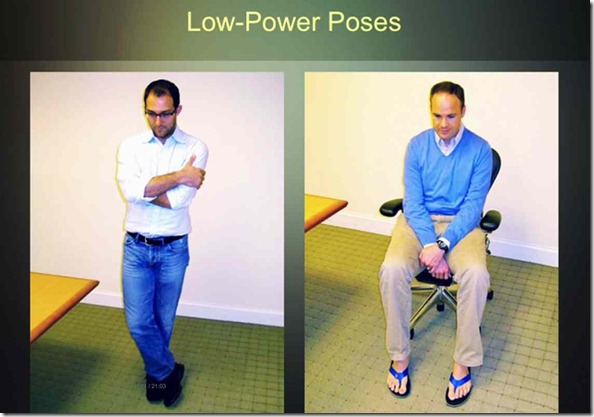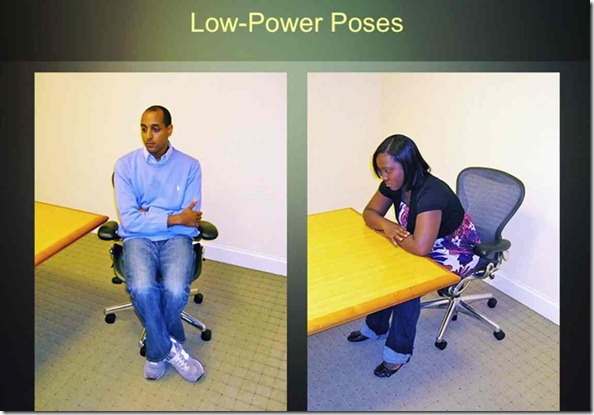 Basically, in low power poses, people close themselves off, make their body appear smaller, and may touch their necks (a gesture of protection).
Amy's study found that power posing for two minutes impacts testosterone (goes up – increasing confidence) and cortisol levels (goes down – making  you better equipped to handle stress) in the brain.   How you sit or stand influences how you perceive yourself.  As Amy said, OUR BODIES CHANGE OUR MINDS. 
Amy isn't suggesting that you should waltz into a job interview and strike a power pose.  But she is suggesting that you should slip into the bathroom, close the stall door, and do the Wonder Woman pose in private for two minutes beforehand.  You'll walk into the interview feeling more focused, capable, and worthy than you would've if you had been slouching in a chair in the waiting room.  Amy's team actually asked people to do this before a mock interview, and they found that people who did power poses were "overwhelmingly" the ones the interviewers wanted to hire, irrelevant of what the person actually said in the interview.  The difference was the strong presence the power posers brought into the interview room.
Seriously, try it – do a power pose for two minutes and see how awesome you feel afterwards.  It REALLY works.  It's crazy!  You can apply this to your daily life, doing a power pose in the morning or before a big event to help put you in the right frame of mind.
In conclusion, I will be trying to wipe my BRF away and replace it with a serene smile. I figure Amy's research has to apply to BRFs, too. The lack of a smile doesn't mean you're unhappy or sad, but it's not doing you any favors – internally or socially!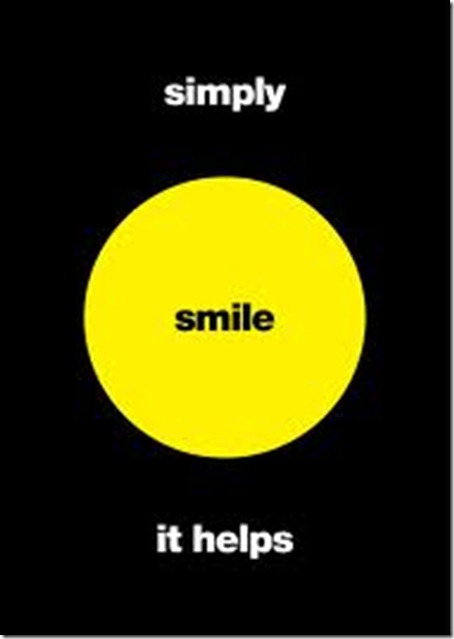 Do you suffer from BRF?  Did you just do a Power Pose to see how it made you feel?  I'm doing one right now….