Last week was a workout week that I'd rather forget about. I totally fell off the wagon. Well, not completely, but even by my non-Half Ironman training standards, my volume was ridiculously low.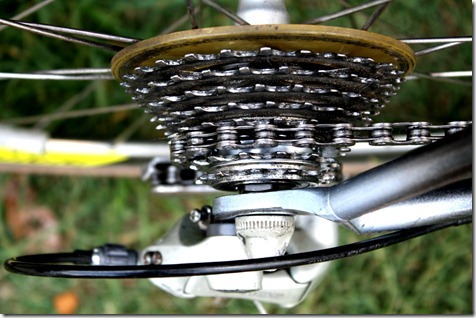 Monday: Off (sick)
Tuesday: 1000-ish yards of swimming
Wednesday: Off (traveling)
Thursday: 3 mile run, 1000-ish yards of swimming
Friday: Off (visiting with friends, too busy to workout)
Saturday: Off (busy tailgating)
Sunday: Off (traveling)
Totals: 2000 yards of swimming, give or take, and a 3 mile run
No good, right? Part of me wishes that I could take those stats with a grain of salt, but I'm really disappointed and kind of mad at myself!  I know a week off isn't going to destroy my performance at the Half Ironman, but let's be brutally honest – it's certainly not a good thing. Not at all.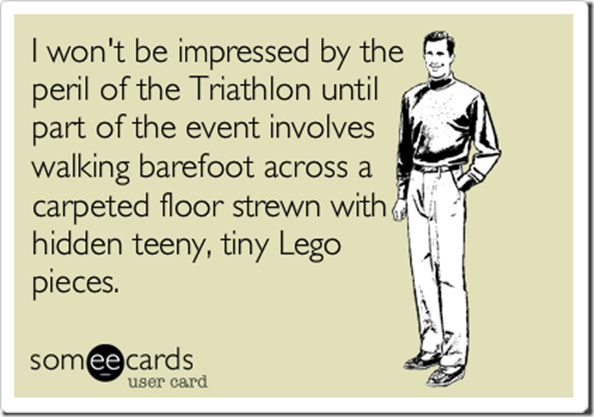 I struggled with illness last week (horrendous nausea), and traveling to and from Miami made workouts logistically difficult.  Ironically, I got an email from Coach Marni a few days ago reminding me to buckle down and commit – I think she knew that I'd be having trouble at the halfway mark.  It's like she could read my mind!  I guess that's what a great tri coach is all about.
Onwards and upwards, right? I am going to have a GREAT workout week this week.  I'm committed.  100% back on the wagon bike.  No excuses.  My new mantra is…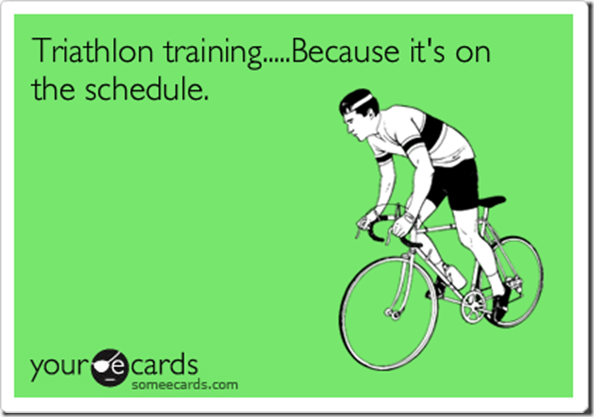 So, I've been thinking about my biggest triathlon concerns.  I've done about a half dozen shorter triathlons, but never, ever something like a Half Ironman, so of course, I'm seriously nervous.  Here's what I've been ruminating over while swimming laps in the pool (because you quickly run out of everyday things to ponder when you're swimming for an hour+):
I'm Afraid of Feeling Like A Newbie:  This feeling is a curious feeling for several reasons.  One, I don't normally care about feeling like an inexperience newbie in pretty much any situation. I always remind myself, "Everyone is new at some point."  And at most races, the old 'pros' naturally want to support and encourage first-timers.  But I feel so nervous about being a newbie Half Ironmaner.  What if there are secret HIM rules that I don't know about?!  What if everyone can just LOOK at me and tell that I'm new?!  What if other racers are mean to me and shout at me to get out of the way (trust me… I'm going to try to stay out of everyone's way regardless)?!  I know that if I follow my plan (even with a few hiccups), I will be in more than good enough shape to do this, but what if everyone else looks super tough and fit and like they could crush me between their two little fingers?  I'm not trying to win (obviously!) but for some reason, I feel very intimidated by the whole "it's an official Half Ironman race."  This is all in my head, and I need to get over it BEFORE the race.
I'm Afraid of Swimming in the Ocean:

  The race is in Biscayne Bay, and I'm nervous about that. Salt waves + waves = Something I've never experience before. 

Coach Marni

and I have been discussing open water concerns here and there, and she keeps encouraging me to get into a lake to do more open water swims. It's on my list of things to tackle, but at the same time, I wish I could somehow recreate the ocean feel.  Anyone wanna kayak next to me and repeatingly beat the water around my head with an oar to simulate the ocean waves?  Anyone?
I'm Afraid of Having to Go Pee:  Dude, this race may last 8 hours. I will have to pee at some point.  And if I can use a potty, great…. but on the (very long) bike ride, most long-distance triathletes just opt to pee themselves. Yup. Pee their pants. I don't know if I can do it!  Also – concerned about pooping.  But who's not concerned about pooping during a long race?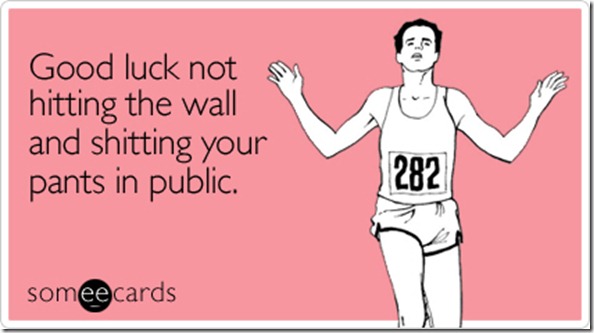 True, true.
To end on a positive note, here are four major things that I'm not concerned about:
Being Strong Enough to Finish:  Even if I fell off the wagon last week, Marni's plan is totally ass-kicking. I know that I'm already 200% stronger than I was when I started. I WILL finish this bad boy.
The Pain: I know there are points where this race will hurt.  Ain't no thing. I'll survive.
The Run: I can always walk, right?
Having Fun: OMG, you guys. When I think about this race, even though I'm concerned about a few things, I get SO SO SO SO EXCITED. I am so thrilled that I'm going to do this… and in my hometown.  A Half Ironman has been a goal of mine for SO long, and I really can't wait to cross the finish line and feel that indescribable rush of pride.  I'm really looking forward to that.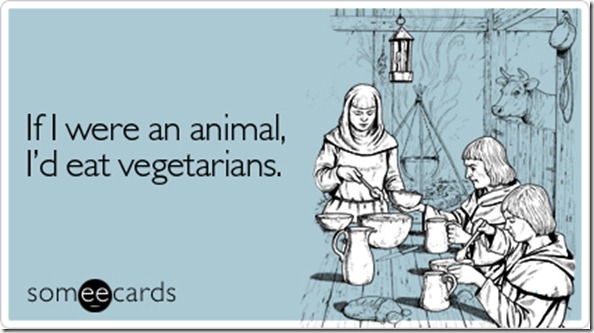 Unrelated, but funny.
So. There you have it. I'm back on the workout wagon this week. It's going to be a sweaty but glorious week!
How's your workouts going? Have you fallen off the wagon lately? It's kind of that time of the year, isn't it?  It's just so busy!