It's that time of the year again! Tailgate time!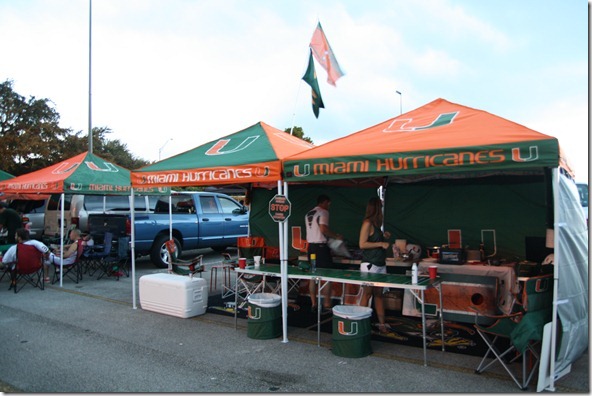 We drove all the way to Miami (that's 729 looong but totally worth it miles) for the University of Miami v. University of Florida game. Now, if you're not a football fan, you may not understand how big this game was to the fans… but the UM v. UF rivalry is pretty intense.  We haven't played each other in a few years, and there were some major bragging rights on the line. You could tell the teams were pumped, the fans were mental, and the atmosphere was out of control. I lost my voice from screaming so much!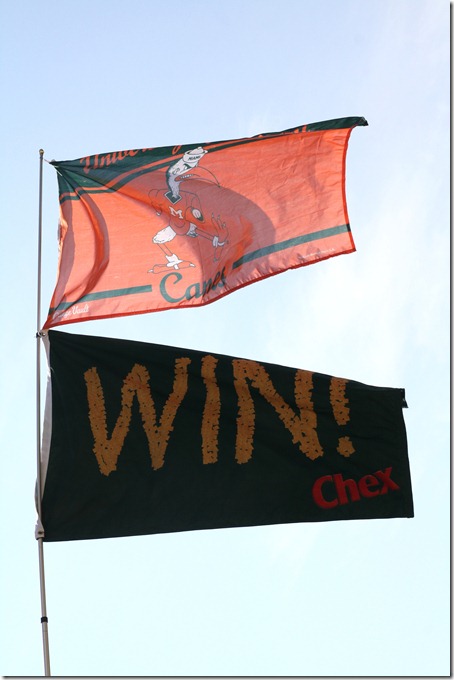 Click through to read the rest of the post. Don't worry, the 'click through' feature isn't a regular thing – it's just for reviews.
I know my international readers are thinking, "Tailgate? What's a tailgate?" And let me just say… you all are seriously missing out by not having tailgates.  I went to a Manchester United soccer/football game in England a couple of years ago, and I was so sadden by the lack of tailgating!  This is one American tradition that you've got to bring across the pond.
Tailgating consists of arriving to the stadium hours and hours prior to the start of the game. You pop open your trunk (hence the 'tailgate' name), set up tents and chairs, grill food, and drink a little (or, um, a lot) before heading in.  And you play games!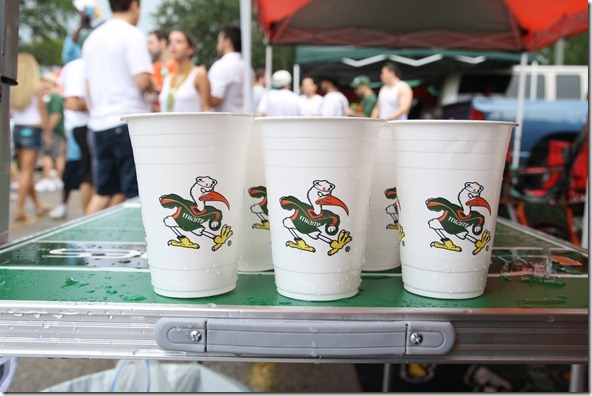 My husband and I take tailgating extremely seriously.  And – lucky for us – so do our Miami friends!  We spent the night at Lisette and Danny's, and then we all woke up at the absolutely insane hour of 3:30 AM. By 4:10, we were joining other friends for a large caravan to the stadium (so we could get the best spot), and when the gates opened up at 5:00 AM, we were right there, waiting and ready to go!
We set up in the dark.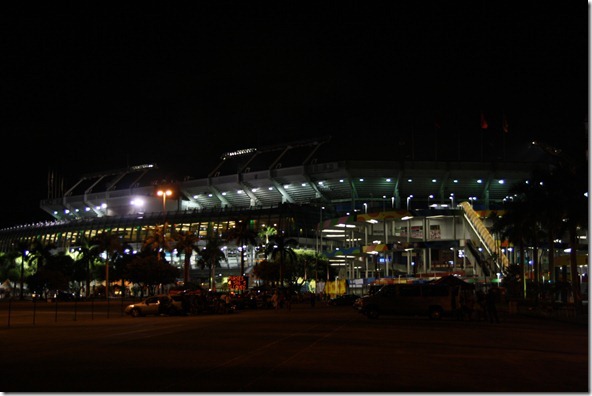 And I promptly slammed two coffees.

Slowly but surely, the sun began to rise!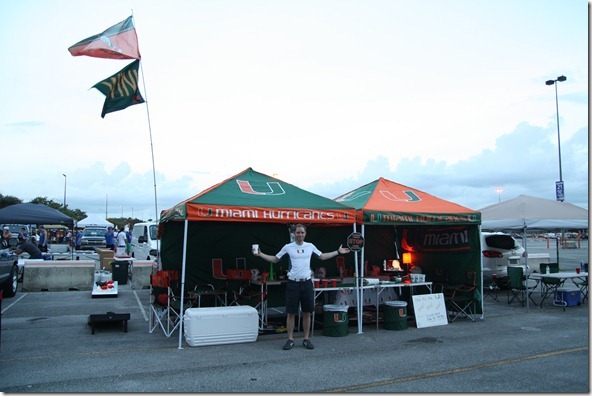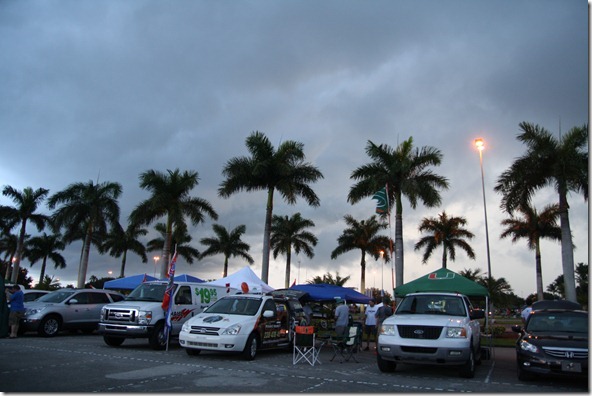 This year, we expanded our tailgate to two tents, a long beer pong table, a card table, more chairs, two big branded rugs, and a sweet 18-foot flagpole, which makes it easier for friends to find us in the crowd (side note: if you're a Canes fan, too, much of our gear and clothes came from the very awesome All Canes store – please support this amazing small business if you plan to do some tailgate shoppin'!). We've also figured out a way to use a marine battery, inverter, and our phone's hot spot abilities to beam in TV!  Gotta watch ESPN, of course.
If you could believe it, shortly after we got everything set up (which takes about 45 minutes), we heard a crack of thunder!  Growing up in Miami… I knew what that meant.  A big time thunderstorm of tropical proportions.  We hustled to juggle our mimosas while we simuntaneously threw a ton of stuff back into the car.  And then it began to pour.
If was disappointing, but also a little funny.  It would happen immediately after we set everything up, right?!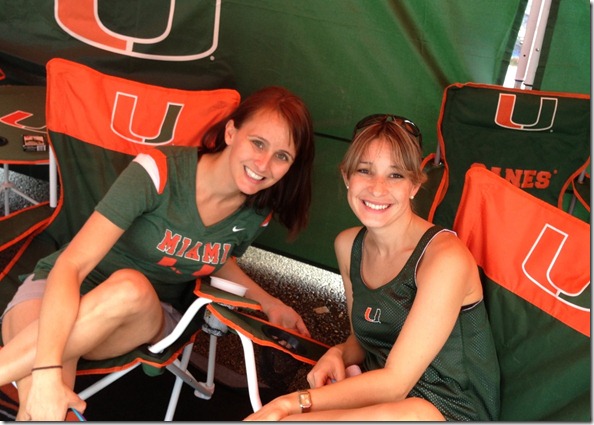 We also ended up blowing our inverter by plugging in a griddle to make pancakes… so our breakfast and lunch wasn't as fabulous as it's been in years past.  We ended up begging off grill space from our neighbors so we could cook our food.  Luckily, everyone was really nice and didn't mind sharing!
I planned for a huge spread of eggs, pancakes, cheese sandwiches, grilled veggies and more for breakfast… but we ended up settling on eggs and chips.  Not bad.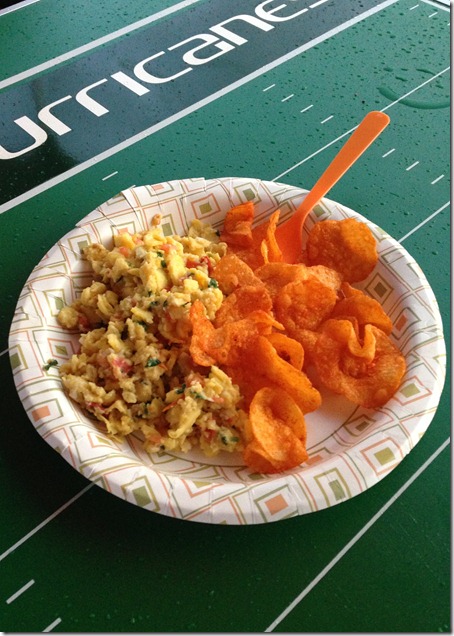 The rain eventually stopped and the festivities resumed.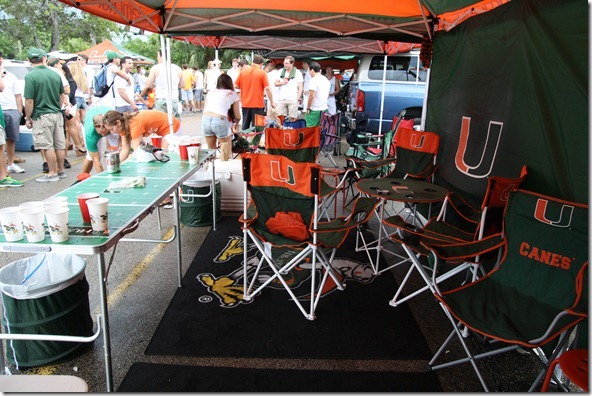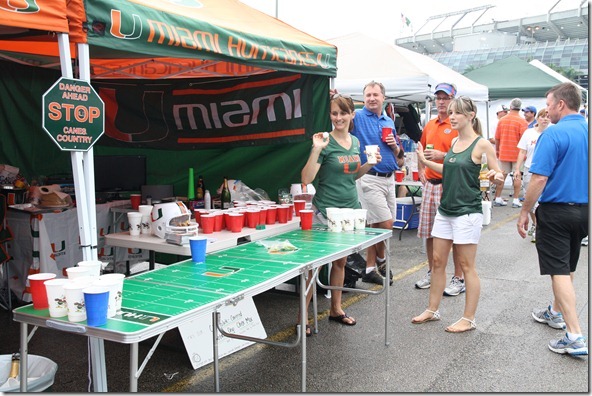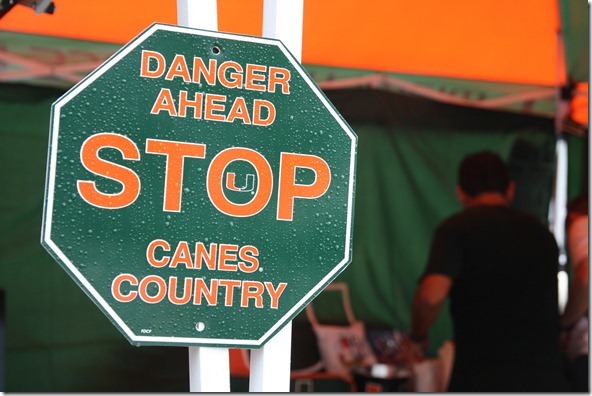 By 9 AM, the parking lot was packed, and the madness truly began!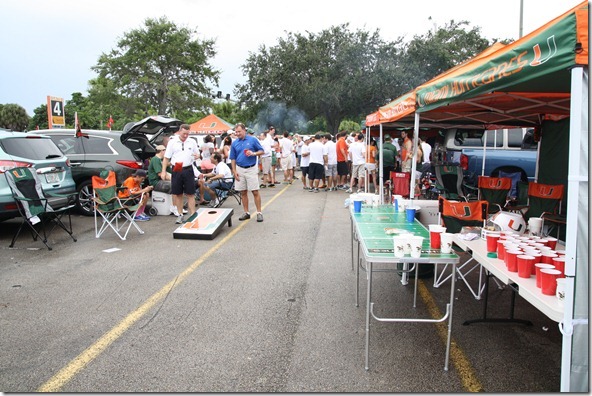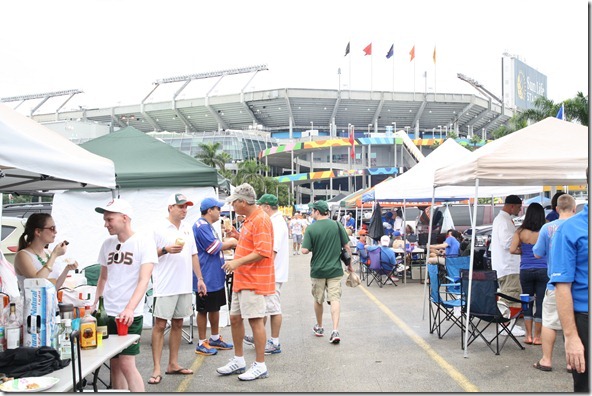 That's when I broke out a special treat for my fellow tailgaters.  I've been working hard on a delicious tailgate-inspired Chex Mix. I wanted something sweet, salty, and satisfying.  Eight versions of this recipe later, I have something truly mouth-watering to share with you.
Presenting… Chocolate-Covered Potato Chip Chex Mix!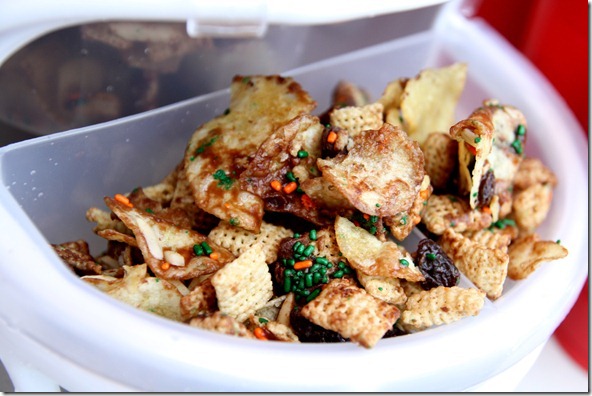 It's a mix of Rice Chex, kettle-style potato chips, raisins, almonds, and – of course – chocolate!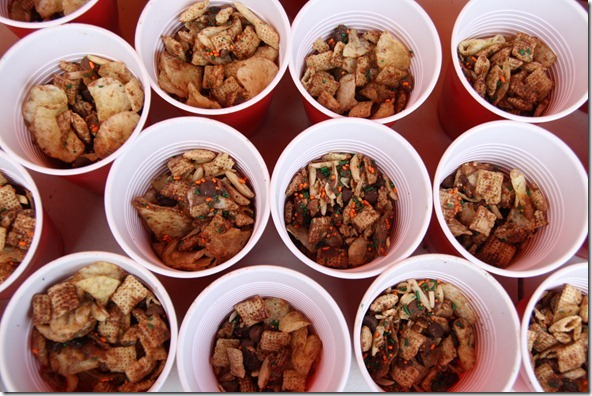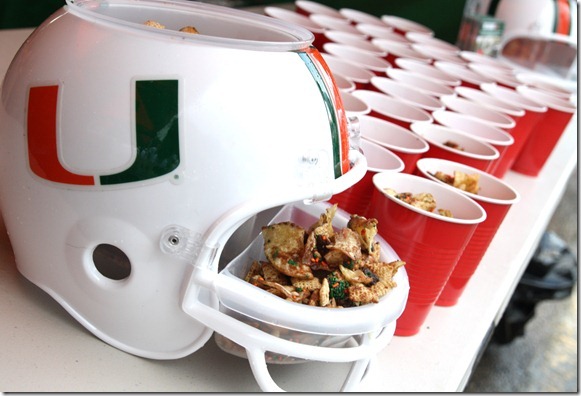 Chocolate-Covered Potato Chip Chex Mix
Ingredients (for 25 1-cup servings):
8 cups Rice Chex

6 cups kettle-style potato chips, loosely packed as not to crush chips

1 cup almond silvers

1/2 cup raisins

4 tablespoons butter

1/2 cup + 1 cup milk chocolate chips

1/4 cup light corn syrup

1/2 teaspoon salt

Optional: sprinkles in team colors
Directions:
In a large bowl, thoroughly mix Chex, potato chips, almonds, raisins and 1 cup of milk chocolate chips.

In a small microwavable bowl, heat butter for 30 seconds. Remove from microwave and add in 1/2 cup chocolate chips, corn syrup, and salt. Heat for another 30 – 45 seconds, remove, and mix until a smooth liquid forms.

Slowly pour chocolate mix over the cereal mix, constantly stirring the cereal to coat everything equally.

Continue to stir cereal for several minutes to ensure chocolate is well-distributed.

Add sprinkles, stir a few times more, and pour mix out on parchment paper or paper towels to cool.

Store in air-tight container until ready to eat.
This recipe was a HUGE hit!  Everyone who walked by grabbed a cup and inhaled it. A few people doubted the flavor combo upon hearing the name… but once they tasted it, they were sold!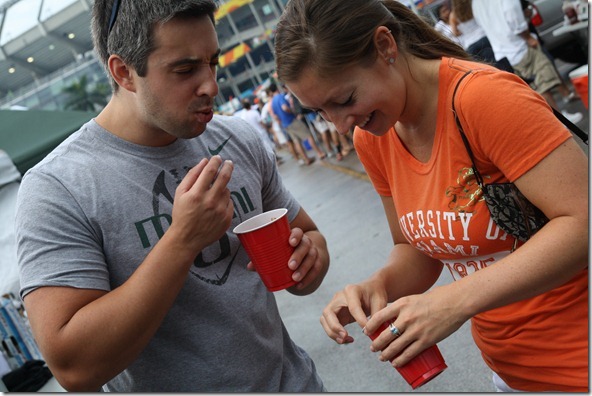 I even let the Gator fans have some.

Speaking of Gator fans, I ran into my uncle Paul and his buddies at the tailgate!  They were on a guys' weekend.  And they proceeded to crush us all at every single tailgate game we challenged them to. Hmph.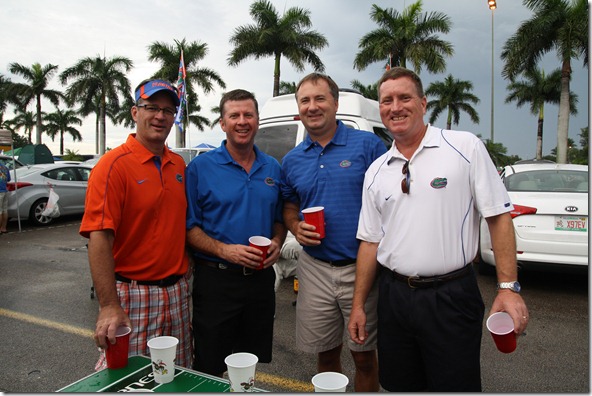 Soon… it was time for lunch.  Again, since our grill was busted, lunch wasn't as delicious as it could've been. I did manage to find a spot the grill some veggies.  Yum.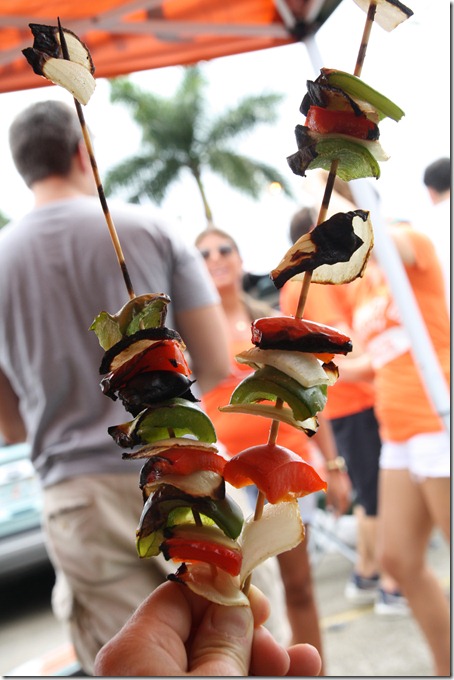 And, hey, here's always Chex Mix and pie.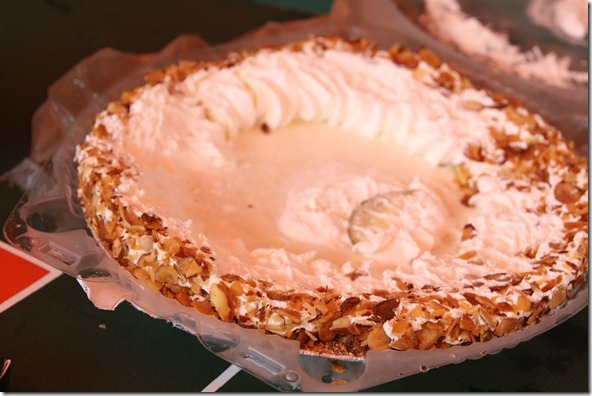 We broke down our tailgate, finished our drinks, and changed our outfits (too sweaty at that point!). And then we headed into the game.
The very best part of our Ultimate Tailgate?  The fact that WE WON THE GAME!  Holy heck – it was so  exciting.  I thought the Husband's head was going to explode.  Go Canes!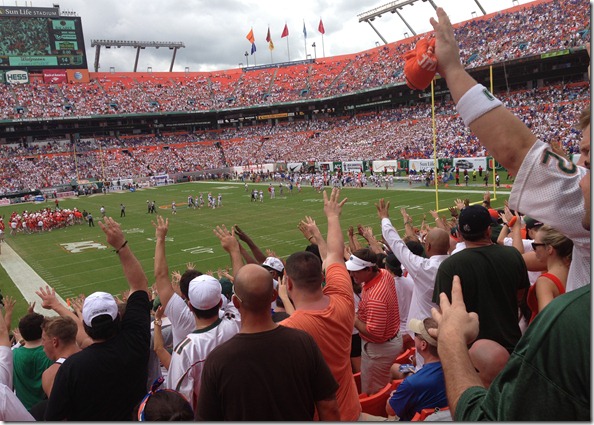 We drove home sunburnt, sweaty, and extremely happy.  We forced ourselves to stay up until 9 PM to get back onto a normal schedule, and then I crashed hard.
On Sunday, we drove to my in-laws' house and picked up Henry, who had his first vacation away from both Mom and Dad. He loved hanging out with his grandma and learned two new words while we were gone – 'cheese' and 'shoes!'  He also got another tooth.  Lucky grandma.  I personally only had one crying meltdown about us both being away from him, so I consider it a success all around.
We ended up driving back to Charlotte that night – all in one swoop.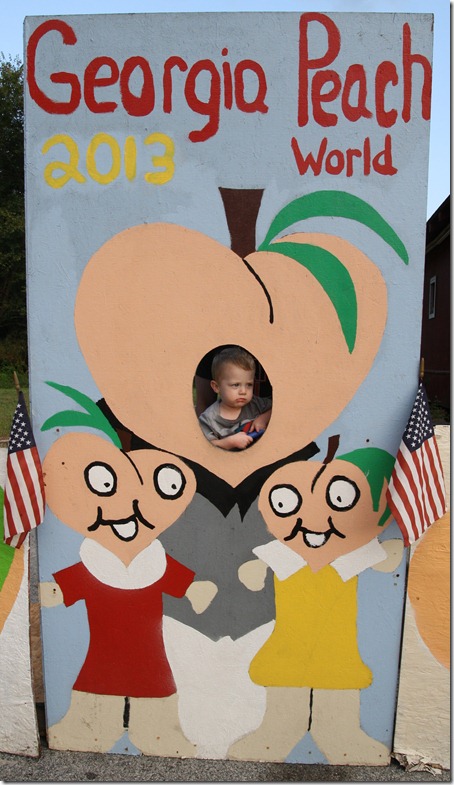 He was not amused by that photo.
It was a lot, and very exhausting, but it felt so worth it when we woke up in my own bed this morning.  And – hey! – my voice has returned!  Wahoo.
Are you a tailgater? What's your favorite part?  My favorite part is the games. I love playing beer pong, flip cup, cornhole… even if I switch to playing with water eventually.

Our Ultimate Tailgate and this post was sponsored by General Mills.