We spent a lot of time in bathing suits.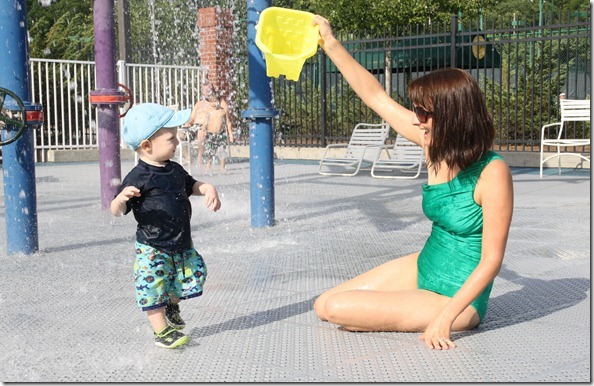 Henry and I venture to the pool or the splash playground nearly every single day. I can't imagine summer without these activities. In the afternoons, it's too hot to do almost anything else, and like most toddlers, Henry loves being in and playing with water.
Here are four little tricks for making summer water fun a bit more fun (and easier for momma, too):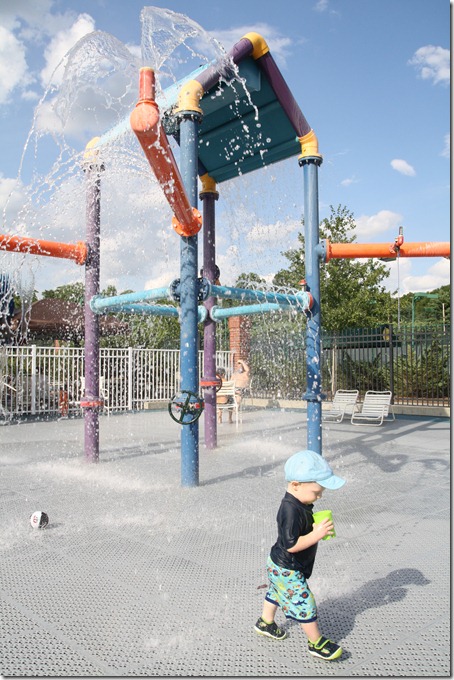 Click through to read my four favorite tips + to enter to win a $150 gift card from Albion Fit (no worries – this 'click through' option isn't a permanent feature on regular HTP posts – just for giveaways).
1.) An inflatable beach ball:  Henry loves balls, but they aren't the easiest toy to carry around.  A big, soft beach ball is easy for Henry and his friends to grab, kick, and throw.  And – most importantly – it deflates to practically nothing, so it slips right into the side pocket of my diaper bag.
2) Water shoes:  Okay.  I confess.  I thought water shoes were one of those things that only crazy helicopter parents forced their children to wear.  After all, I don't remember wearing water shoes as an older kid.  But for a toddler – man, water shoes rock!  They protect Henry's toes and feet from debris and hard edges.  Most importantly, the shoes prevent burns at the splash playground.  The other day, I put him down without shoes, and he started to say, "Hot, hot, hot!" and do a little dance.  And Henry's actually in-between shoe sizes right now, so he wear his perfectly-fitting water shoes all day long.
3) Large empty yogurt containers:  Perfect for pouring and carrying water around. And 'sharing' water with Dad. I could buy plastic buckets, but why not reduce, reuse, recycle?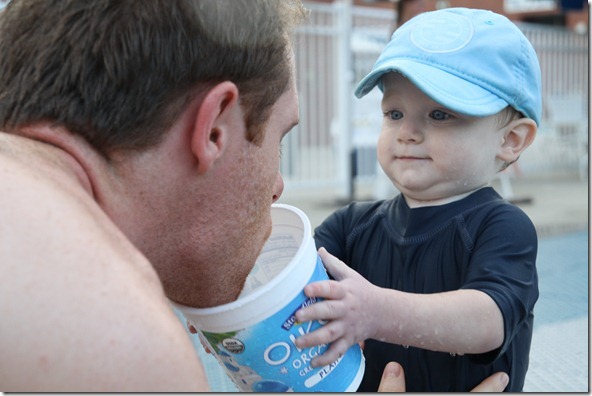 4) Newborn bathtub: An ideal little 'baby pool' for our back deck.  We've used that bathtub more as a pool than we did as a tub!  Fill it with plastic balls and – tada! – toddler heaven.
My conundrum this summer was what I should wear on our water excursions.  I had Henry's outfit down, but could never figure out my ideal situation.  I tried wearing my old string bikinis and – hah! – no way.  There's far too much running, chasing, swinging, throwing, and general opposite-of-sun-tanning-on-the-towel behavior going on to wear a skimpy, flimsy suit.  So I tried wearing my fitness suits, the only one pieces that I owned, to the pool instead.  And while it worked okay, lap suits don't offer much support up top and are too snug to be comfortable on dry land.
Enter: Albion Fit, a vintage-inspired women's fitness and swimwear, as well as workout clothing, line.
When Albion Fit emailed me asking if I'd like to review one of their suits, my first thought was: are you kidding me?  I can barely pick out a good suit in person at the store; I could never find one that fit online.  I wrote back, "Do you have something pretty but functional; strong enough to withstand toddler play; supportive enough so I feel comfortable; with a shelf bra that actually fits; and in a really pretty color?"  I thought they'd say, "You mean a miracle suit that doesn't exist?"  But they simple wrote back, "You've got to try the Icon suit!"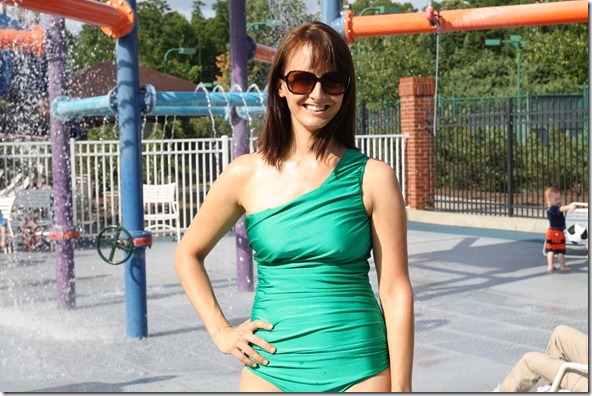 This really is the best swimsuit that I've ever owned.  (For sizing reference, I'm wearing a small.)
The color is so deep, rich, and fabulous.  I love the vintage inspiration. And the ruching is super flattering.  The shelf bra and thin pads are supportive and functional.  And the one-shoulder design is – dare I say it – pretty darn hot.  But above all else, I can actually PLAY in this suit!  I've even worn it to a water park and went down the big slide in it!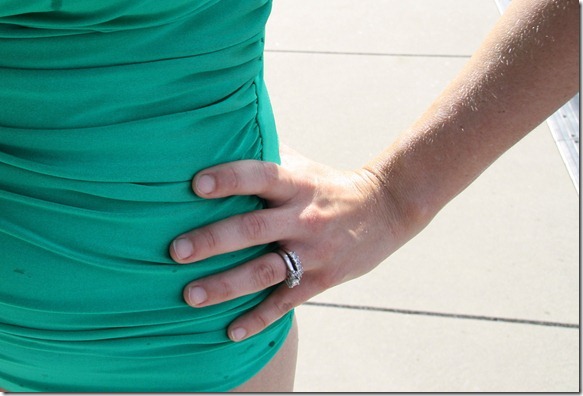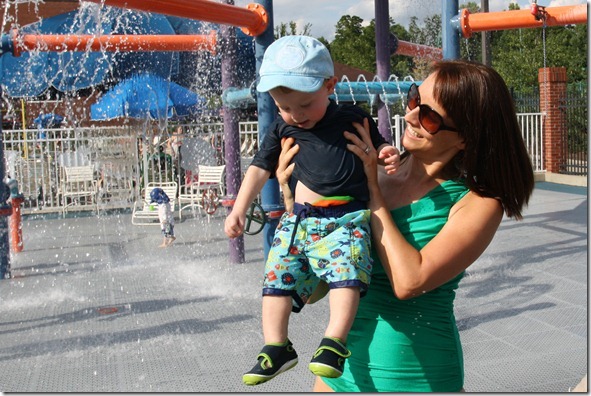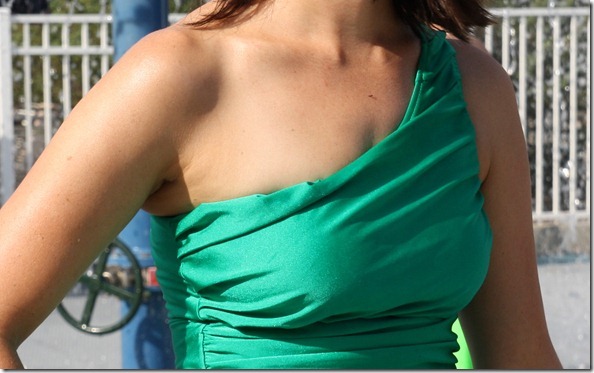 Other Albion Fit items that caught my eye in their online shop include:
The Sweet Stripe Full Zip and The Petal Pant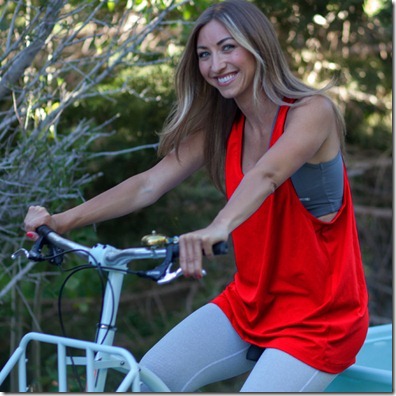 I really love the quality of the Icon swimsuit, and I swear that I can't believe an online suit fit so well.  Guess that's what high-quality is all about.  You can check out Albion Fit on Facebook or Twitter.
I'm giving away a $150 gift card to the Albion Fit online store!  To win, simply leave a comment describing your favorite summertime activity + the name of your favorite Albion Fit item (just check out their site).  I'll pick a winner on Friday at 9 AM. And PS – Use code "tippingpoint20" for $20 off any Albion Fit purchase of $50 or more, exp. 8/16/13).
This post was sponsored by Albion Fit.  All opinions are, as always, my own.