I have been lucky enough to have several awesome workout buddies over the last six years or so:
Meghann and Megan (my Orlando running buddies)
BFF Lauren (we trained together 'virtually' through emails for the Disney Marathon)
Nicole (we used to be neighbors here in Charlotte, and it made it super easy to run together)
James (well, he's more of a walking only kind of pup, but that's okay)
I don't have a grown-up human workout buddy right now, but I do have James and Henry.  We go on long walks a few times a week together, and Henry comes with me for all my training workouts.  I think Henry is going to spend a few toddler years thinking that he's getting a workout by sitting in the jogging stroller, because I always high five him after runs and say, "Did you have a good run? That was hard! You did great!"  Hah.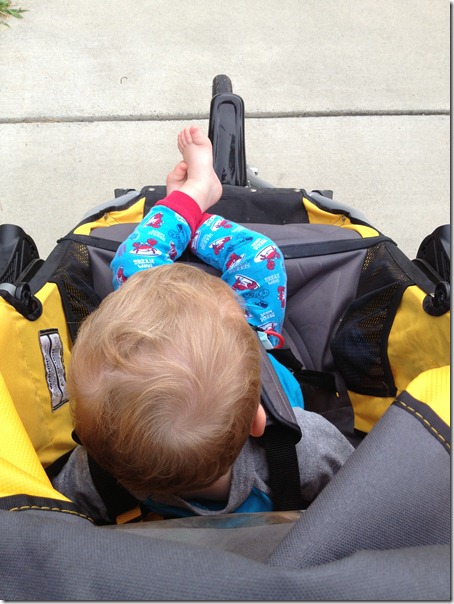 Exercising in pajamas, no big deal.
Last night's workout was a swim. And not just any swim. A really loooong swim. 2500 yards! The furthest I've ever done.  We ended up going in the late afternoon, so I was a little concerned that Henry would have a meltdown in childcare, but he was a champ.  He loves the ladies at childcare – and there are so many fun toys.
Before leaving, I prepped my post-workout smoothie (almond milk, banana, strawberries, greens, and a huge scoop of peanut butter).  I've been making an effort to be good about fueling immediately after my workouts I know – and Coach Marni reminds me a lot! – that fuel is very important to my training. I simultaneously call childcare at the gym and make a reservation for Henry.  And then I grab all of our stuff – diaper bag, swim bag, and snacks and drinks for all.  Oh, and I transcribe my workout from my training sheet onto a sheet of paper so I can stick it to the side of the pool.
The 2500 yards went great. The actual race distance is about 2100 yards, and I am so glad that I'll be regularly swimming further than that.  I definitely need to feel very, very confident about swimming 1.2 miles – I would love to get through this triathlon without a panic attack!  KWIM?!
And Workout #2 took place this morning – it was a one hour long run.  I love run days because they are the simplest for me. I just grab Henry and his necessary gear, open the jogging stroller, and go.  We did 6.0 miles this morning and occasionally listened to music / Elmo music videos on my iPhone speakers.
I ran in new shoes (Brooks Ghost 5s), which I finally got around to purchasing last week. I really needed new shoes!  Pretty colors, right?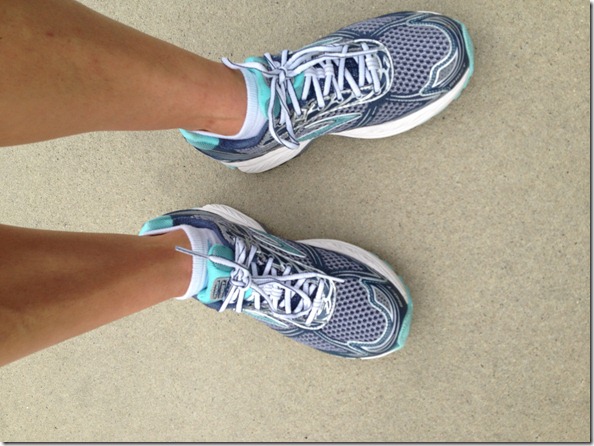 And here's breakfast.  I've been mixing a dollop of pesto into scrambled eggs – so good!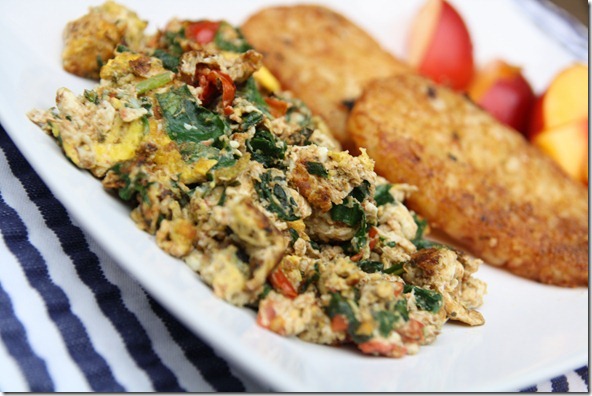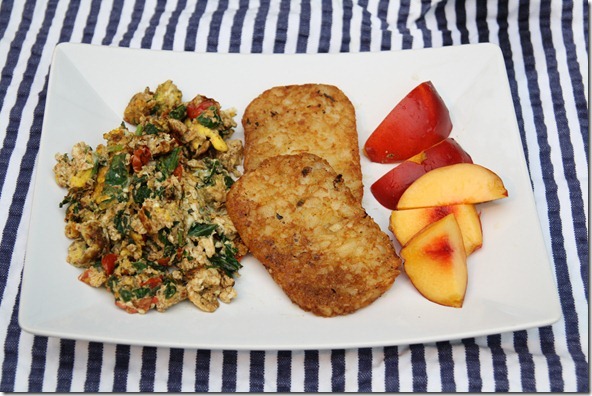 Summer nectarines are so good right now.
In conclusion – my current workout buddy is a blast. 

  I miss my grown-up buddies, but Henry and I have a lot of fun.
Healthy Living Summit Update
This year's Healthy Living Summit will take place in the Twin Cities.  HLS will be held over September 13 – 15, 2013 at the Hilton Minneapolis.  I was one of the founders of HLS back in 2009, and although I'm no longer involved in the planning (and unable to make it this year!), I urge you guys to check it out!  It's a blast, and you don't have to know people in real life or be a blogger to attend. Registration is now open.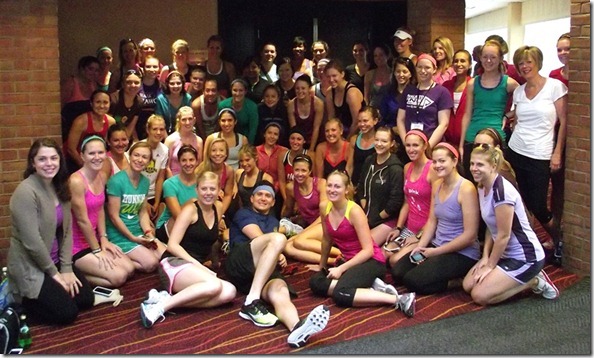 Do you have a workout buddy?  Old, young, faraway, right down the road? Four-legged and furry?