The crafty, do-it-yourself craze continues in the Boyle household.  We can't get enough of Home Depot.  Here are two small projects that we tackled over the weekend.  I love small projects that make a really, really big difference!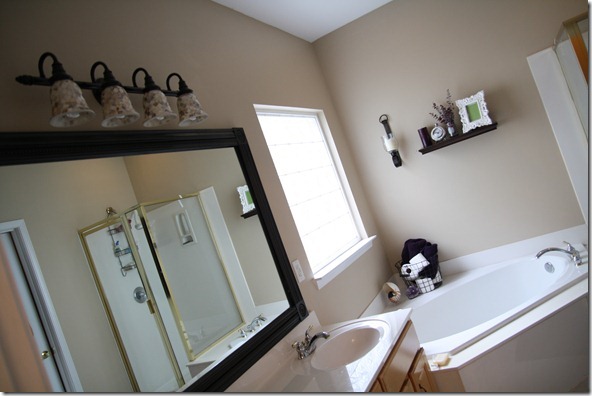 Up first: DIY Mirror Frame.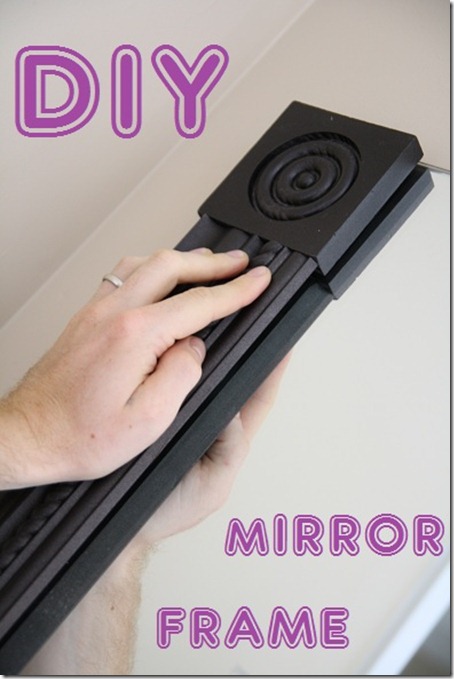 As I wrote in my last Crafty post, we're trying to make our master bathroom less builder-grade and more fabulous.  After painting the cabinet pulls and installing a new light fixture (which we bought at Lowe's, by the way), it was very obvious that we had to do something about the big, boring mirror.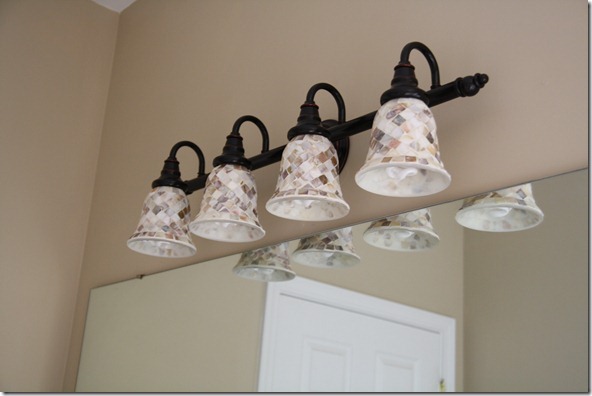 It looked seriously cheap – and it needed to be GRAND!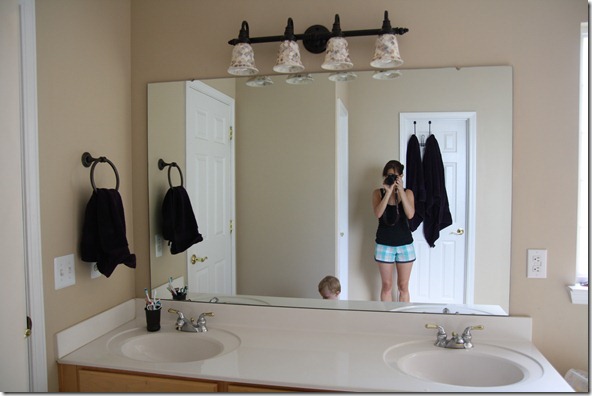 I spy a Henry head.
We made a mirror frame using crown molding and a little bit of spray paint.  Check out the "after" shots. It's not perfect-perfect, but it's close enough. I'm pretty proud of it… I think this is our best DIY project yet.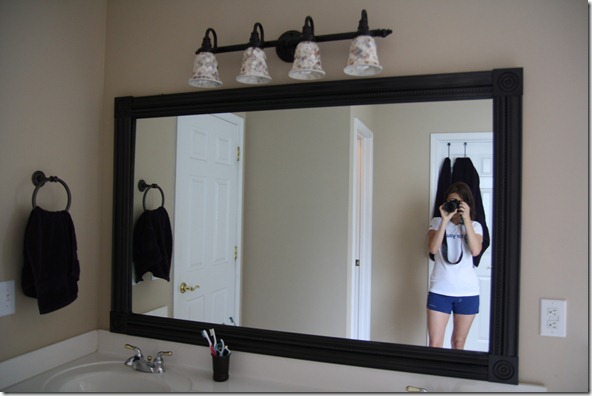 We don't own a saw that would allow us to make 45-degree angle cuts, so we bought square pieces of molding (sold in the decorative crown molding section) to place in the corner.  See?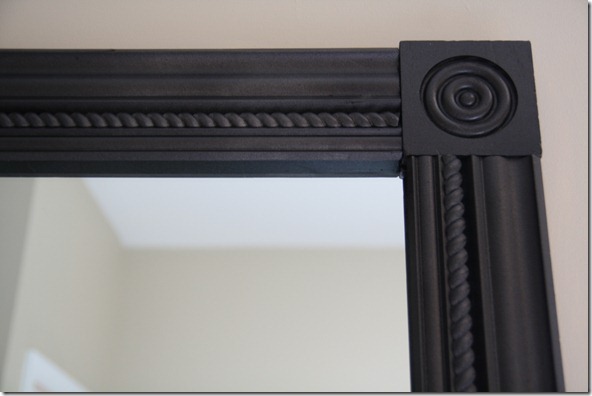 Here's what you'll need to make a DIY mirror frame without a saw:
Four corner pieces of molding
4 length of molding
Spray paint
Liquid Nails
Super glue
Painter's tape
When you buy your molding, ask the salesman at the hardware store to cut the molding for you before you leave the store (they'll do this for free).  You'll want to have about 1/2 inch of overhand on each side of the mirror (unless it butts up against the countertop, as ours does at the bottom). So, to figure out how long you need the molding to be for each side, measure the mirror from top to bottom and add an inch (or 1/2 an inch ).  Subtract the width of two corner pieces.  If your mirror is 60 inches long, and your corner pieces are 3 inches wide, you'll want to cut the molding to be 60 + 1 – 3 – 3 = 55 inches.
When you get home, spray paint the front, sides, and back (very important) of each piece.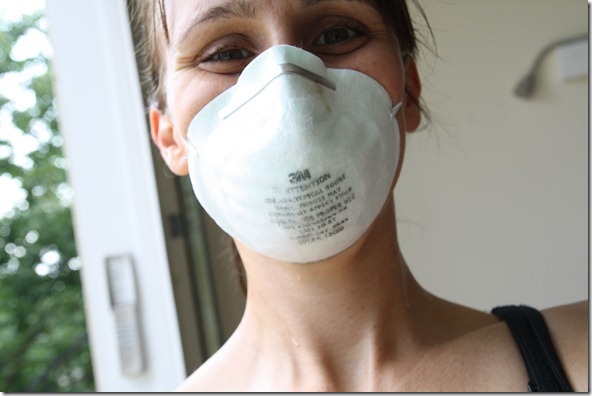 Here's what we used (we needed two cans).  Do a double coat if necessary.  It's important to do the backs because you can see the back of the boards in the reflection of the mirror.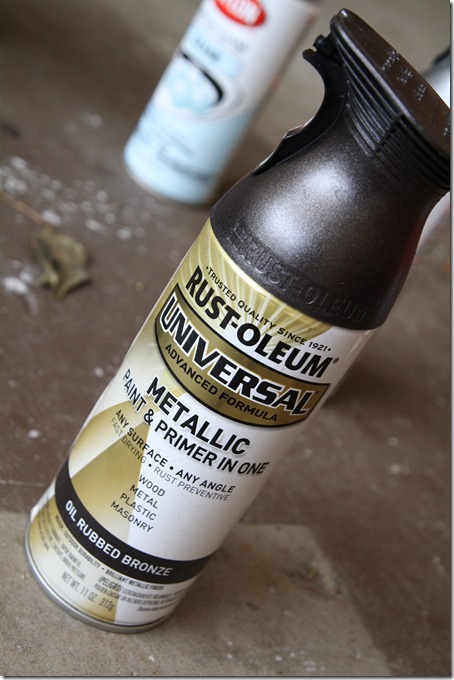 Once everything is dry, it's time to affix it to the mirror.  We used a combination of Liquid Nails and Super Glue (the Super Glue was necessary because the molding was curved in a few spots, and it helped really hold it down).  In hindsight, I wish we had used clear Liquid Nails, as if the goo gets too close to the edge, you can see it through the sides of the mirror.  And you may want to use painter's tape to help hold the boards in place as the glue really, really sets.
Oh, if you have those bulky mirror clips, which we do not, you may want to carve out a bit of the back of the boards to allow the board to lay flat against the mirror.  Just be sure to spray paint it once you've cut the divot out.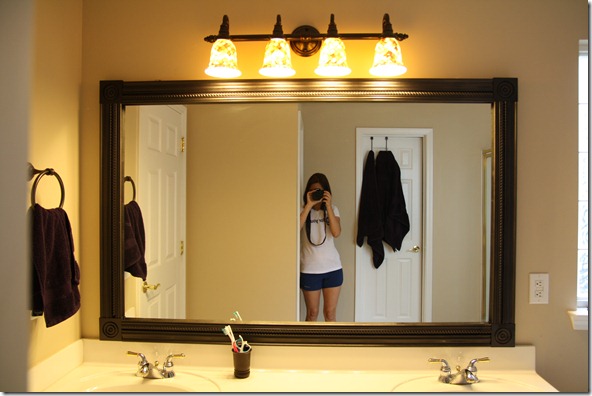 This was a really simple project and so easy to do!  It only took a few hours, very little work, and – as mentioned – no at-home power tools.  Oh, and one more thing – you may want to help fill in the gaps between the molding and the corner pieces with wood putty (which you could then either tape off around and spray paint, or spray onto a piece of paper and use a small brush to touch up).
Pretty, right? It makes such a difference!
Up next…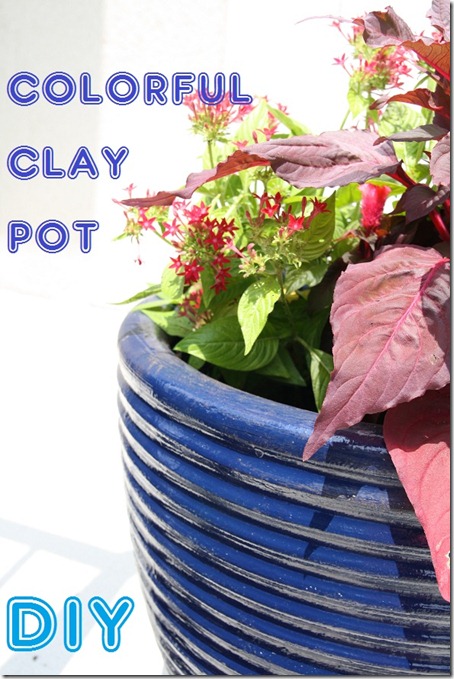 Our front stoop was seriously lacking in color and visual interest.  I wanted to buy a bunch of those huge, decorative blue pots that you sometimes see at Home Goods or Home Depot… but they are so expensive!  Plus, I could never find a bunch in the right color.
So we made our own!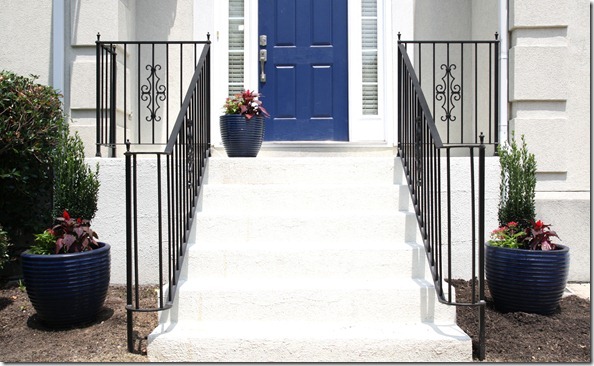 We bought three clay pots (the largest were 20 inches in diameter) from Home Depot.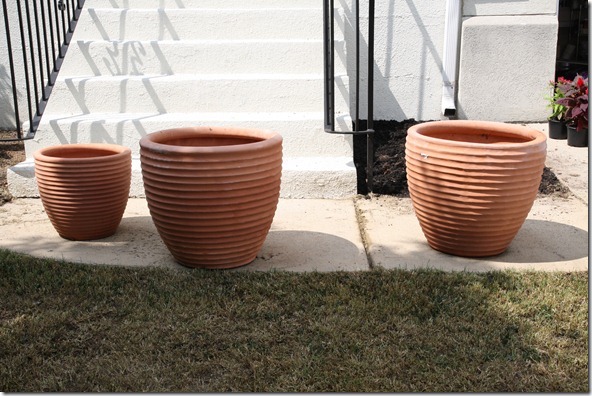 And I got to sprayin'.  Every time I spray paint, I think of Young House Love saying, "If you're a'sprayin, your arms should be a a'swayin."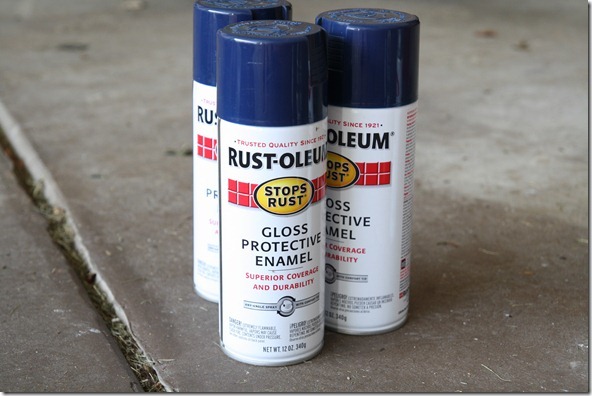 You don't need to spray the inside of the pots, but you do want to go down a few inches.  Of course, it's worth noting that spray painting the clay pots seals them.  So be sure that your pot as a hole in the bottom for water to escape.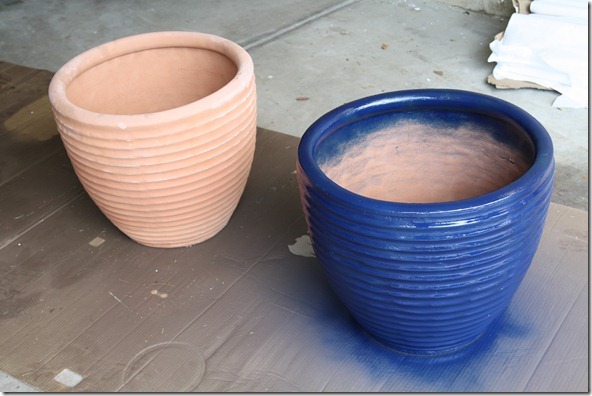 Once the pots were dry, I dragged them into position and filled them.  We planted some flowers and greenery, as well as a Sky Pencil, which will hopefully grow as tall as 10 feet.
I love it!  I especially like how it looks expensive but wasn't.
I painted our door blue the second or third we owned the house, and I love how the pots tie in the color.  We have some more landscaping to do out front, but this is a nice start.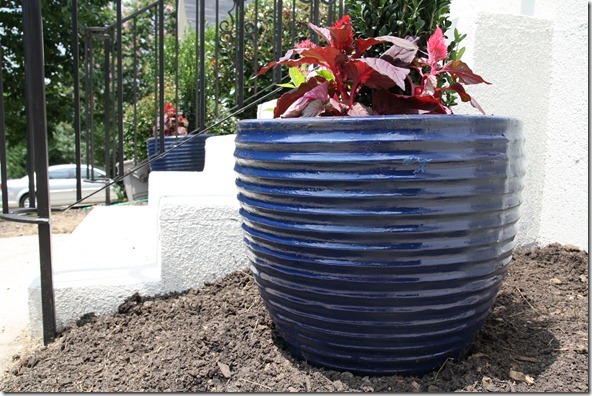 Two easy projects, a big change, and not a lot of cash.  The DIY mirror project cost us about $100, and the pots and plants were closer to $150.
How's everyone's DIY projects coming along?  It feels so good to complete a few!