Happy Fourth of July!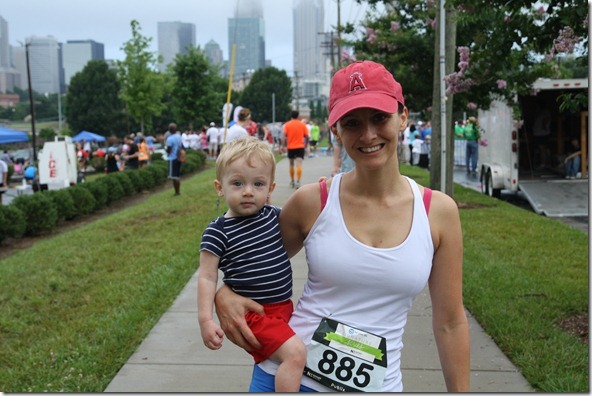 We were up bright and early this morning to run the local 4th of July race – appropriately, a 4 miler.  We are always up bright and early now, so early wakeups for races don't feel so rough anymore. It was hard to get out of the house on time, though.  Especially since the Husband and I ran around like crazy people looking for red, white, and blue outfits.  And, of course, exchanging numerous jabs about England v. America, as we have for the past 10 years or so.  
We ran the race with Jen from Runners Trials and her son Wyatt.  Jen + Wyatt are accomplished jogging stroller racers – as a matter of fact, they won the stroller division last year and were back to defend the title.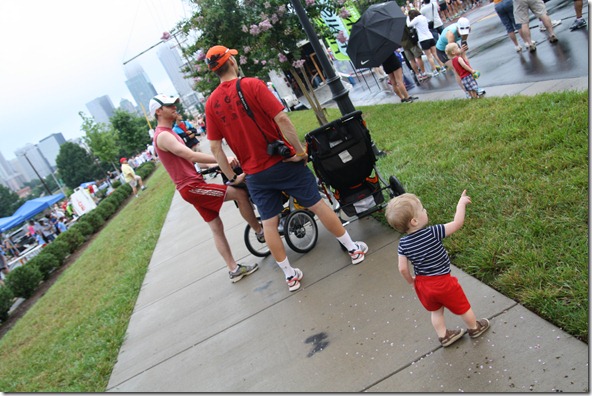 Wyatt and Henry shared tips before the race talk.  I heard Wyatt say, "Don't let your mommy come out too fast! Be sure to take in fuel, like cereal puffs from your little snack container.  And if running makes your stomach hurt, just poop in your diaper."  Good advice, Wyatt.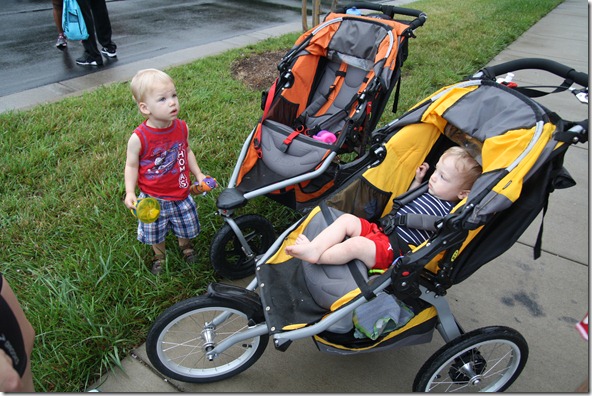 One National Anthem later, the strollers were off!  We had a two minute head start.  Jen and Wyatt immediately charged past us, but the Hus, Henry, and I fell into a nice, steady rhythm.
Oh man – this course was rough!  There were a lot of hills, and it was super humid.  Jen checked her phone after the race and told me that it was 100% humidity.  It felt like we were running through bathwater.  I was hot instantly, and it hurt to breathe as I ran up the hills.  I managed to hold third place in the stroller division for a while but dropped back around Mile 2.  Some of those mommas are FAST.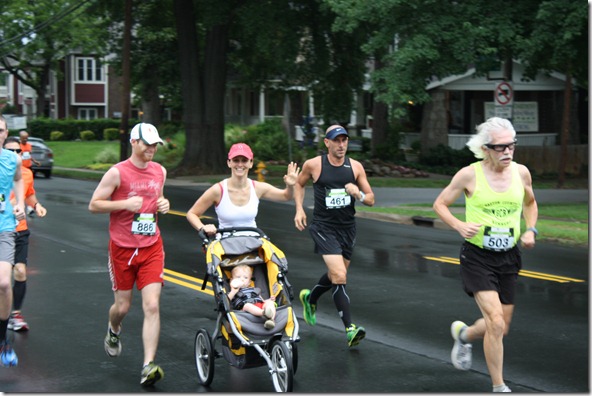 I'm not sure of my official time yet, but I think it was around 40 minutes.  Not bad for lugging 42+ pounds up and down Charlotte's hilliest streets.  And my dear friend Jen and Wyatt placed FIRST in the stroller division.  Way to go!
Don't Wyatt and Henry look like brothers?  Strangers always think they are related.
Post-race cool down….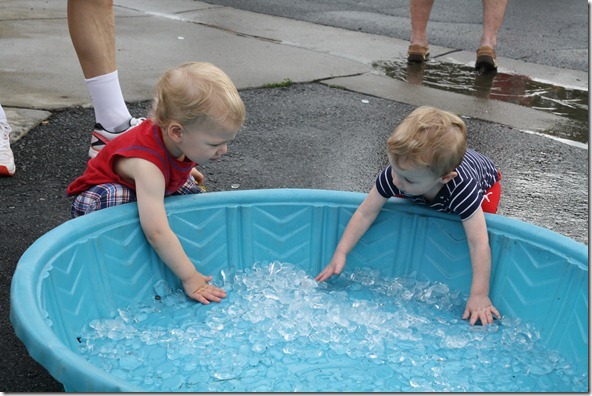 All in all, a very fun way to kick off the holiday.  We were feeling so good after the race that we decided to throw a last-minute BBQ for our friends.  I found myself at Party City at 9:02 AM buying balloons and decorations.  And then we headed to a fireworks tent to get some boom boomers.  It's looking like our ho-hum holiday is actually going to be quite fun.
Stay safe around those fireworks!  Have a great holiday!