Happy Sunday.  Is it warm where you are?  It's freezing in Charlotte!  Truly – so cold.  And this surprise cold snap couldn't have come at a worse time because today was the first Ramblin' Rose event of the season (my new job is with Ramblin' Rose!).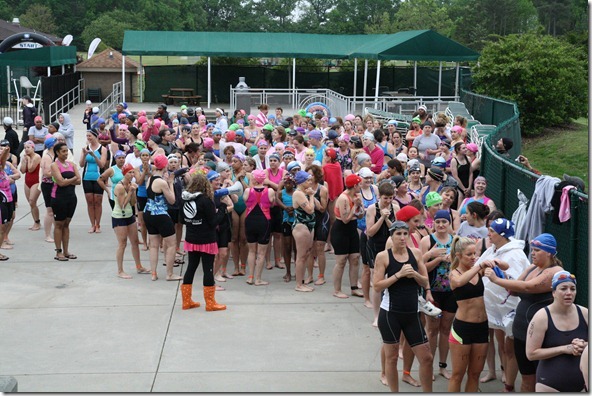 I was afraid the chill and rain would negatively impact the event, but the ladies seemed to have a great time regardless (Ramblin' Rose does that to you!).  And I had a blast following along as the women completed the 200 yard swim, 8 mile bike, and 2 mile run.  It's fun to be on the other side of a triathlon for once.
Today's event was the 2013 series' kick-off.  If you've always wanted to do a triathlon and like the idea of an all-women's event, we've got races in Raleigh, Rock Hill, Winston-Salem, Huntersville, and Chapel Hill!  Come one, come all!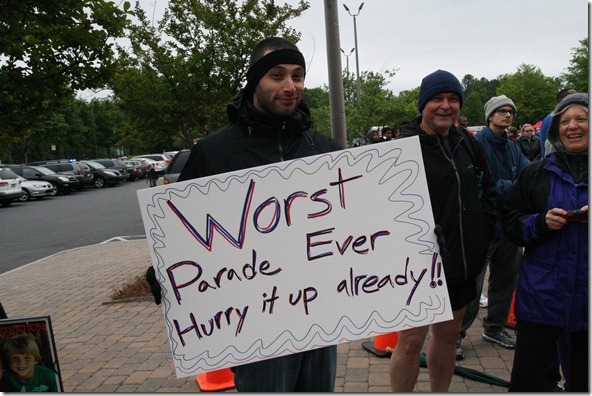 Hah.
I am sure all 500 participants, the dozens upon dozens of volunteers, and every single spectator did exactly what I did when I got home – jumped in a hot, hot shower and cooked up a warm lunch.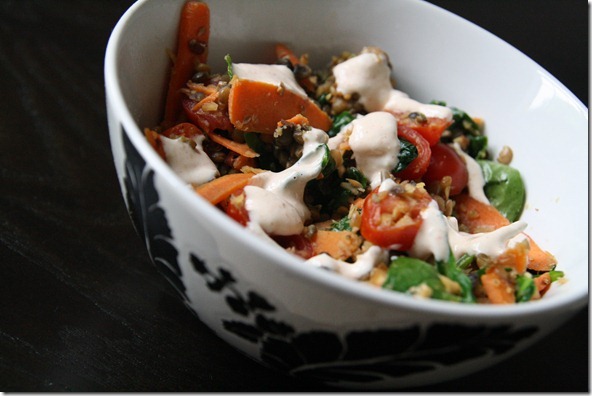 I've been so into this super simple combo that I had to share – it's delicious!
Have you seen those packs of pre-steamed lentils at the grocery store? You can usually find them in the produce section.  We love them; the Trader Joe's brand is pretty cheap, and lentils are a nice change from beans.
This lentil bowl includes:  lentils, chopped almonds (I just toss whole almonds into the food process with the slicing attachment on), tomatoes, spinach, sliced carrots, and a touch of salt.  Everything goes into a pan with a bit of olive oil; I let it cook with the lid on for just a few minutes… long enough for the spinach to wilt!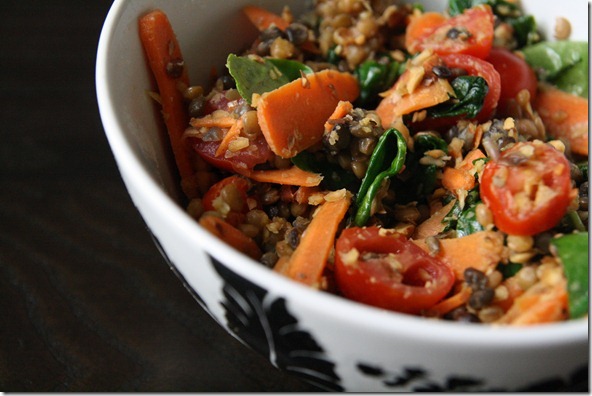 And then I top it with a salad dressing (but of course).  I like balsamic vinaigrette, but horseradish aioli is my favorite.  This aioli is actually from a local restaurant; whenever we get takeout, I pay for extra aioli because it is so good on EVERYTHING.  I should really find a similar recipe…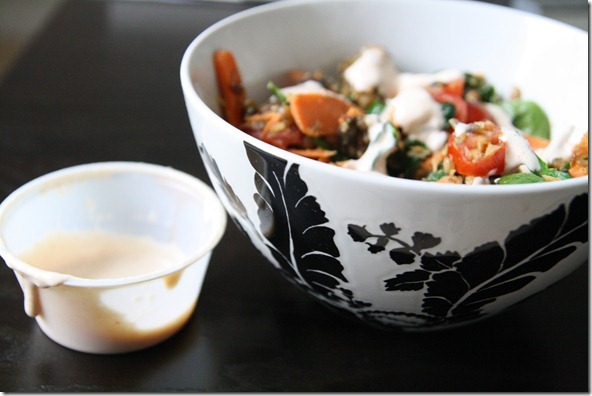 So that's what I'm munchin' on lately!
Other random updates:  I've really re-dedicated myself to training (lots of two-a-days!), and we've gotten into juicing and have been drinking one or two veggie and fruit juices each day. So far, we haven't come up with any of our own recipes, but I really like the Garden Variety from Fat, Sick, and Nearly Dead.
Oh, and we bought a second car – a very cool yet totally random Suzuki Kizashi.  Yaaaaay!  Although I really didn't mind being a one-car family before Henry was born, I've recently been approaching my breaking point with the lifestyle.  It's hard to be at home all day during the work week with a very active baby-almost-toddler and little adult interaction.  So now the Husband and I both have our own wheels again!  Yipppeeee.  Henry and I are already packing our calendar with play dates and fun classes.
Thought of the Day:
The trouble with jogging is that by the time you realize you're not in shape for it, it's too far to walk back. – Franklin Jones