My little baby is growing up!
Oh, what a month.  Can you believe little BabyHTP is 10 months old (well, actually, now he's ten and a half months old…).  The days just seem to flew by in one big, baby blur.  My beautiful Henry seems more and more like a toddler every single day.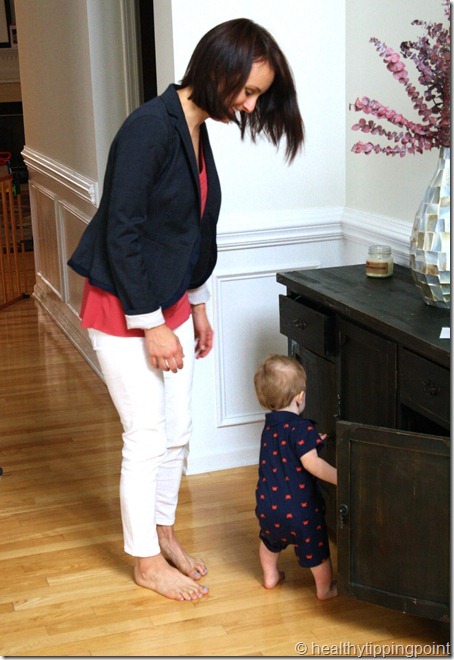 Can I do  a Henry update before I do a me update?
Henry's personality comes out more and more every single day.  He is fun, engaging, brave, silly, and mischievous.  He is SO active now.  He runs me ragged from 6:00 AM to 7:00 PM.  At night, I put him into bed and plop on the couch.  He's been walking for a few weeks now.  He's so tiny but so efficient on his feet – it looks hysterical.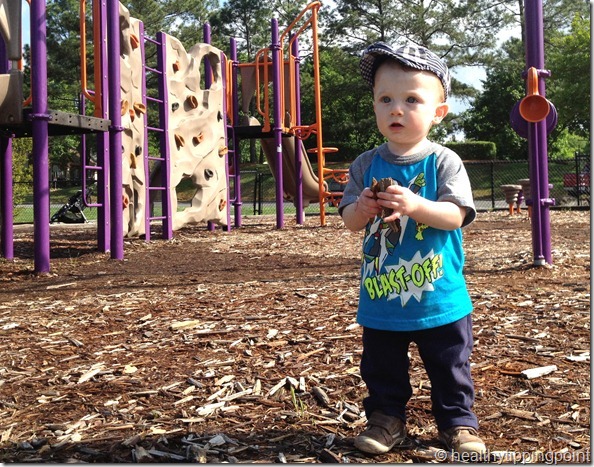 It's been such a joy to watch him develop his cognitive and motor skills and to become more and more aware of the world and people around him.  I had zero baby experience before having Henry….  I just didn't understand how fast time flies when you are watching a child grow up.  It's such a miracle that they go from sweet lumps to little boys and girls in just a year!
Beyond his newfound walking skills, he can also roll me a ball and kick a soccer ball down the hallway – just like his dad, this kiddo loves playing with tennis balls, basketballs, soccer balls… all types!  I guarantee he will be sporty.  Couldn't care less about stuffed animals but thinks balls, toy cars, and puppets are pretty sweet.  The pink and blue balloons from my birthday surprise party were also a big hit (awkward color choice by the Husband, huh?  LOL!  We had to explain to our guests that there wasn't a big secret announcement…).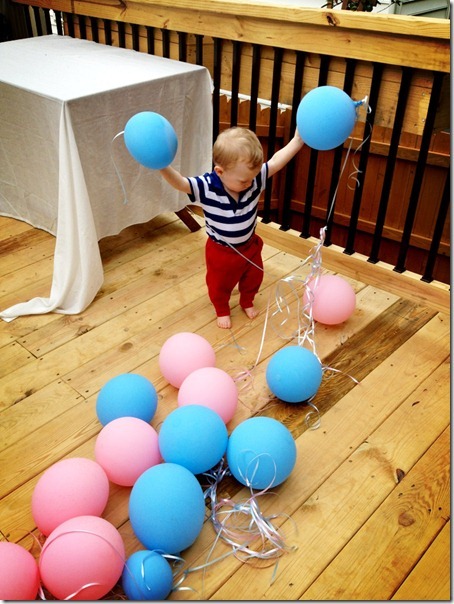 His 'words' include:  dagh (dog), ca (cat), nanana (no no no), and mama and dada for both myself and Kristien (interchangeably).  When he hears the neighbor's dog bark, he points his finger in the air and says "DAGH!"
Henry was not the cuddliest of newborns.  He liked to be held, of course, but he was also fine with hanging out in a pillow by himself and watching the people and pets in the room (or, later, crawling after everyone).  But now that he walks, he is suddenly so much more affectionate and gives us lots of hugs.  He loves to hug!  It is so sweet.  Krsitien and I both really appreciate the transformation.  We don't mind the sudden neediness (unless we cannot do whatever we need to do one-handed!).
Eating is going well.  From watching my friends' babies, I've realized that Henry is just not very 'food-focused.'  Henry will eat if he is actually hungry but if not, he just won't. This is a good life skill but it stressed me out a bit at first.  However, doing mostly Baby Led Weaning and letting him feed himself has helped a lot (otherwise – I think all meals would be wars).  Sometimes, however, he prefers that I feed him bites on a fork.  He just has to be in the mood.  He likes all sorts of veggies (but especially spinach) and loves beans in pasta sauce.  Once, he ate an entire banana, which kind of blew my mind.  That's like me eating SIX bananas!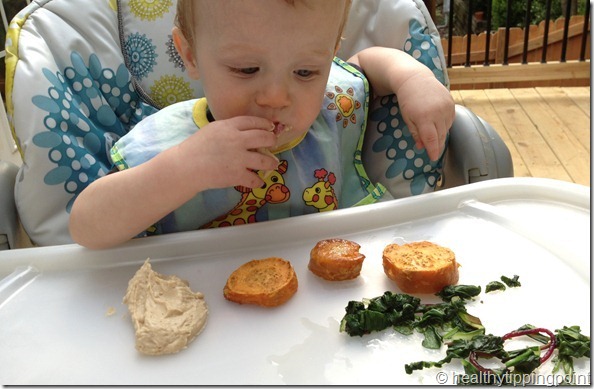 Can you tell I am so proud of my boy?  He is the best thing in my whole life.

Okay – now, a me update!  Mentally, things are good.  I really enjoy my new job as the Ramblin Rose Social Media Coordinator.  Our first triathlon of the series is this Sunday, and I cannot wait.  The career shift has been great for me as a mother and wife… it's challenging, fun, and different.  And 'downsizing' has given me a lot more time (and mental energy) for Henry and the Husband.
And here's a  Body After Baby update – It's been two months since I began the weaning process.  So now my body feels pretty much 'normal' for the first time in 18-odd months.  It's nice.  The dark linea nigrea on my tummy disappeared finally.  And I'm actually in better shape than I was before I got pregnant – go figure.  I think it's all that chasing-after-baby-time.  All my clothes and underthings fit again, and I really like my new short haircut!
On a really good morning, with lots and lots of coffee, I almost feel like a supermomma.  But the idea of another baby?  Oh my goodness.  I just don't know how you moms of many do it!  I've just gotten the hang of one.  Well, mostly gotten the hang of parenting one, at least.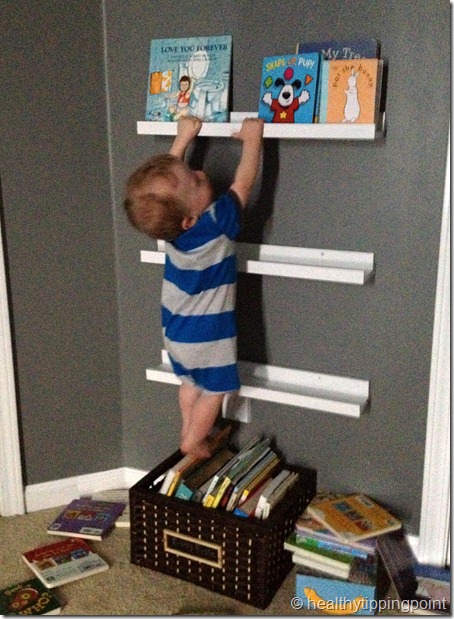 The one and only time he got away with that.
On that note, here's a little something extra-extra for the mommas and the mommas-to-be.
Some of you might have heard of the new online magazine, Daily Mom, that just launched last month. It's a great place for posts and articles for the modern woman and mom.  I have partnered with Daily Mom to host one of their giveaways as a part of an extensive 50 Days of Giveaways campaign to celebrate their launch. Today, one lucky HTP reader will win a Baby Carrier from Lillebaby.
Lillebaby is all about functionality and beauty. They offer amazingly comfortable baby carriers that don't skimp on design. Be sure to check out their products on their website. Keep in the loop by following them on Facebook and Twitter.  And of course, enter below for a chance to win.
The giveaway will run for a week, and there are only two mandatory entries with many optional ones. All you have to do is follow the directions below in the Rafflecopter widget. This giveaway is open to legal US and Canadian residents only. And be sure to visit Daily Mom tomorrow to see what new item they are giving away and to enter previous drawings! The prizes range from strollers to high chairs, monitors, diaper bags, fashion items, baby clothing and photography products. There is something for everyone. If you have any questions, please email Daily Mom staff!
NOTE:  Do NOT comment to enter this giveaway,  Instead, click the widget below or use this link—> ENTER a Rafflecopter giveaway
I hope you guys have a fabulous weekend!  Good luck!  Henry says, "Bye-Bye!" with a floppy wave.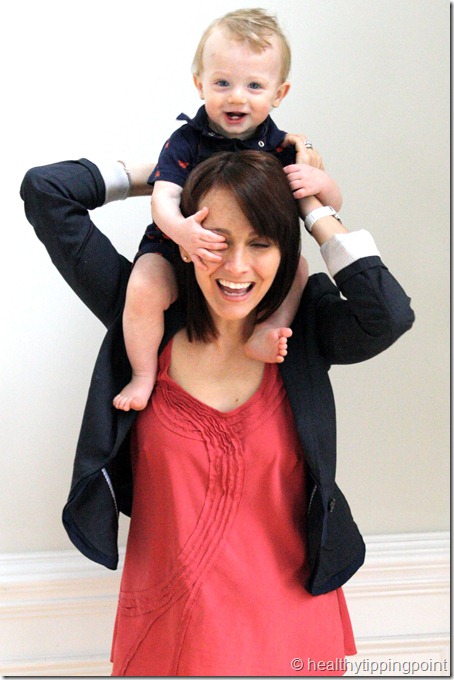 Bye-Bye!