Is Week 3 over already?!
In my quest to run, swim, and bike the total Ironman distances over the course of a month, I did four workouts this week, including one double:
Run 4 miles
Run 2 miles (speedwork) + 1,000 yard swim
Run 2.5 miles
Spin class
In contrast, my goals: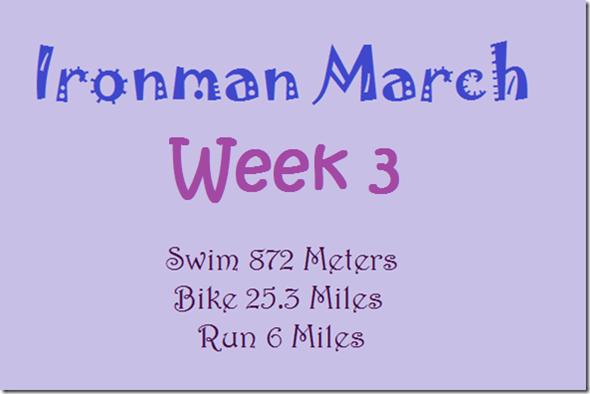 This means that I rocked the swim and the run and fell short – again! – on my spin goals.  Now I'm two classes behind in general. This challenge is making me appreciate how much I need a flexible workout schedule (i.e. one not beholden to set class times). It's really hard for me to consistently make it to spin class because of Henry, our one-car lifestyle, and various other factors.
I was planning to find a spin class to attend today in Philadelphia – even packed my shorts – but it's impossible to find a class offered between 2 – 4 PM on a Friday.  Makes sense, but it's something that I failed to anticipate.
Bottom line – I'm probably going to make up these 30-odd miles out on the road sometime before the end of the month.  It's the only way I'll be able to fit it in, and I should out there on the road regardless.  Perhaps this is a blessing in disguise!
Do you struggle to make it to group exercise classes because of your schedule?  Any tips?