Ready to talk speed?  But first… here's what I've been up to the in last 18 hours or so.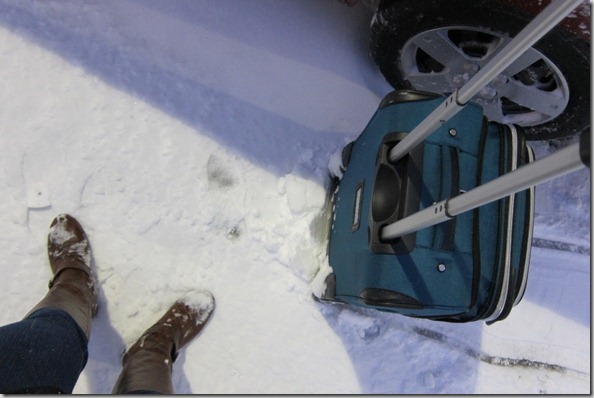 I was in the Cincinnati area to speak at Northern Kentucky University about Operation Beautiful.  The presentation went well!  I was surprised that so many students came out because the weather was quickly turning from bad to horrendous.  By the time I finished speaking, the sleet had turned to snow.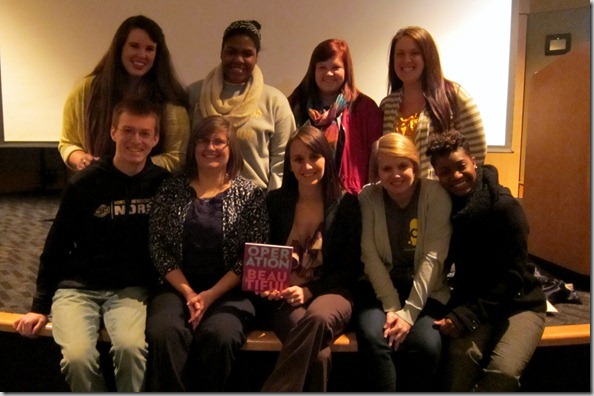 The organizing committee.
I drove back to my hotel absolutely GRIPPING the steering wheel.  It's been quite a few years since I drove in weather like that!  The city got around five inches overnight, and I found myself cursing my selection of the cheapest possible economy car.  Four wheel drive would've been great!  Oh well.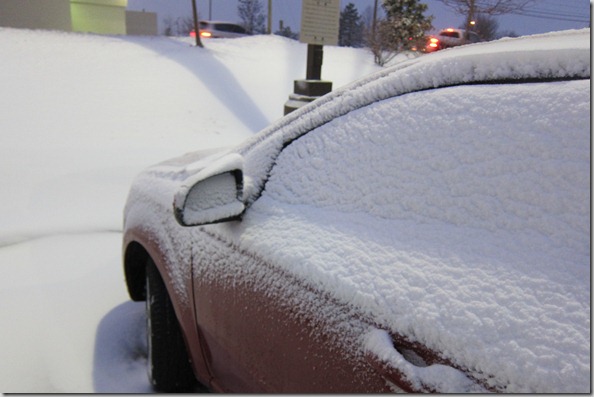 Spent this morning scraping snow off my windows and praying that I'd make it to the airport in one piece.  There were a few skids coming out of the parking lot, but clearly, I survived to blog another day.

Alright… let's talk about…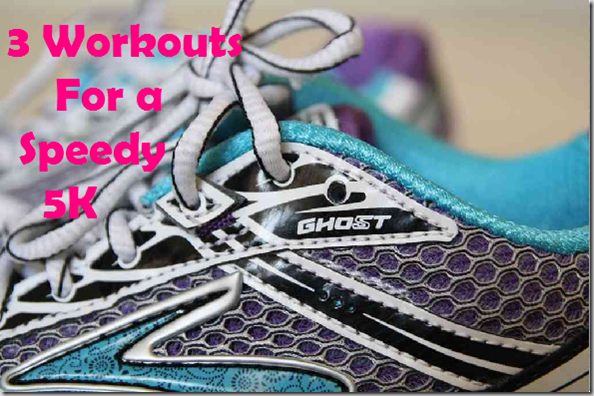 For all these workouts, use a scale of 1 – 10 with 1 being lightly jogging, 5 being your comfortable long run pace, and 10 being a full-on being a full-time sprint that you can only maintain for 30 seconds.
Speedwork #1:  The Progressive 5K – You'll want to start off with several minutes of Level 1 (light jogging) to warm yourself up.  Then, you'll do a series of speed intervals that progressively get faster and shorter.  Do 2 minutes at a Level 7 followed by a 30 second rest at Level 5.  Then, do 1 minute at a Level 8 – a bit faster! – followed by another 30 second rest at Level 5.  Finish it off with 30 seconds of Level 10 sprinting followed by a 30 second jog.  The entire interval will take 5 minutes.  Repeat this pattern three or four times, and then finish off your 5K with a jog.
Speedwork #2:  HIIT Workout – HIIT stands for High Intensity Interval Training.  A HIIT treadmill workout is a really fun way to mix up your runs.  I generally despise being on the treadmill, but this workout helps time fly by!  When I say 'high intensity,' I mean 'high intensity.'  Following a warm-up, alternative 1 minute of sprinting at a Level 9 with 1.5 minutes of walking or light jogging.  I try to repeat this pattern 10 – 12 times, but it's really hard!  Finish up any remaining 5K distance with a job.
Speedwork #3: Half Mile Repeats – I find the HIIT to be challenging, but Half Mile Repeats are hard (and fun), too.  After a warmup, run 0.5 mile intervals slightly faster than your comfortable 5K pace – you should be able to squeak out a sentence but with lots of huffing and puffing.  Recover for two minutes by walking or lightly jogging in between.  Aim to do five or six half mile repeats, although six will probably take you over the 5K mark with the recovery breaks.
I did a Progressive Speedwork yesterday on the hotel's treadmill and felt great afterwards.  There's something SO satisfying about speedwork.  And it really does pay off come race day!
How do you do speedwork?  On the treadmill?  On a track?  Using a watch?  What you're favorite speedwork workout?