Every day they're hoverin'.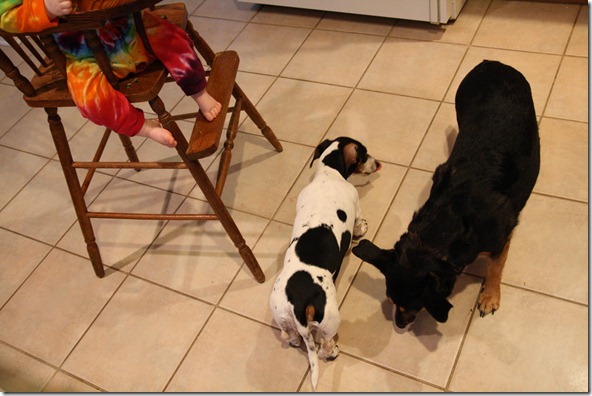 Good morning!  How are you all?  I'm good.  I had a really great day yesterday, which – to be honest – was desperately needed because I haven't been feeling my best lately.  Perhaps it's just that time of the year.  But yesterday was awesome – I ended things on a high note, snuggling in bed extra early to read.  I tried to get into Fahrenheit 451 last night but couldn't.  The prose is pretty but so hard to read.  I ended up switching to The Uglies (yes, I realize this book is for tweens – but it's really good).  And then I slipped blissfully into sleep.
Breakfast!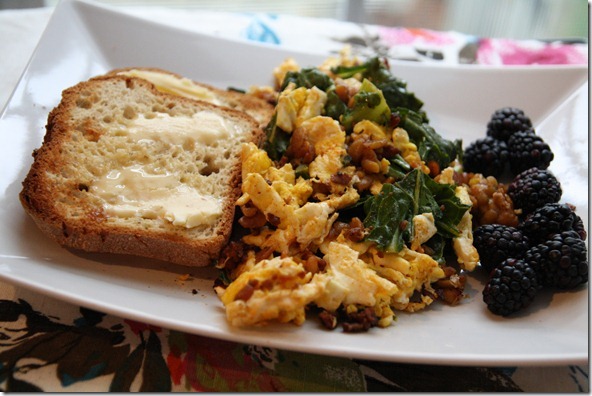 We had collard greens + tempeh + soy chorizo last night for dinner, and there was a bit leftover, so I added it to some scrambled eggs.  A fine meal in no time flat.
Henry ate most of my blackberries.  Thief!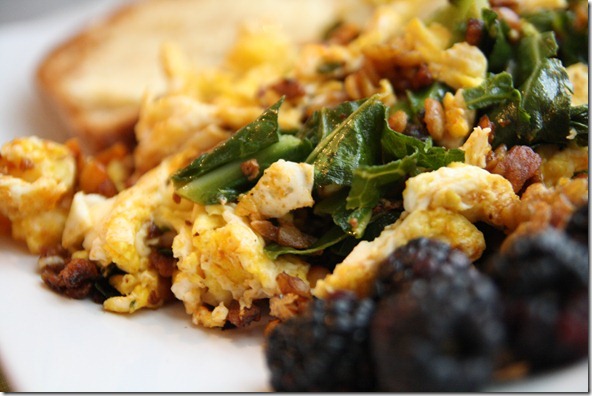 Thought of the Day:
Julie, who helps me run OperationBeautiful.com, posted this on her Facebook wall this morning, and it really resonated with me. 
"For Lent, I'm not giving up anything in particular, but I am going to focus on seeing the good in life, and in the people around me.  My goal is to be non-judgmental because every person has their own story.  I am going to assert myself and do the best that I can in each and every moment.  I'm going to practice living the life that I've always imagined and appreciate all that my mind and body is capable of doing.  I will take care of myself and learn to love me for me despite what I may want to change."