My friends and I have a private group on Facebook so we can easily organize mommy meet-ups (I highly recommend this as a fun and easy way to stay in touch with groups – so convenient!).  The other day, my friend Lindsay posted this status.
How many of you rock workout clothes as 'regular' clothes, too?  Me!  Not ashamed to admit it, either.  Especially when it comes to  yoga pants.  After all, they are comfy and flattering.  Better than sweats, right?  Hey… I never claimed to be a fashionista.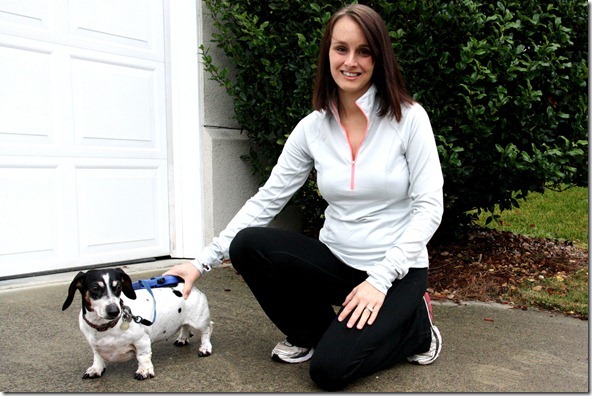 Here's the big question… Do you wear clothes you workout in as regular clothes, too?  Or keep them separate into 'real' workout clothes and 'fake' workout clothes?  I kind of swap back and forth – it definitely depends on the item.  And how stinky it becomes over time.

Speaking of yoga pants, I wear mine to death (probably because I live in them).  I have two pairs that I've been rockin' since, oh, 2002, and I think it's time to retire them both. One has a hole in the leg and the other has a hole in the crotch.  I'm still doing a bit of social media work for Old Navy's Active line (everything is on crazy clearance now), and I was really excited to find these Active Control Max Fold-Over pants (on sale from $34.94 for $22.00!).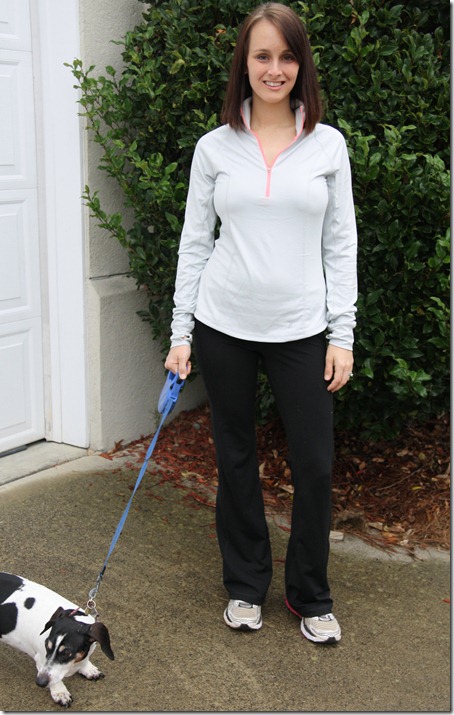 So far, I've worn them for dog-walking and hotel yoga, but I give them two stay-at-home-mom thumbs up.  The fabric is really nice, smooth, and stretchy, and I like the slight boot-cut at the bottom.  I'm wearing a medium.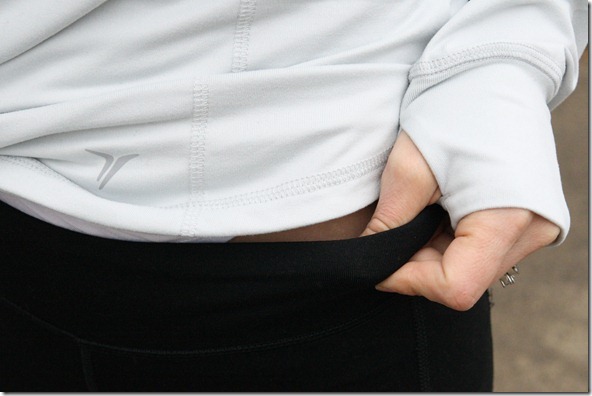 Holdover from maternity pant days – I never fold over the tops of pants like this anymore!  It's comfier to wear pants rolled up over your belly. 

I'm wearing the Active GoDRY Running Top in Silver Blaze.  I have a bunch of running jackets similar to this one, but this is probably the best priced one I own (on sale for $20; I'm wearing a small).  I like the thumb holes and the half zipper.  And the cute neon detailing.  I just wish it had a pocket, too.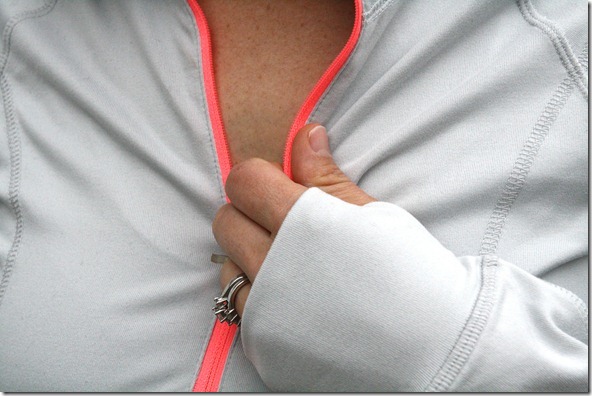 I really love tops like this for winter walks and errand running, but it's perfect for running, too – flowy and loose and absolutely no chafing.
By the way, Maggie was not a fan of this photo shoot.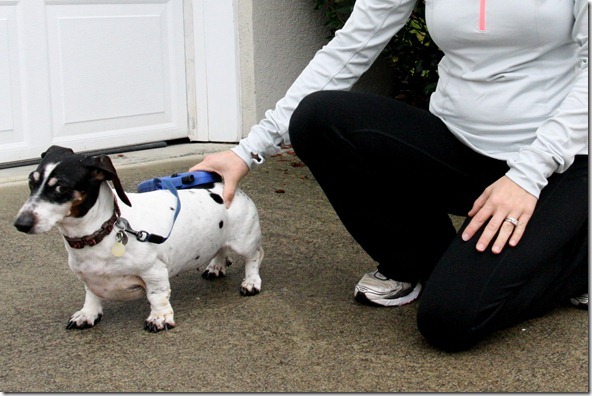 But she was a fan of the post-photo walk!
A side note… I recently started to wash my workout clothes with a little bit of baking soda.  I've been adding about 1/4 to 1/2 cup of baking soda to my regular detergent when washing super stinky workout clothes (or super stinky baby clothes), and it definitely 'boosts' the detergent and helps get rid of smells and stains.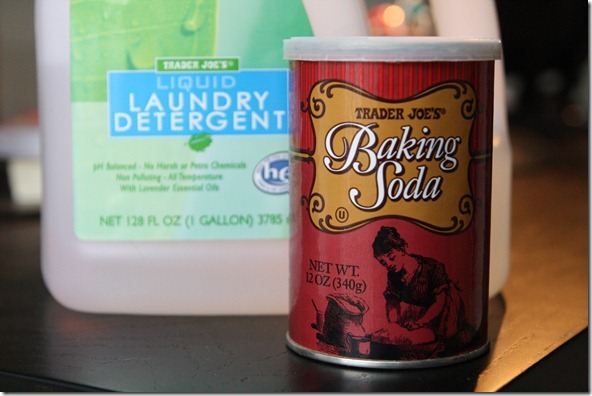 And it's cheap!
This post is sponsored by Old Navy. Check out Old Navy's Active wear in stores or at oldnavy.com #GetYourActiveON
Do you live in your yoga pants, too?  Do you wear them for both exercise and regular life or have designated workout pants?  I know some people strongly prefer either tight or loose shirts for exercise, but I don't mind – it depends more on the specific shirt.  I do like looser jackets for running, like the Old Navy one above.  And at least when it comes to running, I can't wear yoga pants.  Anything that's loose around my ankles drives me nuts when I run, so I favor tights for running, and yoga pants for yoga.  Or, you know, going to the grocery store.