My Do's and Don't's for Setting (and Actually Achieving) New Year's Resolutions
Healthy Goal Setting –> The HTP Book
Every year, I make a big to-do about my New Year's Resolutions (NYR).  I have always loved the fresh start that a new year signifies – it's a chance to start over, to refocus, to redefine.  I'm pretty good about actually achieving my goals. 
This year – for the first time in a long time – I'm not setting a NYR.  Well, I technically am, but my resolution is to stop setting goals.  It's kind of an oxymoron, I know.  Let me explain.   As I wrote in my recent Run Happy post, I have begun to understand that, at this point in my life, it's not about doing more things more efficiently… it may be about doing less so I can focus on what actually matters.  And – you know – be truly happy.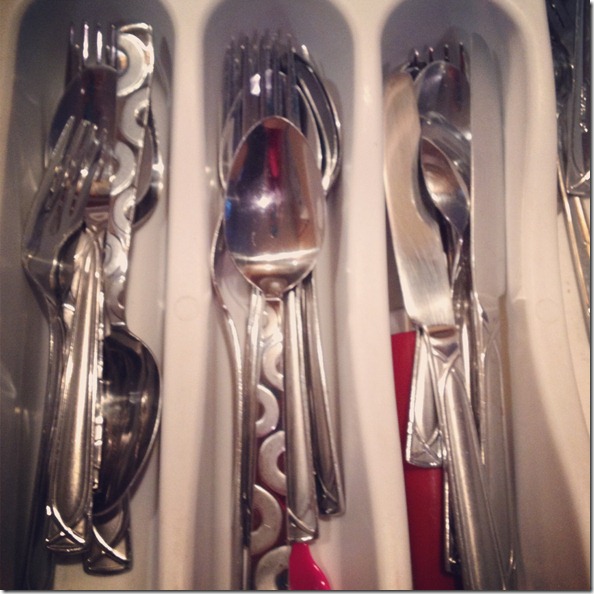 Last year, I wrote about my messy little secret.  For as organized as the rest of my life is (or I try to make it), my silverware drawer is a disaster.  When I unload the dishwasher, I just toss the silverware into the slots randomly.   My friends and family think this quirk is hysterical.  They will open the drawer, searching for a spoon to stir their coffee, and die laughing.  "Seriously, Katie?" they say. "What's up with your drawer?"
I explain that I have never understood why people organize their silverware.  It takes so long and doesn't actually save you real time when you select your silverware.  I don't care that my silverware drawer looks like a disaster.  It works for me.  A few weeks ago – it hit me like a lightening bolt.  The secret to greater happiness lies within that damn silverware drawer. 
I hereby declare this year The Silverware Drawer Year.  I've always said that the Type A personality is the best and worst to posses.  If used for good, it can be pretty amazing – you can accomplish a lot, check off goals, and move forward in your career.  But if used for evil, it can trip you up.  The drive for perfectionism is really a double-edged sword.  I've reached a tipping point (hardy har har) in my life – for the first time, I think my personality is truly starting to get the best of me.
But I have all the resources that I need to turn around my attitude.  So I'm going to do it in 2013.
No longer will I worry about getting this done or that done unless it really, really needs to be completed.  I will not take on any projects that I'm not 100% behind.  I will go to bed instead of doing laundry.  I will not train for races that I don't have time or energy for; I'll still exercise and race because I love it, but I'm going to adopt a different attitude about it.  I will take more opportunities to simply rest on the couch while Henry naps.  I will let go of some of my Type A quirks that bring me down, not lift me up.  I will take deep breaths when I start to hyperventilate over my dirty floors because dirty floors really don't matter in the grand scheme of my life.  I will refuse to panic if an email or phone call is not answered immediately.  I will work to my make business and my husband's business successful, but I will never work past my breaking point.  The words 'time management' will not escape my lips.  I will focus only on the things that matter:  my husband, Henry, my animals, myself, and my family and friends.
Since my 2013 NYR is pretty much a non-goal goal, I do have one 'behavior modification' in mind.  I'm going to try to get to bed earlier every night.  Over the holiday, the Husband went on a four-day vacation with his friends, and I had nothing to do once Henry went to bed besides go to sleep, too.  Some nights, I crashed at 9:15.  I've maintained the habit of a 9:45 – 10:30 bedtime since, and I can't tell you what a difference it's made in my mood.  Instead of TV and late night emailing, this year, I'm going to make bubble baths and reading part of my nighttime routine.
Honestly… I'm pretty excited.  I've been living like this for a week already, and although my kitchen is a disaster and my inbox is insane, I feel so good.  I don't think I've ever been less stressed out in my life, which is saying something. 
I've grown a lot since I started this blog in 2008.  When I began, I was a 24 year-old technical writer for a consulting firm, living in an apartment in Florida, and engaged to my college sweetie, who was toiling away for his master's degree.  Now, I'm living in my own house in North Carolina, nearly one year away from 30, married with a child (!), a furmom to three pets, and a work-from-home mom who helps her husband run his own clinic.  Life changes… people change… and attitudes have to change, too.  It's really been a pleasure to write about my journey, and I'm excited to take you along on this ride. 
Here's to doing less but living more.  May this year be the most fulfilling yet.