I took this nice, pretty picture of my bowl o' oatmeal and cup o' coffee, which I was eating in front of my computer, but right before I went to hit publish, I realized our mouse pad was visible.  Let's just say our mouse pad is not safe for Internet consumption, as it features someone (hilariously) modeling Statue of David undies.  A man in your life probably needs these undies (warning… private parts).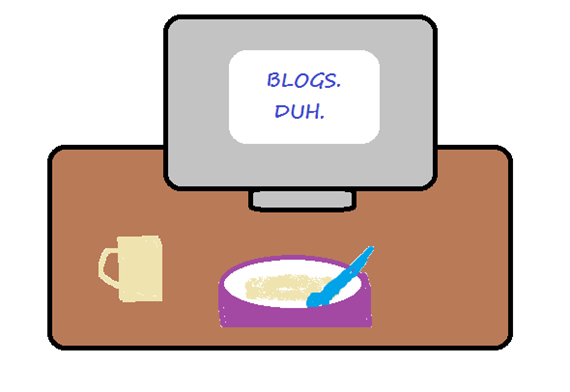 Anywho, so here's a little paintbrush drawing of my morning:  coffee, oatmeal, blogs.  Duh.
On any other race day morning, I would be, well, racing right now.  But my 8K race is at 3 PM – isn't that kind of weird?  But also kind of awesome?!  No waking up super-early, no rushing to the starting line.  And since this is a winter race, it will be warmer – hopefully all this ice will have melted. 
Of course, most races are in the morning, which means I'm not 100% confident on how to fuel for a 3 PM race.  After some thought, I realize that I do most of my workouts in the afternoon, so I should probably just eat as I normally would, but try not to stuff my face with a delicious lunch at, say, 2 PM.  I can do that. 
Anyone else ever do a late race? Got any advice?  I've seen some races that start at 9 PM or later… even a few midnight ones!  Crazy.  I'm in my pajamas by 9 PM and through my third dream by midnight!