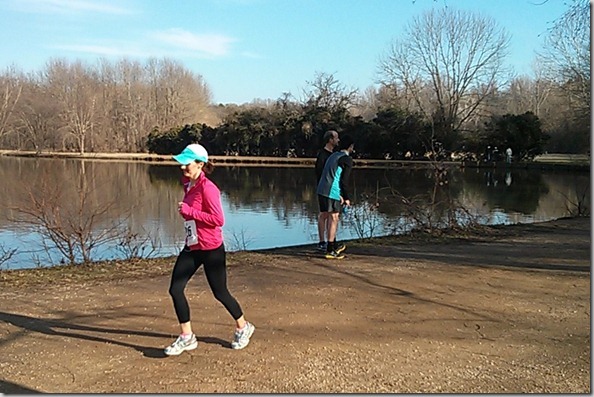 So I ran a race this afternoon.  It was an 8K (or 4.97 miles), and it started at 3 PM.  Those two factors alone drew me to the race; I was really looking forward to bangin' it out and hopefully beating my PR, which was 50:21. 
DadHTP, BIL Nick, and Henry came with me (the Husband had to work).  I was glad that I had family there because I really do think I would've bailed at the starting line otherwise.  I just had one of those days, you know?  I won't even explain the teeny tiny little thing that put me in a foul mood because it was so, so, so stupid in the grand scheme of my life.  But one thing, and I was donezo for the day.  Henry was also fussing right before they called us up to the starting life, so I reeeeeally didn't want to go.  But DadHTP gave me a mighty heave-ho and, before I knew it, I found myself running the muddy trails.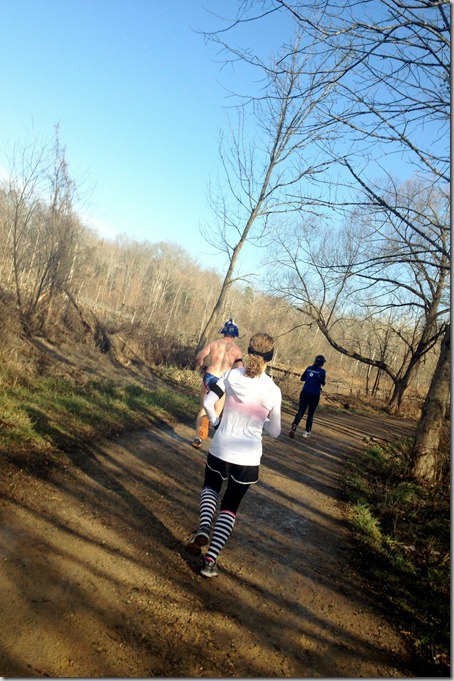 You know – I don't think I've ever ran a race in a bad mood.  I've gotten into a bad mood in the middle of a race – hah, obviously – but never started one feeling foul.  It was not a pleasant experience.  And it was such a contrast to last week's half; I was so happy all race.  This race was not-so-fun.  I tried to get out of the bad mood… Just couldn't.
Well, this dude did help my mood.  Oh yeah.  Ran behind him for a bit.  And then I obviously HAD to pass him.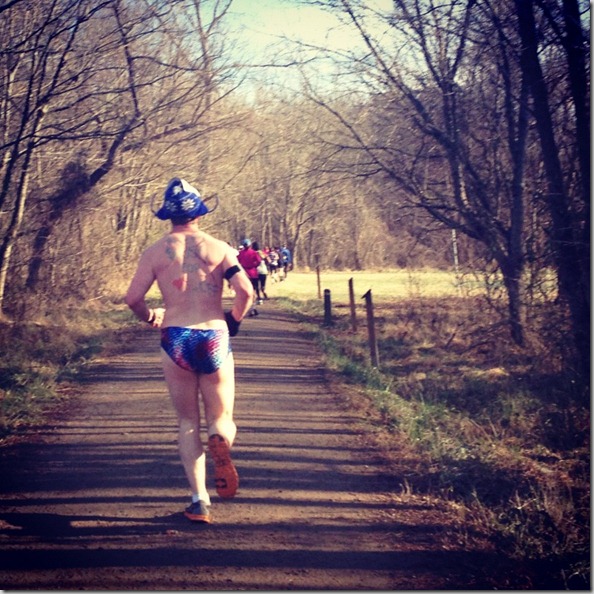 It was 45 degrees; he must've been freezing.
I felt better when I finished the first loop because I got to see Henry, and he wasn't fussy anymore.  I stopped for thirty seconds or so and gave him snuggles.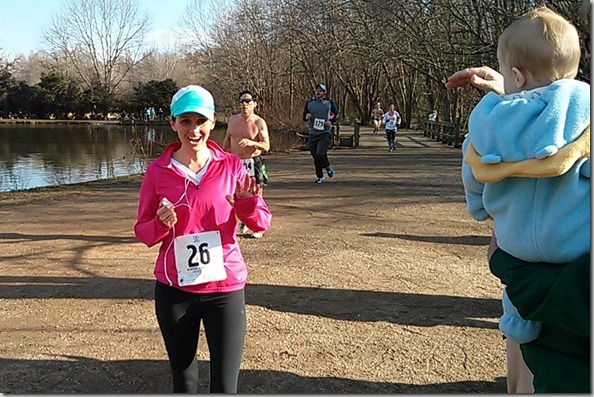 I kept noticing other runners with RunningWorks shirts – when I got home, I immediately looked up the organization:
RunningWorks is a new organization founded just this year that works with the homeless "Neighbors" in our Charlotte community.  Twice a week, volunteers meet with the Neighbors and the group goes on a run together.  The organization provides them with athletic clothes, support, and training advice.  More information about RunningWorks can be found here.
Many of the people in RunningWorks shirts were volunteers that raced as a fundraiser, but a lot of the RunningWorks runners were homeless Neighbors.  I wish I had known during the race what the organization is all about so I could've offered support and encouragement.   And additionally, after coming home and reading about RunningWorks, I felt particularly bad about being in such a yucky mood during the race.  Perspective.  Sometimes I lack it….
In the end, I still did really well, and it was fun to cross the finish line – in 45:47.5, a big PR – and hug Henry.  I've always wanted to be the 'racing mom,' and this is the first race Henry has come to.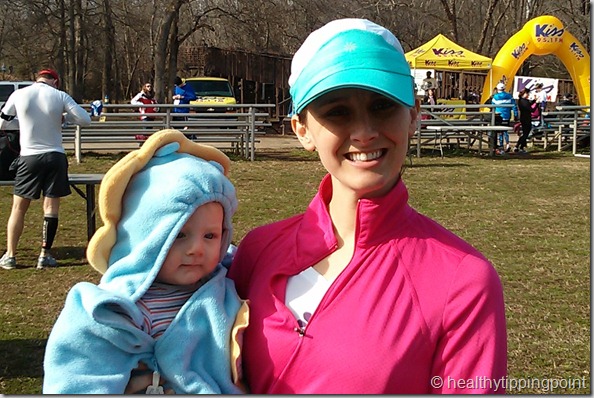 How totes adorable does he look in that lion winter suit?!  It's his official running outfit; he normally only wears it when he comes on a run with me in his jogging stroller.
All in all, the race was a great course, supported an awesome organization, and the crowd was enthusiastic.  I'll definitely be doing the Winter Classic next year – hopefully, with a bigger smile on my face!