One of today's meals: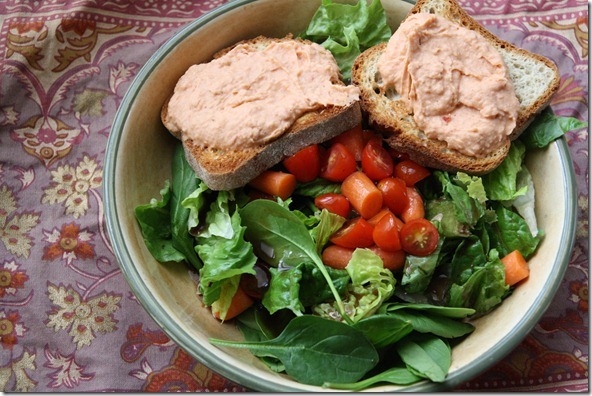 It was a delicious meal!
I used to be a pretty dedicated daily food blogger.  I blogged nearly every bit of food that passed my lips for a few years – it sounds annoying and tedious, but it was actually pretty fun.  And it's such a neat way to see how a person lives.  You can tell a lot about a person's life by the food they eat, after all.  I dropped daily food blogging when we started trying to get pregnant; I just knew it would be hard to hide a pregnancy when posting everything I eat (hmmm bagel-bagel-ginger ale-bagel – I wonder what's up?!).  And then I never got back into the habit. 
I am such. a. boring. eater. now.  I said this in this morning's post, but so many of my meals are repetitive.  It's easier with Henry if I simply repeat healthy meals with only a few variations.  So – that being said, here's what I ate today.
Eggs and soy chorizo, toast, strawberries, coffee
A peanut butter and jam sandwich, almonds, half an apple (it was squishy – gross)
A salad with homemade bean dip sandwich (I combined sundried tomatoes, white beans, and a little coconut oil in the food processor – easy peasy)
I'm left wondering what the heck to make for dinner.  It probably shouldn't involve toast (already had six slices today; nothing wrong with toast but damn – so reptitive…) and should probably include a fruit and a vegetable.  At least one vegetable!  I must admit that I was definitely a healthier eater when I documented everything for the blog.  I truly love eating healthy foods, but there's nothing like putting it all out there on the Internet to motivate you to make the best choices possible. 
This is my way of convincing myself to eat a healthy dinner, can't you tell? 

What else did we do today?  Well, we went to the children's museum with my friend Heather and Henry's future wife, Mirabelle.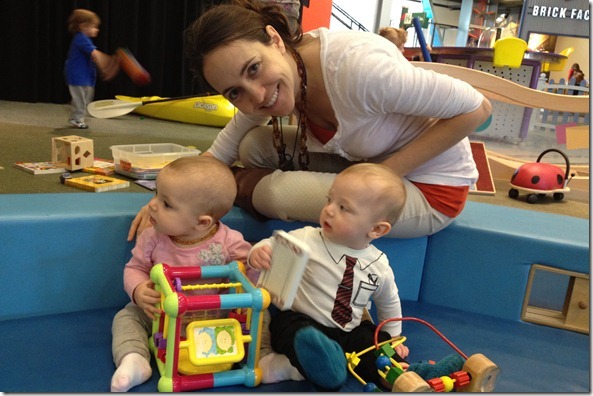 The babies were looking at themselves in the mirror.  Narcissists. 
And then I headed to the office for a few meetings.  Good times.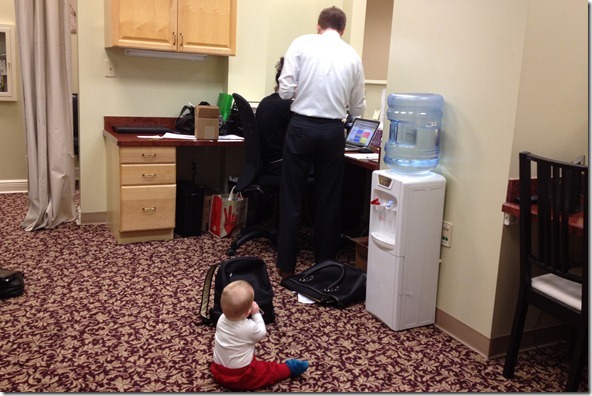 Thanks so much for all the well-wishes on our new website, Vitamins for Vegetarians! I appreciate it a lot. And you've got until tomorrow to win our giveaway, so be sure to enter!
What's the best thing you ate today?  That sammie was good.