How does this happen?  Really.  How?!  That's broccoli, by the way.
File that one under "Another Reason Maggie is Warming Up to Henry."
I thought I'd share a little home DIY project with you all!  Perhaps you remember this project, in which we spray-painted our dining room chandelier from tacky-awesome 1990s gold to a more modern oil-rubbed bronze.  In the end, the light turned out really, really beautiful, and we get compliments on it all the time.  No one can believe it used to be gold, and it only took $10 or so to transform it into something great. 
Anyway, we decided to purchase two more chandeliers, one for the living room and one for the master bedroom.  Our house is kind of strange in that there are almost NO overhead lights in any of the rooms – just fans.  We've been living in darkness for six months.
But now… let there be light!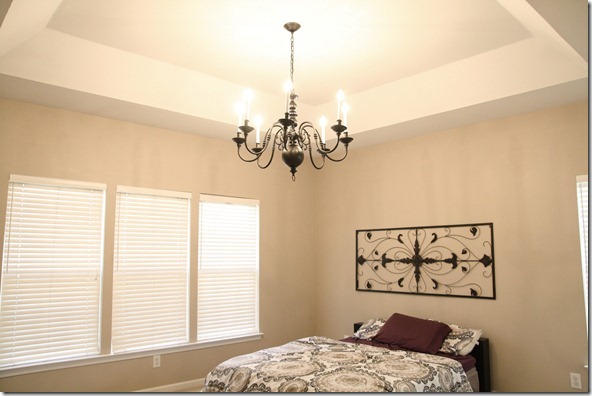 We've been hunting for inexpensive but large gold chandeliers for a while.  We finally snagged two at Habitat for Humanity's Restore.  I've never been to Charlotte's Restore but got the idea from a post on Young House Love.  The moment we walked in, I knew we had hit the jackpot!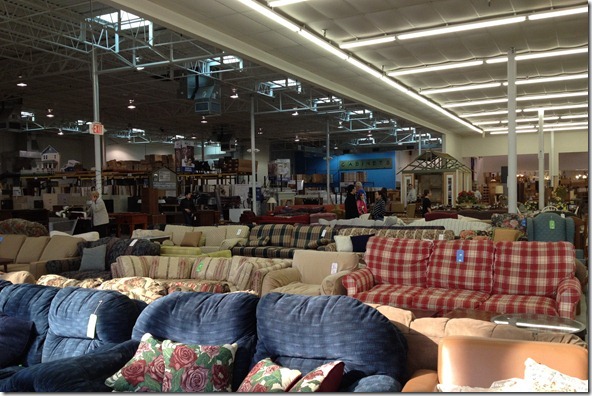 Restore had tons of cool stuff.  Basic and cheap cabinets and drawers, but really nice antique stuff, too.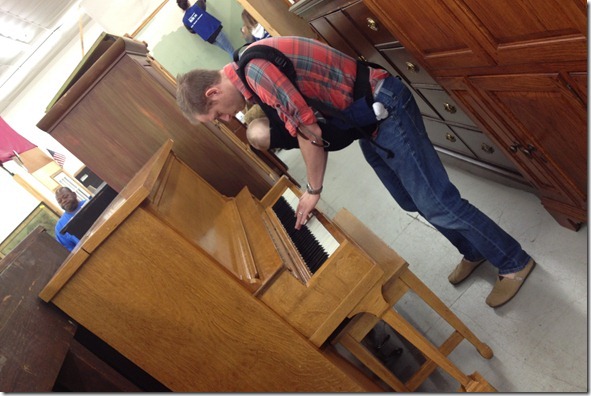 They did have some junky stuff, though.  A consignment store wouldn't be complete without a creepy clown – am I right?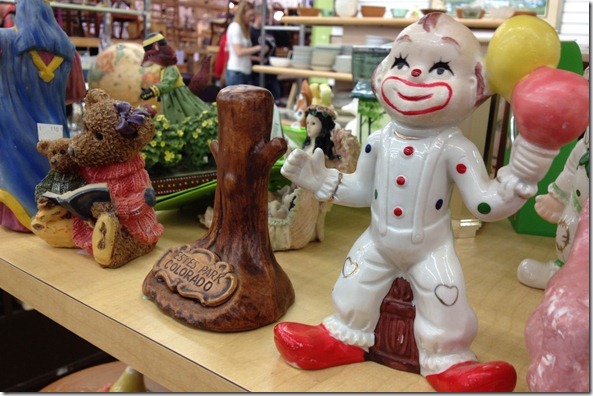 We eventually wandered into the lighting section.  There were lots of great gold chandeliers.  Since we were going to paint them, we paid the most attention to 1) price; 2) size; and 3) shape.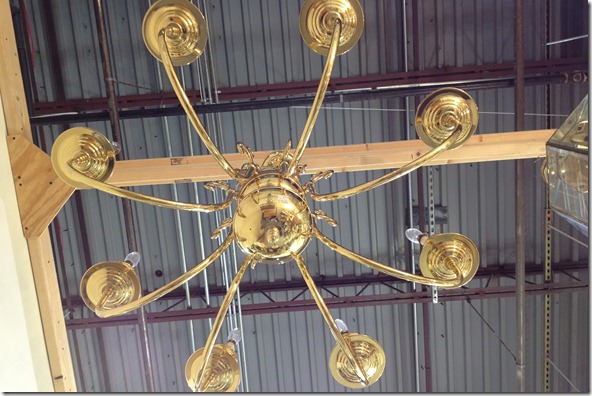 We ended up getting these two fixtures for $115 and $75.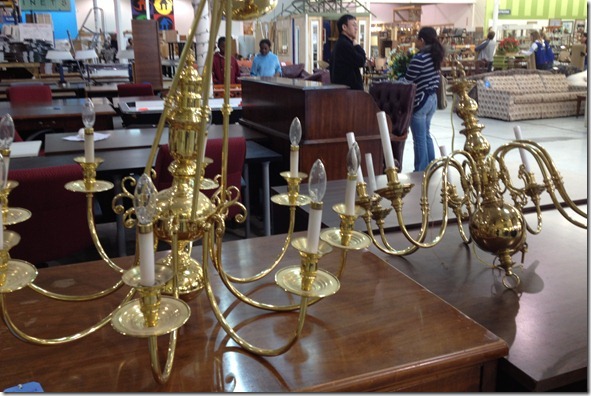 Our living room has a lot of white and grey details, so we opted to paint the largest with a flat white spray paint.  The smaller of the two got the oil rubbed bronze treatment.
After letting them fully dry for a few days, we called in a handyman to hang them up.  Our ceilings are a little high, and I just knew it was too much for us to handle.  He ended up making two trips to Home Depot, so this was definitely the right call!
Final result: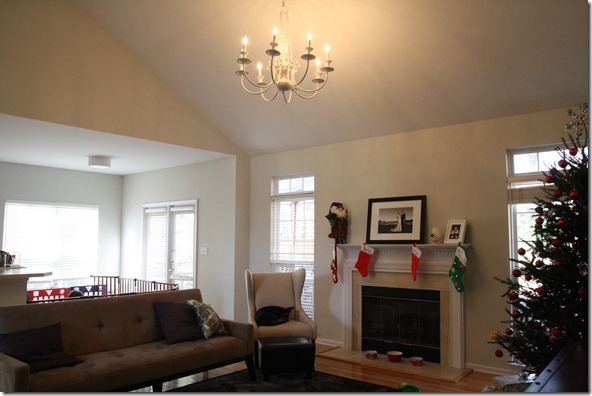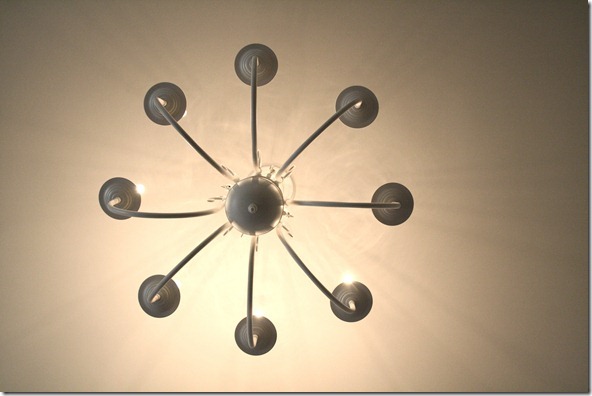 And…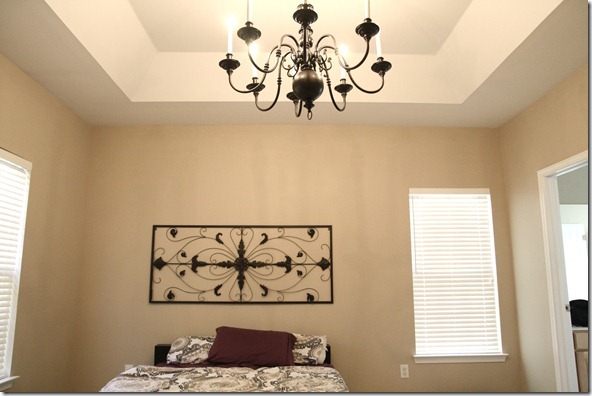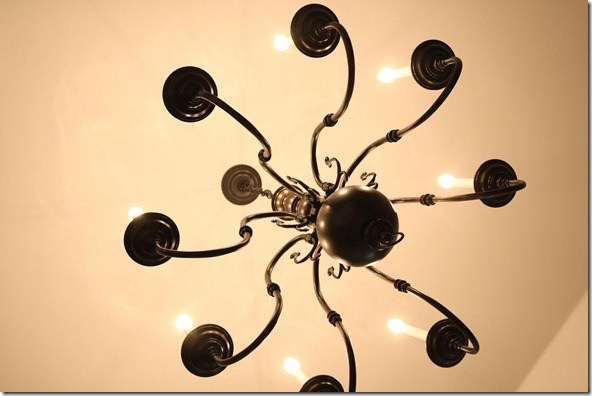 The total cost, including handyman fee and all the paint, was around $300.  Not super-cheap but not bad for two HUGE chandeliers. 
In the above bedroom shot, you may notice that the bed now appears really off-center.  It always was off-center from the ceiling, but it was centered between the corner and the window.  Now that there's a large and in-charge chandelier in the room, it looks really strange.  I don't want to put the bed under the window, and if it goes on the opposite wall, it will be right next to the door.  Any thoughts on visually resolving this issue?
You guys working on any fun home projects?  Next up:  purchasing a light for our bathroom… I'm so tired of showering in the dark (told you we were seriously lacking overheard lighting in the house!).
Psst – Are you from the San Francisco area?  Do you know some elementary school girls that could really use some awesome, custom-designed sportswear?  Check this out!