Looks delicious, tastes disgusting.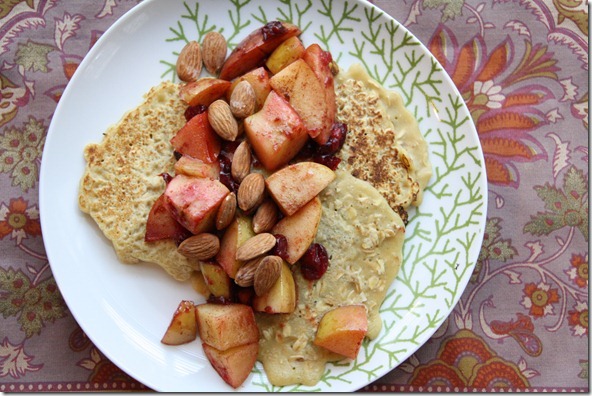 I tried to create my own pancakes with oatmeal and gluten-free flour, and something went horribly, horribly wrong.  Ah well.  That's what peanut butter sandwiches are for, right?  At least the fried cranberry-apple topping was delicious.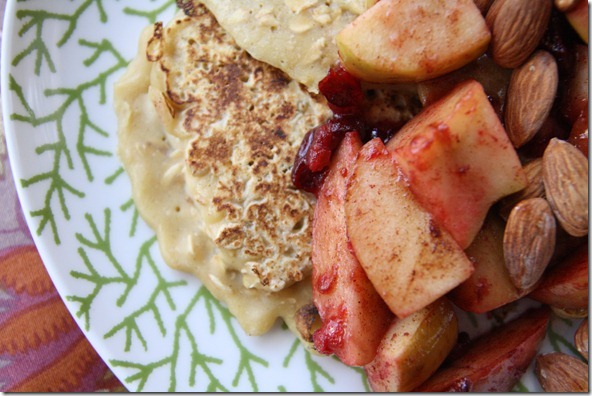 Yum.
Every morning, I end up dedicating about an hour to everyone's breakfast.  First comes Henry, then the dogs and the cat, and then my breakfast.  Sometimes, I make double for the Husband's breakfast, too (depending on if it's something he'll like); sometimes, he makes breakfast for me.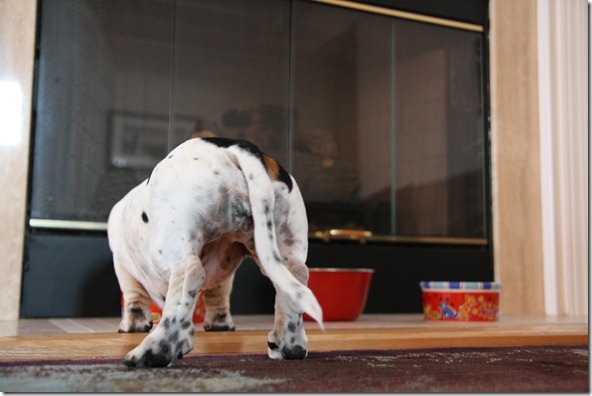 I've talked about pet food a bit before, but I thought with a new fur family member in the house, it was a topic worth re-visiting.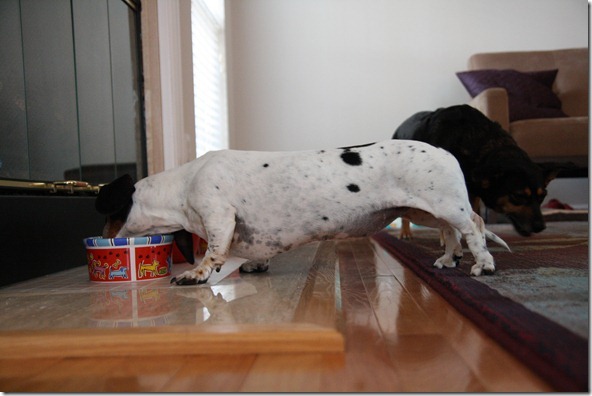 Funny dog quirks:  as you can see in the picture above, James takes each bite of kibble out of his bowl and drops it on the floor before eating it (so annoying as someone who is a little obsessed with clean floors).  And Maggie will stand immediately behind him until he is 'done,' and then she'll swoop in and lick his bowl clean.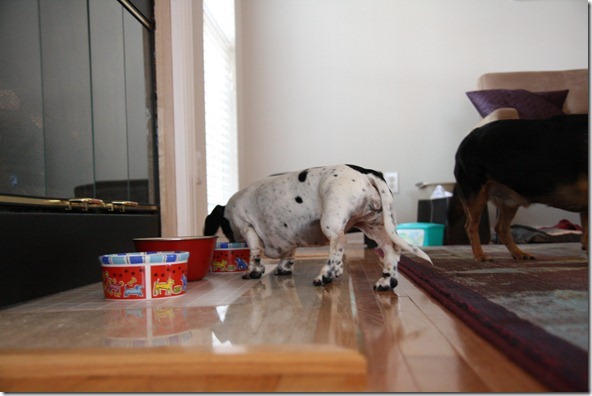 Pippa eats on top of the powder room toilet to protect her kibble from the dogs Maggie.  I want to write a post about Pippa's adjustment soon, but let me say this – she is definitely Alpha.  She is in charge of Maggie, and James and Pippa are slowly working out who is in charge, but judging from the stare down competitions, Pippa is winning.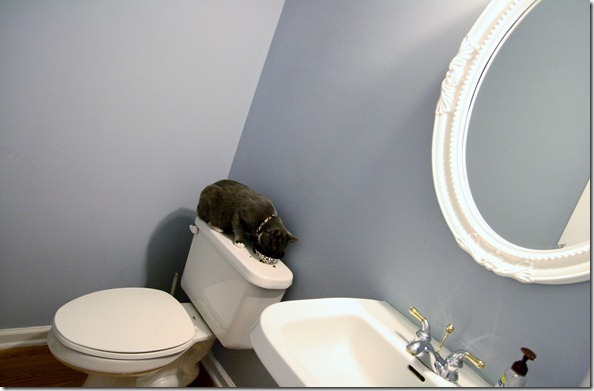 So – what do we feed the animals?  Maggie and James eat Organix wet and dry food.  I selected Organix because organic, free-range chicken is the first ingredient in the dry food.  The product name is a bit misleading because not every ingredient is organic, but lots of them are organic.  Also, the dry food contains no corn, wheat, or soy (corn is a filler used in a lot of dog food).  We used to feed them a cheaper brand and corn was the first or second ingredient; their coats are noticeably shiner since we switched a few years ago.
We started off feeding Pippa a bag of the big-name cat food that she was fed at the foster home – we didn't want to mix it up when she was trying to adjust to a new family.  She's currently eating a bag of Natural Ultramix Adult Cat Food by the same company that makes Organix.  The first ingredient is conventional chicken, and the food is grain-free.  I might switch her to another food soon; she seems to be fine with this type but not overly excited about it (plus, I'd like to buy organic).  I know there's a lot of debate on whether to feed cats wet or dry food (wet – good for kidneys because of the extra water; dry – good for the teeth because of the crunch), so I give her a little scoop of the dogs' wet food every morning with her dry food.  I figure there's nothing wrong with the middle ground.
Fun fact: dogs can be vegetarians but cats cannot – they go blind. 
Time for a giveaway to win a $25 PetCo or PetsMart gift card, courtesy of yours truly.
Leave a comment to here:  What funny eating habits do your pets exhibit?  I love how Maggie swoops in to eat James' leftovers.  She's such a little piggy.  I'll pick a winner on Monday.