I have developed a severe dark chocolate obsession. 
Honestly, the worst part about giving up dairy because of breastfeeding Henry (explain here) is not CHEESEEEE – I always thought I would miss cheese the most – but sweets and treats.  Dairy is in so many desserts.  But dark chocolate?  It's dairy free.  Which means I can eat as much as I like (or until I fall into a sugar coma, but that's another story).  Mid-day pick-me-up of soy milk and dark chocolate?  Yes, please.
The other day, I tweeted a picture of our panang curry freezer stash.  Would you believe that we've already worked our way through nearly all that food?  We also apparently have a panang curry obsession.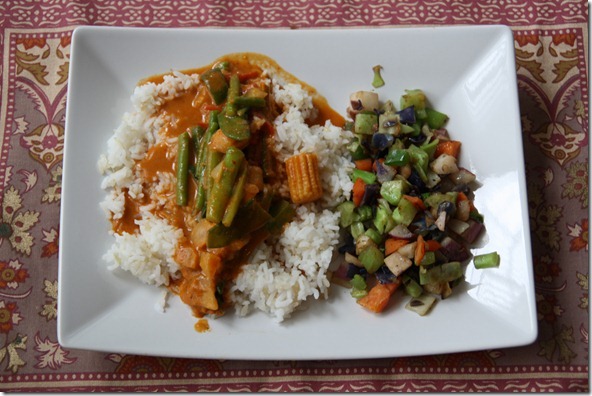 With stir-fried veggies on the side.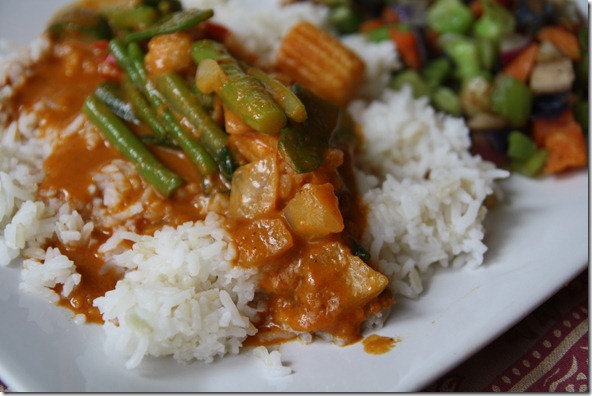 Let's play a game…
The other night, the Husband, Nick, and I were discussing time and space (we're all weird like that).  Specifically, the concept, "Time is not linear," and how everyone says it but most of us has no idea what the heck it actually logistically means.  Well, I have a vague idea but that's about it.  Anyway, then we started talking about whether we'd go into space if given the chance.  Like – would you ever get in a space shuttle and rocket off to the moon?  To a space station?  Nick said yes but only if the odds of him dying were less than 10%, the Husband said maybe, and I said hell no.  After all, once I had the opportunity to bungee jump, and I got all strapped in before panicking and backing out.  Flying gives me the willies.  No way I'd rocket off into space. 
So – just for fun – tell me… Would you go into space if given the chance?