I guess I can be a pretty nosy person – after all, I love to read blogs… isn't that the ultimate nosy?  It's fun to peek into someone else's life and see how they live.  I especially love 'Day in the Life' posts.  But my favorite type of 'Day in the Life' posts have always been written by moms because I was always curious what moms did all day.  Especially if they were a working mom or a stay-at-home mom (SAHM).  I do a bit of 'lifecasting' on this blog but rarely share all the nitty-gritty details – but I figured it may be fun to document one day.
Some background:  I am a SAHM who also works.  I run my own small business (which includes this blog, the Operation Beautiful blog, my speaking engagements for OB, my books, and freelance writing projects – I do about two projects a week).  I also do a lot for my husband's business (a holistic clinic).  Henry is about 15 weeks old, and we're a one-car family.  My husband goes into work on Tuesdays – Thursdays and works from home a half-day on Monday and Friday.  I do a lot of my work on Monday and Friday when Kristien is watching the baby.  On Tuesdays, Wednesdays, and Thursdays, I'm on baby duty, which I loooove.
Alright… here we go!
2:41 AM – Henry wakes up and starts to cry.  He sleeps in a pack and play next to our bed, so I reach over and pick him up.  I shake the Husband awake; he gives him a little bottle when I pump (why I pump instead of breastfeeeding).  Once I'm done pumping, I refill the bottle and take over the feeding while Kristien crawls back in bed  Then, Henry gets his diaper changed and is rocked back to sleep.  The whole process takes until 3:11 AM.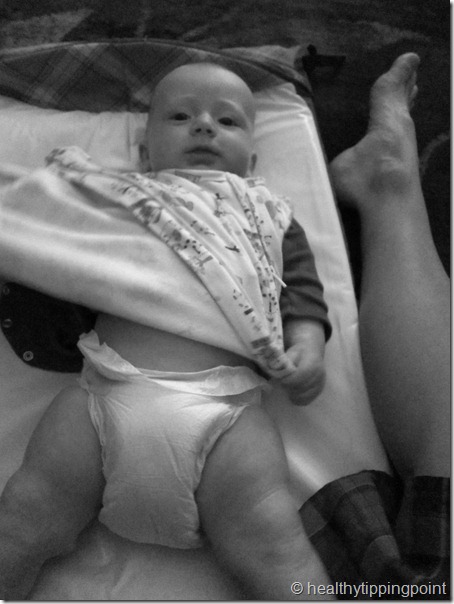 5:30 AM – I can hear Henry squirming around.  It takes about 15 minutes for him to really wake up, and then I lean over, give him a little kiss, and drop a toy in his pack and play.  He amuses himself with the toy for another 10 minutes or so while I attempt to come to life, and then he loudly announces that he wants UP so I get out of bed.
5:45 AM – Another diaper change.  I try to give him the rest of the bottle that I pumped at 2:41 AM but he's not having it.  All the sudden, he is really decisive about when he wants to eat and will shove the bottle away or pull it close.  It's cute.  Instead of eating, he plays on the playmat or hangs out on my chest while I lay on the couch and wake up.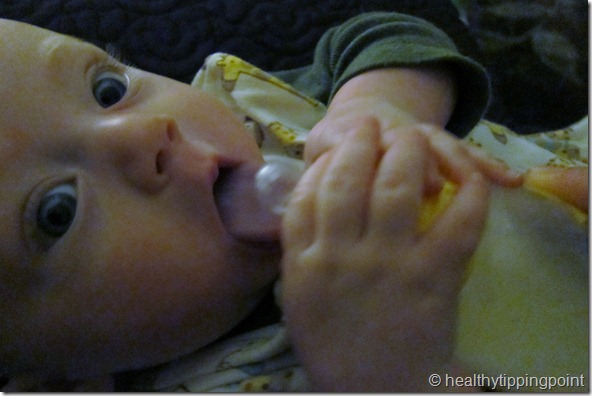 6:20 AM – We have a poop explosion, which necessitates an outfit change.  Around this time, Uncle Nick (my brother-in-law who lives with us – it's awesome!) comes downstairs and makes coffee.  He offers me some but I pass, hoping to go back to sleep when Henry goes down for his nap.
6:32 AM – Try again with the bottle.  Still not interested. 
6:40 AM – I am awake enough to do morning chores.  Henry and I feed the dogs and let them out to potty.  I clean the kitchen.  I drink a huge glass of water.  Back to the playmat for more games.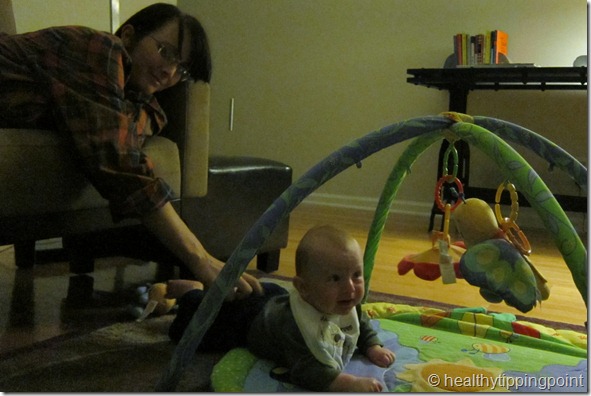 6:55 AM -  I hit publish on today's Operation Beautiful post.  I pre-write all the Operation Beautiful posts on Mondays, and I usually pre-write five or six HTP topical posts on Fridays (for example, posts like Post-Birth Review of Bradley Method Classes, How to Wash a Sports Bra, and The Only Child were all pre-written – I know you guys like fresh content, and since I'm frequently occupied by Henry, I write stuff in advance so I can just hit publish on a busy day).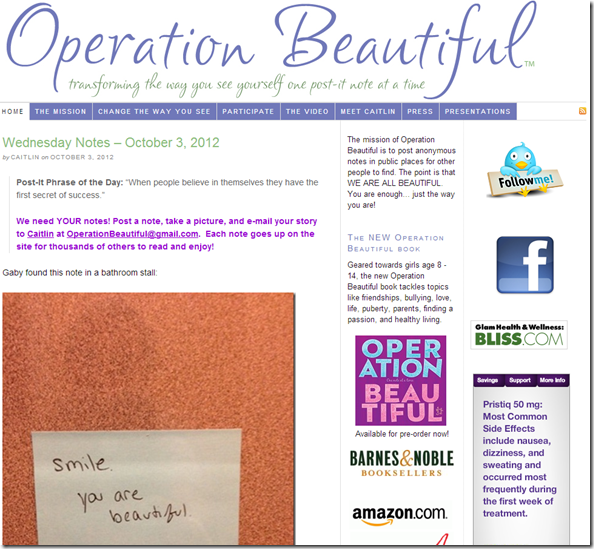 7:09 AM – Yay, the sun is rising.  I hate being awake when it's dark as night outside.  Henry celebrates by yawning.  This means that the first nap is approaching.
7: 11 AM – I slip quietly into our master bathroom with Henry, and I pump another bottle for him.  We curl up in the glider, and he finally eats breakfast and passes out in my arms.  I transfer him to the crib and fall back into bed.
8:15 AM – Henry wakes up, and Kristien gets up to take care of him.  Luckily for me, Kristien's first patient is at 10 AM, so I get to sleep a little bit longer.
8:30 AM – I wake up and am excited to realize that there is a tray of breakfast next to me (no, Kristien did not know I was writing this post today… he is just awesome like that).  Oatmeal.  And OMGCOFFEE!  Guzzle.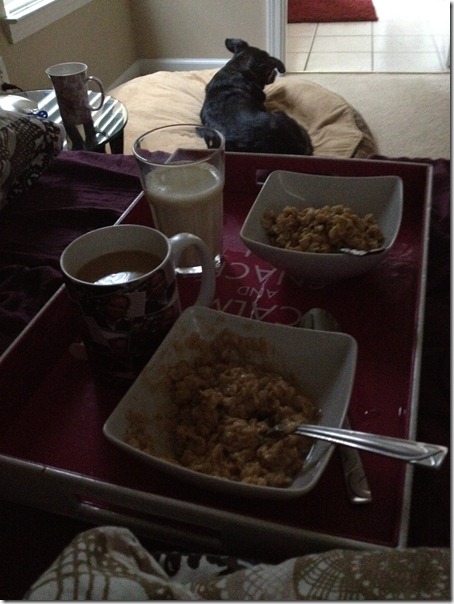 The three of us sit in bed talking, and then I send an email to my BFF Lauren (the one who lives in Singapore). I had sent her the first two chapters of this young adult novel that I've been working on, and she is giving me feedback.
8:57 AM – Henry hangs out in his pack and play while I jump in the shower.  I have always wondered how moms get stuff done with their kiddos are awake – especially showering!  When he was little, I could put him in a pillow on the bathroom floor, and he'd just hang out, but now that is older and likes to roll around, I have to trap him in the pack and play to keep him safe.  As long as he has a toy, he is cool.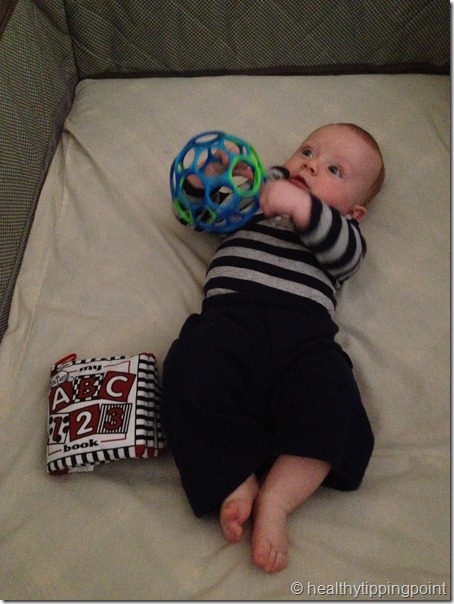 9:20 AM – Another poop explosion?!  What the heck?  Henry has a costume change, and I throw the poopy clothes into the wash.
9:34 AM – Henry hangs out in his beloved jumper while I go over the new office lease for the clinic.  We are still negotiating, but I have a conference call with the landlord later today and hope to wrap it up ASAP!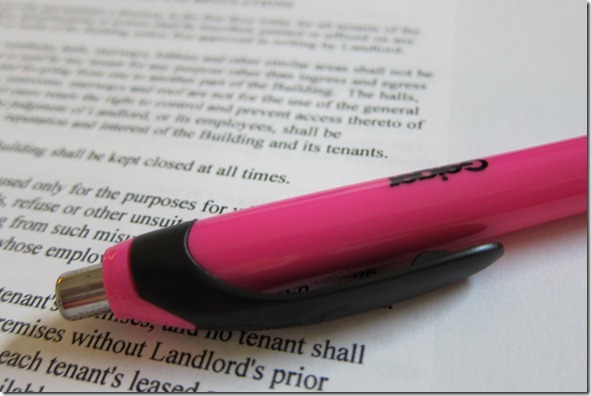 9:45 AM – I start writing this post. Three minutes later, it becomes obvious that Henry wants out of his jumper.  I pull him out and give him a bottle.  He slams five ounces and immediately makes grabby hands towards the jumper.  He wants back in!  I resume writing.
10:06 AM – I insert pictures into this post and proofread everything.  Then, at 10:16, I hit publish!
Stay tuned for Part II.
So – what have you done today?