Happy Saturday!
Here's what I was up to today: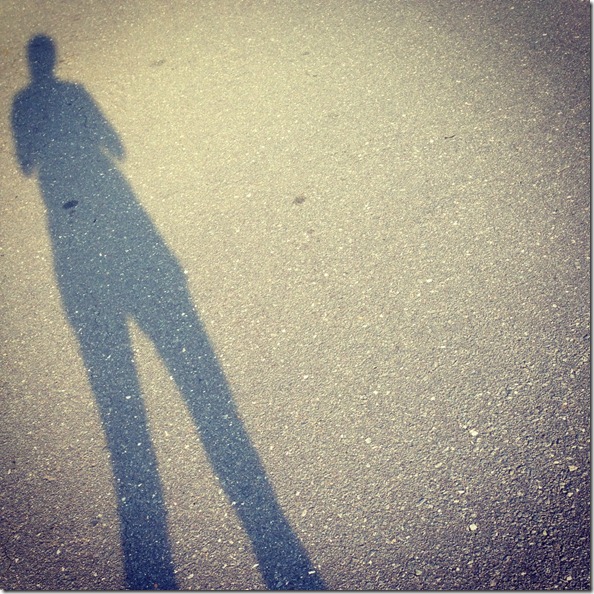 Well, for one, I broke one of My Four Rules of Running and ran back-to-back days.  After yesterday's awesome 5-mile run, I was feeling extra motivated and decided to attempt to bang out another 4 today, which would've brought my weekly total to 15.  I don't know if you are like this, but I like to do things in 'round' numbers -  I know 15 isn't a round number, but I think of it as a 'good' number… halfway between 10 and 20.  Does that even make sense?  Anyway, I attempted 4 but could only do 3.  It was one of those torturous workouts in which I got to the halfway mark and thought, "Oh, crap – I totally have to run home. Noooo."
I also bought this pretty table: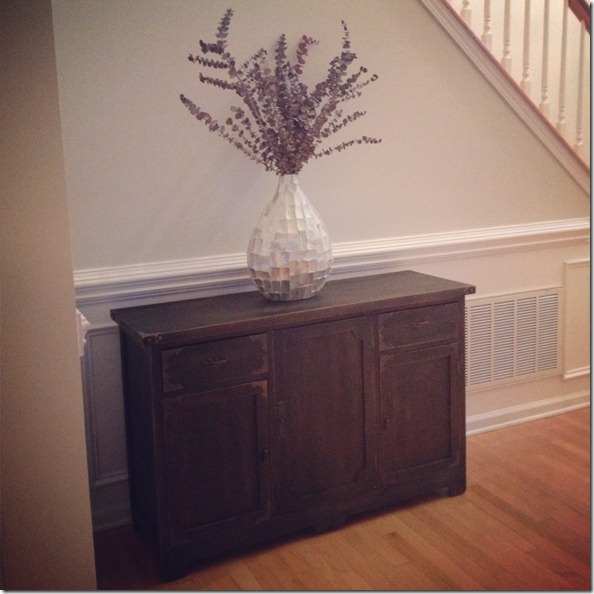 The Husband's grandparents and auntie are coming to visit us next weekend – all the way from England – and this has motivated us to finishing decorating the common areas in the house.  We headed to Home Goods to take a little looksie and found this gem.  It's distressed (which I love because I will inevitably bump into it and scratch it anyway) and has lots of drawers.  Yay, storage.
Thanks to the table and some family pictures, our hallway finally looks complete.  Well, I'd like to buy a runner, but I have major problems committing to rugs.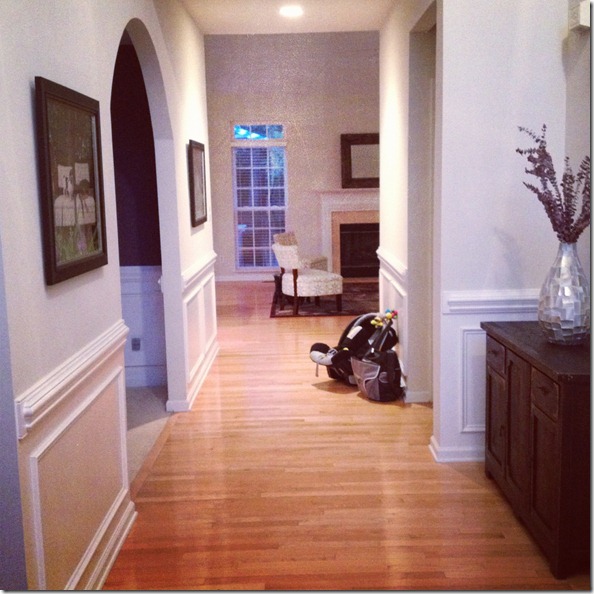 The next room:  the office.  This is what is currently in the office:  a vintage red chair that I bought on consignment, a broken IKEA table, a set of weights, 15 copies of the Healthy Tipping Point book, a ladder, a baby jumper, and… a bunch of other junk.  In other words, it looks like a terrible mess.  This is extra unfortunate because it's the first room that you see when you enter the house.  Organizing it shall be a big project. 
Hmmm.  What else?  I spent a lot of time working with Henry on his naps (he's doing so good now that we're focusing and putting in the effort!), went to a friend's baby shower, and now I'm contemplating running to the grocery store.  At 8 PM on a Saturday night.  I know, I know.  It's wild and crazy over here in the HTP household.  What can I say?
So – what did you do today?