That is the question.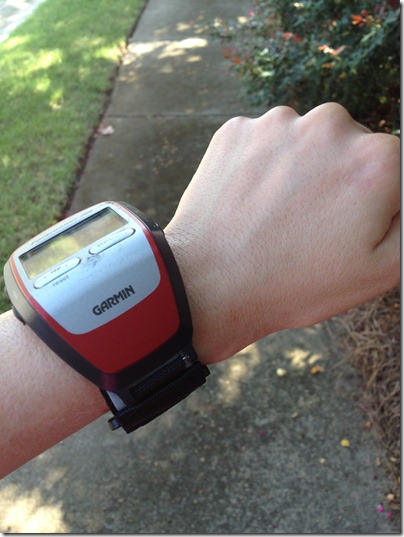 I used to time all my runs using the very nifty Garmin 305 – it's basically a GPS device that tells you how far you've gone and how fast.  When I got pregnant, I stopped using the Garmin because I didn't want to know my mile splits, and then when I began to run again after delivery, I didn't strap it on for the very same reason.  Before my tri last weekend, I pulled it out of the drawer, charged it for the first time in a year or so, and set it to multi-sport mode so I could know my speeds on the bike and run.  My intention was to use the Garmin to pace myself intelligently and not burn out (it worked).
Since then, I've been wearing the old 305 on runs, and I have mixed feelings about it.  A year ago, my pace rarely wavered from one run to the next, but now, it's so highly influenced by things like sleep deprivation (Henry woke up three times in seven hours last night – ugh!), dehydration (from breastfeeding – no matter what I do, I can't get ahead with hydration), and just general mood (sleep deprivation + dehydration = crabby ass Caitlin).  My effort output is usually the same, but my pace – man, it's all over the place.  And a wavering pace can be a strange mind game, indeed.  Don't you hate it when you feel like you're exerting maximum effort but your pace barely qualifies as jogging?!  
One thing I do LOVE about the Garmin – knowing my distance!  It's fun to watch my distances get longer and longer (every single step counts!).  I try to focus on that number instead.  Maybe I should tape over the corner that reveals pace?!  Hmmm.  That's actually quite a good idea…   
What about you?  Do you use a watch for runs and pay attention to pace or go by feel?  I'd love to hear some feedback on going by feel instead of time.  Quite honestly, it's not something that I'm very used to (I really was a slave to the Garmin before pregnancy) but think it would be good for me to focus on feel over pace.
Anyway – today I did sweaty, sweaty 5K in about 35 minutes.  Pace – decent.  Feel – pretty good.

Post-run lunch: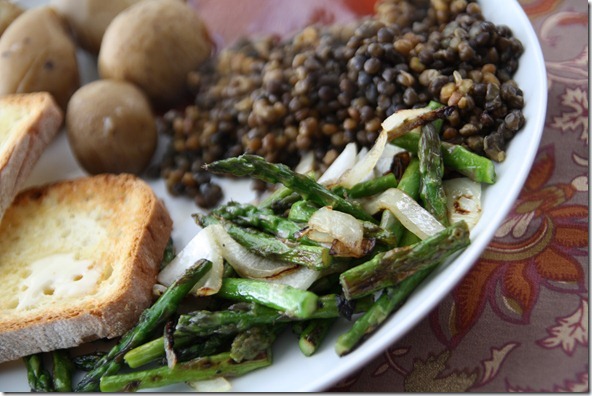 Lentils
Toast
Potatoes
Asparagus and onions
A bucket of BBQ sauce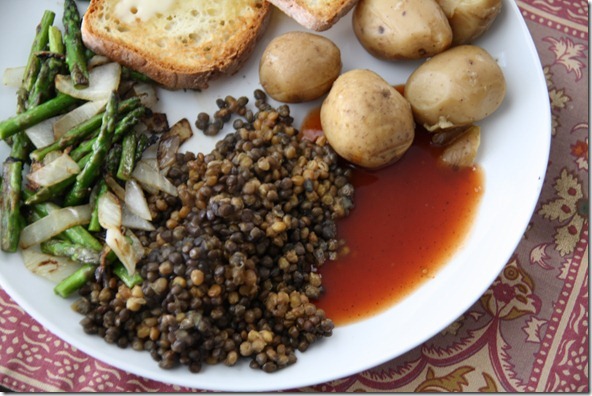 Yo – the couch is calling my name!