Success!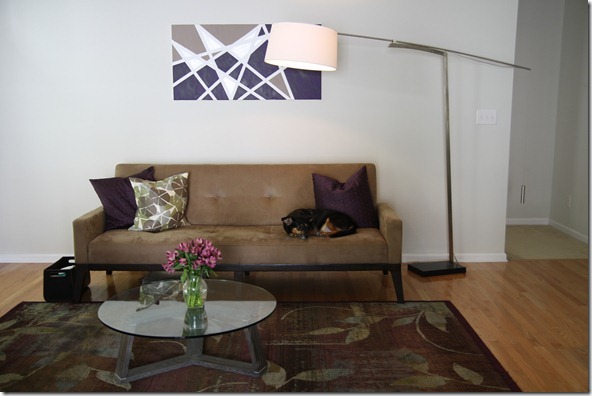 After trying my hand at DIY wall art for the bathroom (and failing), you think I'd be scared to try again… but I found this post on New Domestic that described a super easy way to make modern art.  I figured I would give it another shot.
If you can put painter's tape on a canvas, you can make this art!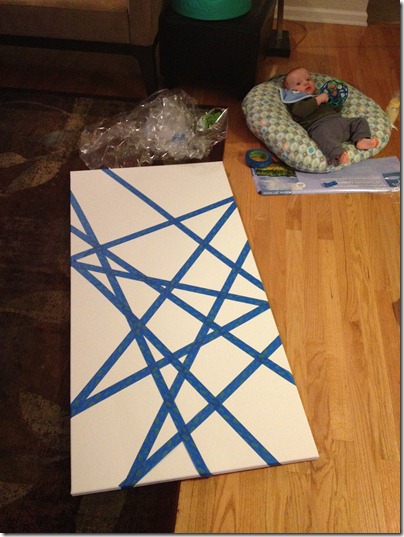 I had been looking for art to go over the couch for a while, but it was difficult to find something that worked because of 1) the color scheme in the room and 2) the desired proportions of the painting – long and thin.  TWSS.
I've got a lot of textures and patterns going on in the living room!  It's a bit crazy but works in real life.
I wanted a painting that was tan (to pick up the couch and colors in the chair), silver (to pick up the lamp), and purple (to pick up the rug).  That's a hard color combo to find.  So DIY art it was!
To make the art, you simply block off section of the canvas with thin painter's tape (I used 1/2 inch; wish I could've found 1/4 inch) and paint them in with acrylic paint.  When it dries, you peel off the tape and – TADA! – instant art. 
I didn't go at it blindly, though.  I used the paint program on my computer to create a draft of what I wanted done, and then I emailed the picture to my iPhone and used it as a guide to tape off the canvas.  Oh, technology.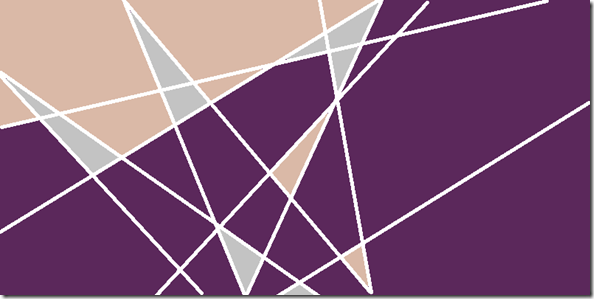 A line or two got eliminated when I actually put the tape on the canvas because I wasn't too exact, but it was very helpful to have a guide.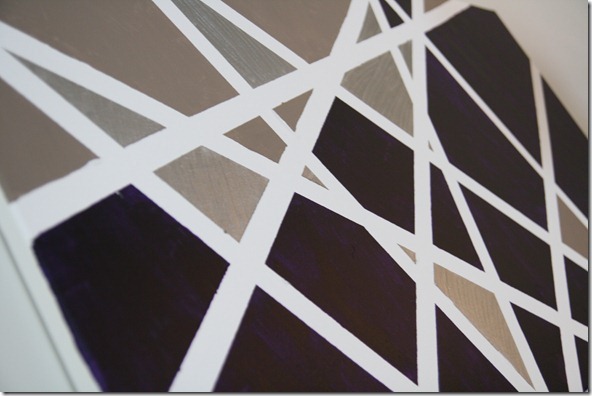 Some parts of the paint bled through, but I corrected it with white paint.  You can hardly tell when looking at it from the chairs or the couch.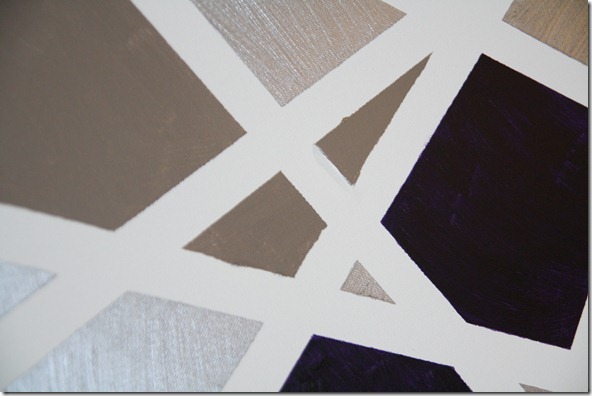 Final thoughts:  does it look like a professional painting?  Well… probably not.  One friend walked in and immediately said, "Oh, did you paint that?  How cool."  But when I told DadHTP that I painted it, he seemed moderately surprised and impressed.  And it only cost about $40 in total.  (If you've got a Michael's near you, download their app – they always have great coupons like 40% off anything in the store.)
Regardless of whether it looks pro, it does perfectly match the room and brings some color to the space.  Oh, and the lamp?  I don't mind that it's a little bit in the way of the painting because – odds are – it's going to be out of the room in just a few months.  It's about the most un-child friendly thing we could've bought (there's a weight that hangs from the end of it to counterbalance the lampshade, thus making it look like a really cool toy).  Good thing we have an attic space to store it in for, oh, the next five years?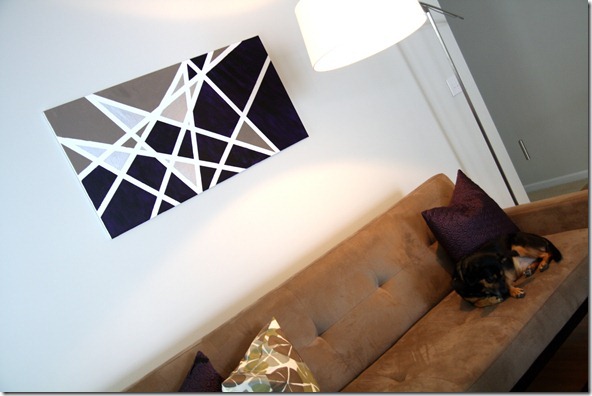 Got any DIY projects planned for this weekend?