I was going to get my run on tonight, come hell or high water.
My brother-in-law Nick and I have been talking a lot about motivation.  We're both trying to make major life improvements in certain areas and have been using each other as sounding boards.  One concept we were recently discussing is how there are two kinds of excuses: legitimate excuses and pathetic excuses.  I was thinking about this concept on my run tonight.  I've decided that there is only one legitimate excuse for skipping my workouts:  I'm too tired.  I really don't believe in exercising when you're beat.  Everything else – it's too late; it's too early; I want to watch another episode of The Walking Dead – is a pathetic excuse.  You'd think Henry is the perfect excuse to lazy horizontally on the couch, but I can take him and the dogs for a walk, do a workout DVD, or hop on my indoor trainer while he naps.  I really want to get back into shape, and I refuse to give into pathetic excuses.
So.  That's why I found myself lacing up my sneakers at 8:15.  The Husband didn't get home until 7:45, and I hate to pass off Henry the moment Kristien walks in the door, so I waited half an hour and then set out (in a reflective shirt and along a major roadway, just to be safe).  No pathetic excuses for me.  I was going to run.  It ended up being an excellent run – I did 30 minutes with only 3 minutes of walking – whoop whoop!
Came home and had a cold glass of soy milk.  Need to hustle up more food and soon.
Here's dinner: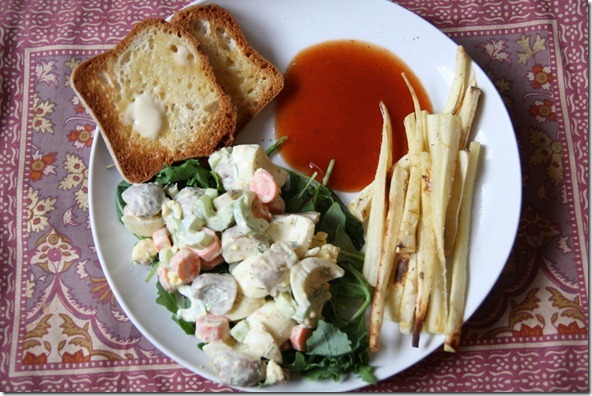 I made an egg and potato salad using a method similar to this recipe –> Tofu Salad.  In addition to the hard boiled eggs and boiled potatoes, I also added in Dijon mustard, which gave the dish a special kick.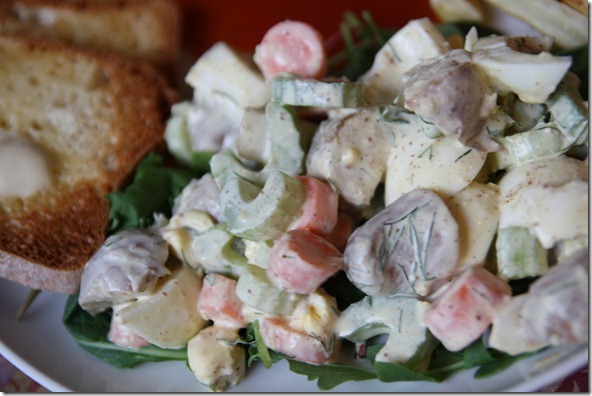 Roasted parsnip fries (just peel, slice, and bake with a little olive oil at 400 for 25 minutes) with BBQ sauce.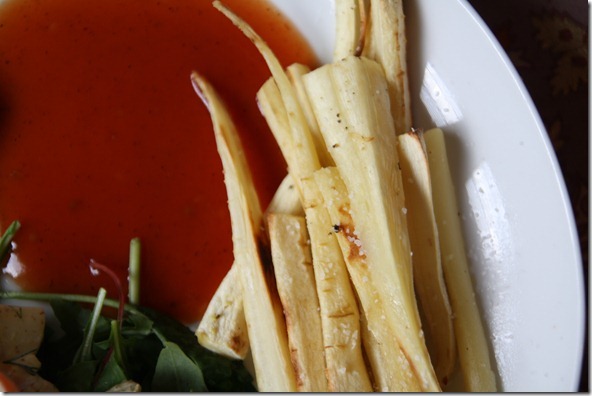 So. Freaking. Delicious.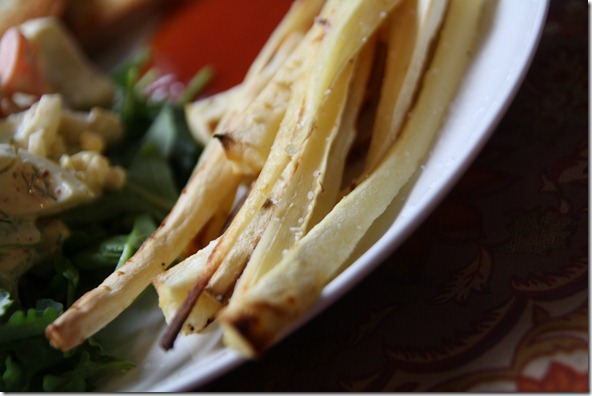 So glad I didn't blow off my run tonight.  It feels so good to know that I put in the effort today!